Buying a new appliance for your home can be a daunting task! There are so many different brands to choose from, and just about everyone has an opinion on which is the best.
When buying a new dishwasher, you need to choose one that is reliable, efficient, and effective, or else there really isn't any point in spending your money on something that will either not clean your dishes properly, or stop working after a while.
As important it is to know which dishwasher brands to look at, it is also just as important to know which dishwasher brands to avoid.
In order to save you from going through the incredibly frustrating experience of spending a substantial amount of money on a new dishwasher that isn't actually worth it, here is a list of 5 dishwasher brands to avoid, and a recommendation on the one you should look at!
Dishwasher Brands To Avoid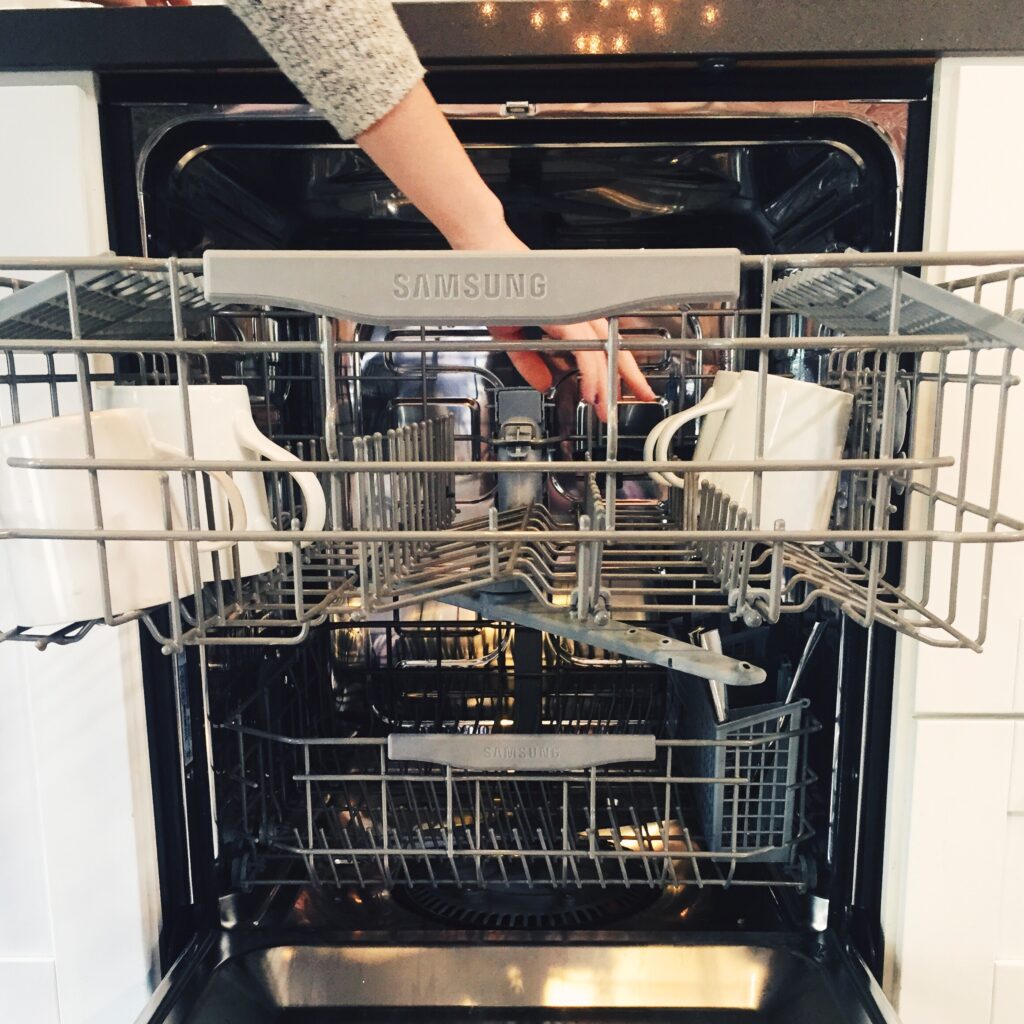 These dishwasher brands have been given negative reviews from previous users. They are either ineffective with cleaning dishes, use too much water and electricity, leak water, or have bad customer service.
Going off reviews and problems with the dishwashers, it is easy to see why it is recommended to avoid them.
It is important to keep in mind that some of the best brands have dishwashers on this list, as they may have made cheaper, lower-quality models that do not fit in with the higher standards of the brands. So while it might seem like a great brand, it does not mean all of their models are worth the money you might spend.
Frigidaire
Frigidaire dishwashers are a very popular choice for those who want a good brand name dishwasher for their home.
These dishwashers are top-rated, but the problem with them is that the customer service is dismal.
Customer service can make or break your experience with a new appliance, and if you come across any issues or need any maintenance done, it is vital to have great customer service to rely on.
Other than the customer service, there is one Frigidaire dishwasher that you should avoid at all costs, the Frigidaire FGIP2468UF. This particular model has been given very negative reviews by past customers, even though its feature write-up seems really great.
These are some of the problems reported by users:
The trays are not smooth and do not pull out easily
The springs on the doors are not secure and do tend to pop out after continued use
Once cleaned, dishes do not dry very well and still need to be dried after being washed or they are left with white spots.
The interior parts of the dishwasher are made out of plastic and not metal, which leads to the racks and the trays feeling flimsy and like they might break easily.
When running, the machine can make quite a bit of noise.
Customer support is very unresponsive and unhelpful at times.
Bosch
Bosch is a well-known appliance brand that makes many different appliances for homes and they are a popular brand that many people trust. 
However, they do have one or two dishwasher models that should be avoided.
Even though Bosch holds high expectations for many, you shouldn't rely on this alone to make a decision.
One of the biggest concerns regarding Bosch dishwashers is their reliability over time.
After around half a year of use, there seem to be quite a few problems that people encounter with their Bosch dishwashers and this will require servicing and maintenance which can be quite pricey.
The most complained about Bosch dishwasher is the Bosch SHE3AR75UC, which does boast quite an impressive list of features, such as 14 place settings, 6 different wash cycles, a sanitizing option, and delay start, but it fails in many other ways.
Here are some of the most common complaints with this model, and why you should avoid it:
The dishes do not dry properly when they have been washed, which means you can't put them away before drying them yourself.
There is a chance that the machine might encounter problems after 6 months, as this seems common with certain Bosch dishwashers.
The rack of the dishwasher is not designed very well, which means there is not too much space for dishes and pots inside of the dishwasher.
It is difficult to open and close the dishwasher using the door handle.
Danby Dishwashers
Danby dishwashers should just be avoided altogether, as they do not have any dishwashers that are really worth paying for.
These dishwashers are cheaper compared to most, and for many people, this is an attractive feature, but it also means that the design and materials used are cheap and prone to breaking easily.
You are paying for a low-quality dishwasher, and this shows with how inefficiently the dishwasher cleans plates and dishes, and how easily it might break after a short time.
Ignoring how good the dishwashers look, you should avoid buying them, even when looking at the good features the dishwasher should supposedly have.
These are some of the problems reported by users of Danby dishwashers:
Danby dishwashers are known to leak when used, meaning floors are left wet once the machine has finished running.
The hoses are not of good quality, and they often result in leaks.
Cleaning cycles do not properly clean the dishes and pots and pans that you put into the machine, and you might find yourself needing to rewash dishes after they have been in the dishwasher.
Any replacement parts are very difficult to find, and if you do manage to find any, there is a good chance they will be expensive as they will need to be imported in.
The customer support from Danby is not good, and you will battle to find a person to speak to who could help with servicing or maintenance.
Electrolux
There isn't a whole lot to say about Electrolux that hasn't already been said in thee numerous 'POOR' ratings and reviews on Consumer Reports.
Electrolux is a brand that offers sleek and stylish dishwashers. It's easy to be tempted by the look of this brand.
However, it's simply not worth it.
Electrolux claims t be energy-efficient but actually will (according to reviews) spike up your energy bill.
There's also a lot of complaints about the top buttons stopping tow ork around the year mark.
Overall, stylish brand with poor execution. Skip.
LG Dishwasher
LG dishwashers might seem an odd choice to have on this list, as they are usually very reliable, durable appliances that you can use around the house.
However, the newer LG dishwashers have many different features that take the technology a step further, but this isn't always a good thing.
Some of the newer features include Wi-Fi control, energy efficiency, and water efficiency, but these are not pulled off so well with the dishwashers.
This new technology actually works against how well the dishwashers work, and how durable they are in the long run.
Some general disadvantages of the LG dishwashers include:
The advanced technology of the dishwashers can be difficult to fix if there are issues down the line.
Customer support from LG is not what it used to be, and it can be difficult to find support if there are any issues with the dishwasher.
The design and materials used for newer LG dishwashers do not seem as durable and reliable as the older ones, and they do tend to break sooner.
Finding spare parts and having LG dishwashers repaired or serviced can be very expensive and quite a tedious task.
Fisher and Paykel
I'm as surprised as you to see Fisher and Paykel on this list.
They're a luxury brand and I'd never expect them to make less-than-subpar dishwashers but review after review shows they seem to miss the mark on these.
Almost 30% of all their dishwashers have reports of faulty controls and requiring repairs within the year. here are also numerous reports of poor stain removal and the machine itself becoming noisy around the sixth month mark.
On top of this, because F&P are a luxury brand, the repairs don't come cheap.
All in all, Fisher and Paykel is a dishwasher brand I would avoid wholeheartedly.
SPT Dishwasher
SPT dishwashers are affordable and fall in the lower price range, but this really is all that they have going from them. These cheaper dishwashers do not get good reviews from customers, and it really is one you should not consider, no matter how attractive the price tag may seem.
Being a smaller brand, it is also difficult to contact their customer support, and aftersales services are very limited, so if something is wrong with the machine, you are left on your own and you will need to find spares and a repairman yourself.
The interior design of an SPT dishwasher is not very user-friendly, and the design does not allow for so many plates and dishes to be placed in the machine at one time.
These are some of the reasons why you should not buy SPT dishwashers:
The design and materials used in SPT dishwashers are low-quality.
Some find that the door is very flimsy, which could lead to breakages later on.
Customer service is not good, and the support you receive from the aftersales service is not up to standard.
The dishwashers are not very reliable and tend to break down and need repairs often.
Which Brand Of Dishwasher Is Most Reliable?
There are some great dishwashers on the market that will last you many, many years, and provide clean and spotless dishes after every wash.
When spending so much money on an appliance, you want to choose a dishwasher that is the most reliable, so you do not find yourself with a broken dishwasher after a year or two, or one that does not do well with washing your dishes.
GE
I may be biased here because I have had a GE dishwasher for YEARS and it has never let me down.
GE has an incredible reputations that they deserve. On top of the fact that they maake amazing appliances, GE offers incredible customary service (in my own experience and numerous reviews online.)
They are always introducing new smart technology that leaves their customers in awe. On top of all this, their prices are mid-range and you can find an amazing dishwasher for any budget.
Whirlpool
Whirlpool has earned a reputation as being one of the best brands on he market, and this isn't just in regards to dishwashers.
In fact, according to a Yale Appliance study, only 3% of all Whirlpool dishwashers were reported to have working problems.
And if you are one of the unlucky 3% who does experience problems, their customer service is incredible. Rated highly among clients. Plus, the time frame from when you first place the complaint to when it gets handled is incredibly short.
You truly can not go wrong with purchasing a Whirlpool dishwasher.
Miele
If you are wanting a reliable dishwasher, you should consider purchasing a Miele dishwasher.
While this brand does hold a higher price tag than some other options, Miele dishwashers do last longer than most other brands and offer great effectiveness and efficiency with washing dishes.
Miele dishwashers are also quite elegant and go well in many different kitchen settings. The interior is designed perfectly to fit many dishes, and many different shapes of pots and pans, making the most out of each wash.
If treated well and looked after properly, a Miele dishwasher can last decades in your home and will pay itself off after many years of use.
One of the best features of one of the newer Miele dishwashers, the Miele G 7316 SCU AutoDos Dishwasher is that it automatically dispenses dishwashing detergent, so you don't have to worry about adding in detergent for each wash.
Reliable, efficient, and wonderfully durable, Miele is possibly the best dishwasher brand you could choose for your kitchen.
One con to note if considering a Miele dishwasher is there are anecdotal stories of less than great customer service and impolite sales agents.
How To Choose A Dishwasher
There are a few things to consider when choosing a dishwasher, and keeping these factors in mind can help you find a reliable and effective dishwasher that fits into your lifestyle.
Type Of Dishwasher
You need to decide if you need a full-sized dishwasher, a slimline dishwasher, or a compact dishwasher. This will depend on your space limitations in your kitchen, and how many dishes you need to wash in one go.
Features
Some dishwashers come with additional features, such as anti-flood protection, built-in Wi-Fi or smart home features, child safety lock, or automatic sensor wash. It is a good idea to become familiar with the different features offered to see if you would need any.
Eco-Wash
Running a dishwasher can be expensive, so consider choosing one that has an eco-wash, which would save on both water and energy.
Size
The size of the dishwasher is important. A large family will need a bigger dishwasher, with a single person or a couple only needing a smaller version. You don't want to choose a dishwasher that is too large to fill or one that doesn't hold all of your dishes from one night of dinner.
Are Expensive Dishwashers Better?
The general rule is that a more expensive kitchen appliance works better and the same is true for dishwashers.
While there are exceptions to this, buying a more expensive dishwasher usually gets you superior cleaning power, and more room from better design to hold more pots and dishes in one clean.
You will also find the more expensive dishwashers have more features that can make using the dishwasher much easier. These could be features such as Wi-Fi control, eco-friendly washes, auto detergent dispensing, and even a delay start.
It is also generally accepted that more expensive dishwashers are more durable, and will last you for longer.
This means you won't have to replace your dishwasher after a few years, which could end up costing more than what you would have spent on a more expensive dishwasher in the first place.
You will probably get better customer service from a premium brand dishwasher, compared to what you might get from a cheaper version. This will likely come with warranties, which are so helpful should anything go wrong with the dishwasher.
If you can afford to, it is best to spend more money on a more expensive dishwasher.