Out of detergent for your laundry and thinking to use dishwasher pods instead? Wondering if it is a good idea or you will end up with wretched clothes?  We have got the answers to all your questions.
So, can you use dishwasher pods for laundry? 
Using dishwasher pods as laundry detergent is never a good idea. It contains high levels of bleaching agents. The pods are too harsh for your clothes and can cause irreversible damage to them. Moreover, dishwasher pods will produce too much lather in the washing machine. It will be hard to rinse and get rid of the dishwasher from the clothes. 
But is there any way that you can make this work? Let's find out!
Dishwashing Pods for Laundry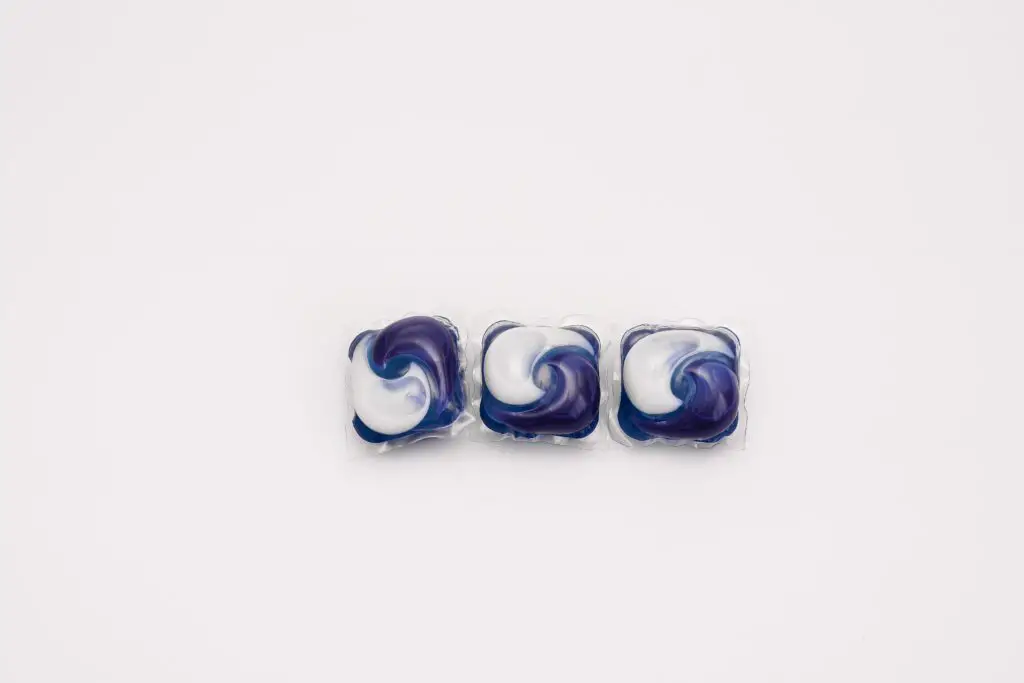 All detergents are made for the same purpose, ie. cleaning and getting rid of dirt, grease, etc. The difference lies in their ingredients. 
Some ingredients in the dishwasher pods are too harsh for the laundry while some detergent ingredients are harmful to be used as dishwashers. Therefore, these two are specifically prepared for their task.
Dishwashing Pods vs. Laundry Detergents
Dishwashing pods have harsh chemicals to get rid of stubborn greasy particles from the dishes.
Laundry detergents are less harsh than a dishwashing pod to prevent any damage to the clothes. However, they are harsher than hand dishwashing liquids. 
Sudsing Effect
Dishwashing pods have more foaming agents than detergents. If you put them in a washing machine, the machine will fill up with so much foam.
You will end up with a mess. If you happen to put your clothes in dishwashing pods, it would be laborious to get rid of the foam from the clothes. 
Bleaching Agents
Laundry detergents have such chemical properties that affect the lifespan, color, and durability of your clothes the least.
But dishwashing pods are not designed in this way. They have strong bleaching agents.
Bleaching agents in dishwashing pods are for the following purposes:
Prevent water drying on the surface and leaving spots.
Break up fats, lipids, grease molecules to remove them from the dishes.
Bleach in the dishwashing pods can cause the fabric to weaken, and tear apart. The worst result would be the color of your clothes fainting.
You probably don't want your bright red dress to have large colorless spots due to the dishwashing pods.
High Temperature
Dishwashing pods require high temperatures to work properly. Your washing machine won't be able to provide such a temperature.
The molecules of dishwashing pods won't leave the clothes as well as the washing machine easily. 
You will end up with the residue of dishwashing pods on the clothes and in the washing machine. It will increase your efforts and waste a lot of time.  
What Happens If You Put a Dishwasher Pod in a Washing Machine?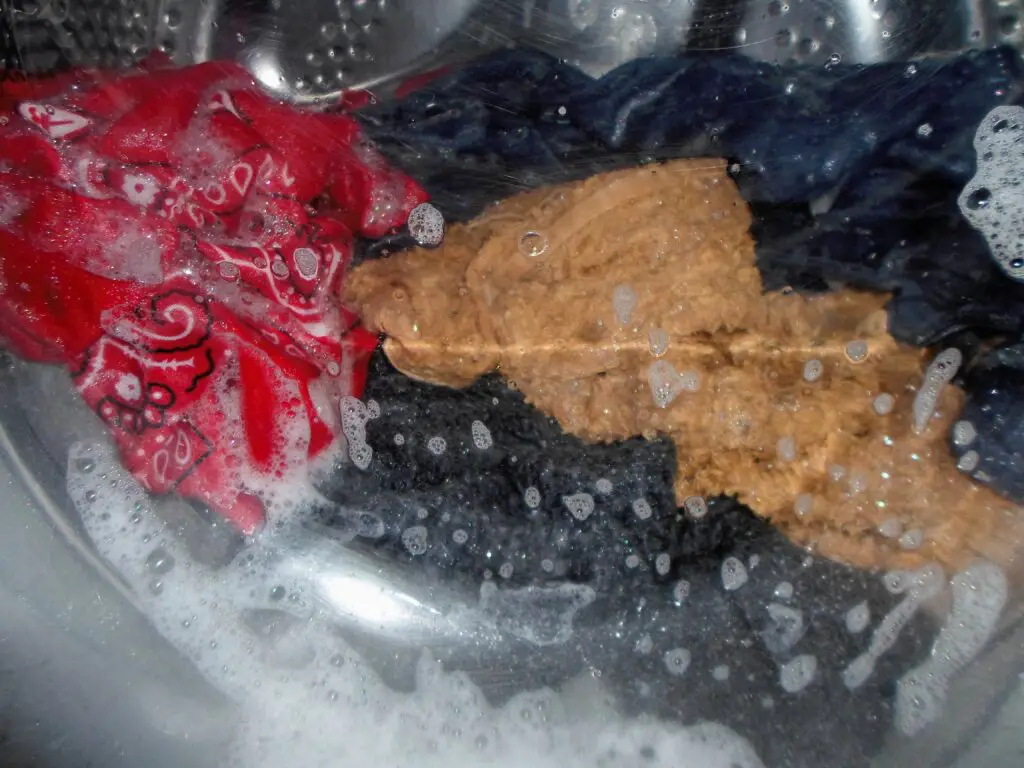 If you put the dishwasher pod in a washing machine, it will create chaos in your laundry.
The sudsing agents in the dishwasher will form immense suds that will probably start flowing out of your washing machine.
Therefore, it is not a suitable product to use in the washing machine.
Can You Clean Your Washing Machine With A Dishwashing Pod?
If you can't use the dishwashing pod for your fabrics, can you use it for the washing machine?
Dishwashing pods work best in high temperatures. It is recommended to run the cycle of the dishwasher at a high temperature for the dishwashing pods for proper working. 
Your washing machine can't provide such a high temperature. This will make the dishwashing pod dissolve less and cling more to the washing machine.
Instead of cleaning the washing machine, it will make it dirtier with harsh chemicals. When you put your clothes in such a washing machine, they will be damaged due to the residual dishwashing pods and their bleaching agents.
Even known companies warn their users to avoid using dishwashing pods in the washing machine.
How to Clean the Washing Machine?
You can use vinegar, baking soda, and hot water to clean the washing machine.
Simply run a cycle with hot water in the machine by adding some vinegar and baking soda.
This will remove all the bacteria, stains, and dirt from the washing machine. 
What Can I Use Instead of Laundry Detergent?
Came home from work and need to wash your clothes? Found out you have run out of laundry detergent? What to do now?
No worries, you can use substituents to wash your clothes.
Here's a hack:
Put hot water in the detergent bottle and shake it vigorously. You will get a considerable amount of product to wash some of your laundries in an emergency. 
If this hack doesn't work, there are many alternatives. 
Vinegar and Baking Soda
Vinegar and baking soda for laundry is a famous combination. Both these agents fight stains and provide fresh smelling and clean clothes.
To use these ingredients follow the steps below:
Use a hot water cycle for this hack.
Add half a cup of baking soda directly to the washing machine.
Add 2 cups of white vinegar.
Run the cycle as usual.
You can also use baking soda when you have a little amount of detergent left and more clothes to wash. 
Can You Use Dishwashing Liquid For Laundry?
Dishwashing liquid is not as harsh as pods but they won't be effective for the laundry. Moreover, it will cause a lot of foaming in the washing machine and damage it. Therefore, the better method is to use baking soda and vinegar instead of dishwashing liquid.
Dishwashing liquids don't have a heavy amount of bleach that makes them suitable for hand use. But they still have enough bleach that can damage the clothes and weaken them.
In General..
You have all the reasons now to not use dishwashing pods and dishwashing liquid as laundry detergent. The better option is to use DIY detergents made from borax/baking soda and vinegar. 
If you want your clothes to not get damaged and faint, don't use dishwashing pods. It will also save your washing machine from damage.
Enjoyed this? Make sure to read these next:
Why Does My Dishwasher Smell Like Rotten Eggs (EASY FIXES!)