A lot of homeowners get confused about whether they should sand after coating a surface with primer and whether they need to do this every time.
The wrong choice here can mean the difference between a smooth painted surface or a dirty and rough one. 
Do You Sand Between Coats Of Primer On Cabinets?
You should sand after every layer of primer for the wall to result in a smooth and clean wall. 120 grit sand paper should be enough, although sometimes 100 grit can also be used in the beginning. Make sure not to over sand the surface as you will just be scratching bare wood. 
To learn more about sanding cabinets, keep reading..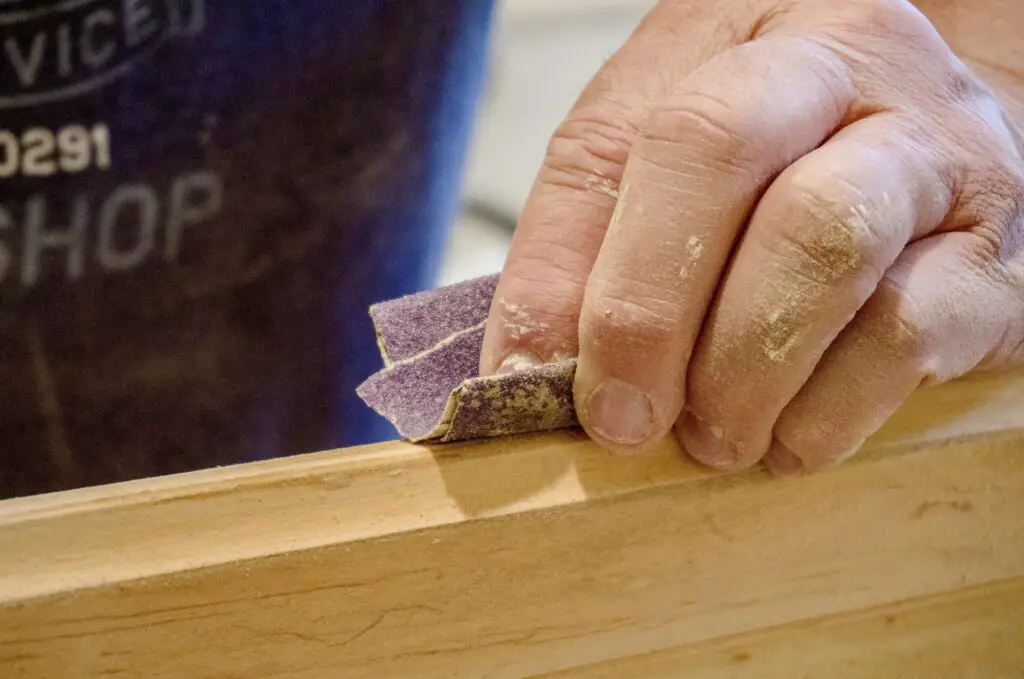 What Are the Advantages of Sanding Between Primer Coats?
Sanding a surface after priming will clear out any dirt or unwanted particles from the surface to give it a fine and smooth finish.
This way when the paint layer has to be applied, the final result can be as smooth as possible. 
Is It Necessary To Sand Between Coats Of Primer?
A lot of people wonder whether it is necessary to sand between each coat of primer. Some people even tend to skip this step. But whether you sand or not can have a huge impact on the final product you end up with. 
Interestingly, it is recommended that you sand the surface after each coat not because it will make the surface smooth, on the other hand, it is done so that the surface gets rid of any dust or contaminants. It also helps in making the surface finely rough which will absorb the next coat of primer in a much better way. 
So although it is not necessary that you sand between each coat of primer, it is highly recommended that you do so. 
Especially if you are working with a hard surface which might have difficulty in absorbing the coat of paint, it is highly recommended to sand between the two or three coats of primer.
Should You Sand After The Second Coat Of Primer?
Yes you can sand after each primer coats. A 120 grit sandpaper should be enough to make the surface as soon as possible.
Although with some more uneven surfaces, you might have to first go with a 100 grit paper to wear it down and then a 120 grit. 
How Long Should Primer Dry Before You Sand It?
The time it takes for a primer coat to dry can depend on a lot of factors like the temperature, humidity, kind of wall and the type of primer you end up using. 
On average, it can take between 2 to 6 hours for a coat of primer to completely dry. But you should wait at least for 12 hours before sanding it or putting a coat of paint on it. 
If you are using water based primers, then they can dry within a couple of hours to 4 hours but if you are working with oil based primers, they can take up to 12 hours and even one full day in some cases to completely dry. 
These time frames are for ideal conditions though, around 70F and 50% humidity. Anything above or below this might shorten or lengthen the drying times. 
The surface which you are applying the primer to does not have much role to play when it comes to drying times. 
No Over sanding 
Although it is recommended that you sand the surface, you should make sure that you don't oversand the surface as well. With oversanding, you will just be left scratching the bare surface and the primer layer will have no effect. 
Conclusion… 
You should sand after every layer of primer to get a super smooth painted surface at the end.
You can usually use a 120 grit sand paper but in some cases you might need a 100 grit as well. Make sure not to oversand the surface.