Farmhouse colors are contemporary nowadays. They provide a sense of coziness and warmth to any room. If you are planning a farmhouse-style redecoration of your home and need some ideas, you are at the right place!
It can be overwhelming to choose between hundreds of home-y farmhouse colors when all of them look soothing. So, we have found some of the best farmhouse paint colors for you. 
Most of the farmhouse colors lean towards neutral tones. But, there's a considerable hint of colors in these shades too.
So, let's dive right in….
What Are Some Good Farmhouse Hues?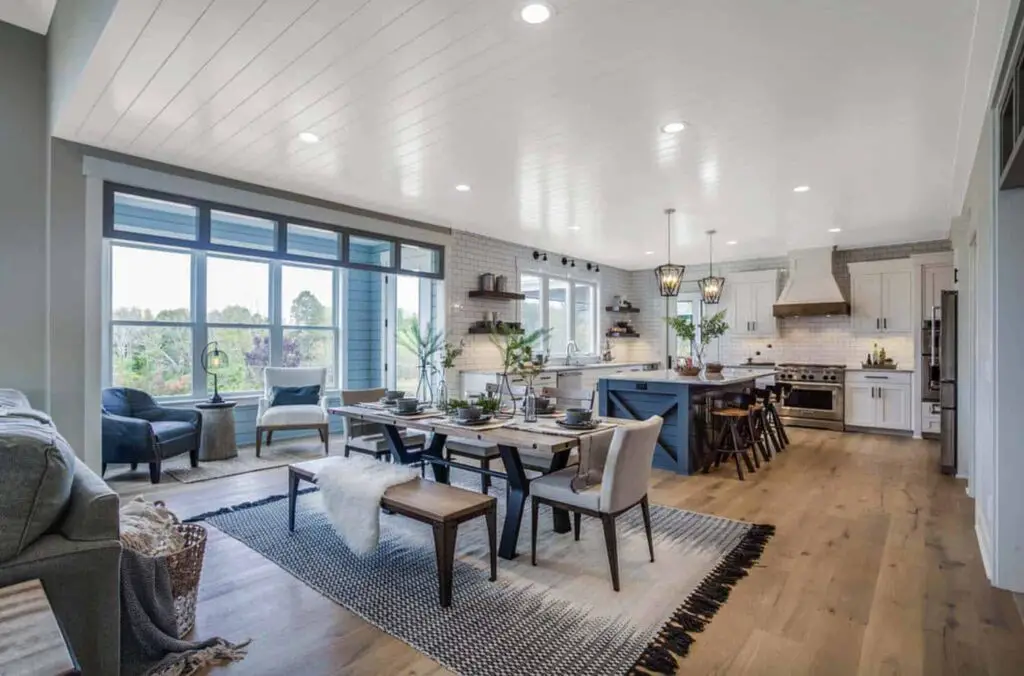 Some of the best farmhouse hues include white, charcoal, blush, terracotta, taupe, hale navy, shaker beige, etc.
These colors depend upon your preference but they are highly trendy in 2021. 
Why is Farmhouse Style So Popular?
The reason why farmhouse style's popularity has skyrocketed is its warmth and snugginess. It brings a feeling of comfort, approachability, and accessibility. 
These paint colors are versatile and can be used in any type of room. Moreover, all of the farmhouse-style colors are family-friendly.
Every family and home can find a suitable farmhouse paint color for their house.
Best Paint Colors For Farmhouse
Swiss Coffee
Swiss Coffee is a light-white color. It's perfect for someone who doesn't want a bright white but also wants to keep it low. 
The flawless blend of white and beige makes it a great farmhouse-style paint color. You can use it on the walls of your dining room or lounge to get a cozy feel. 
Swiss Coffee brings the attention towards your interior more and makes the space bright and lively. 
Some colors to go with this paint color include browns, creamy colors, and other such warm tones. 
Get it here!
Similar colors: Greek Villa
Liveable Green
Pastel, light-toned green colors are famous for farmhouse-style decor. Liveable Green by Valspar has the perfect mix of green and neutrality in it. 
It is a unique color that feels soothing to the eyes and makes you feel comfortable in the ambiance.
Liveable Green can look great on the walls of a washroom or even an artsy space or contemporary styled small bedroom. 
You can pair this color up with pure white tones as well as beige colors.
Get it here!
Similar colors: Mint Frost & Contented 
Antique White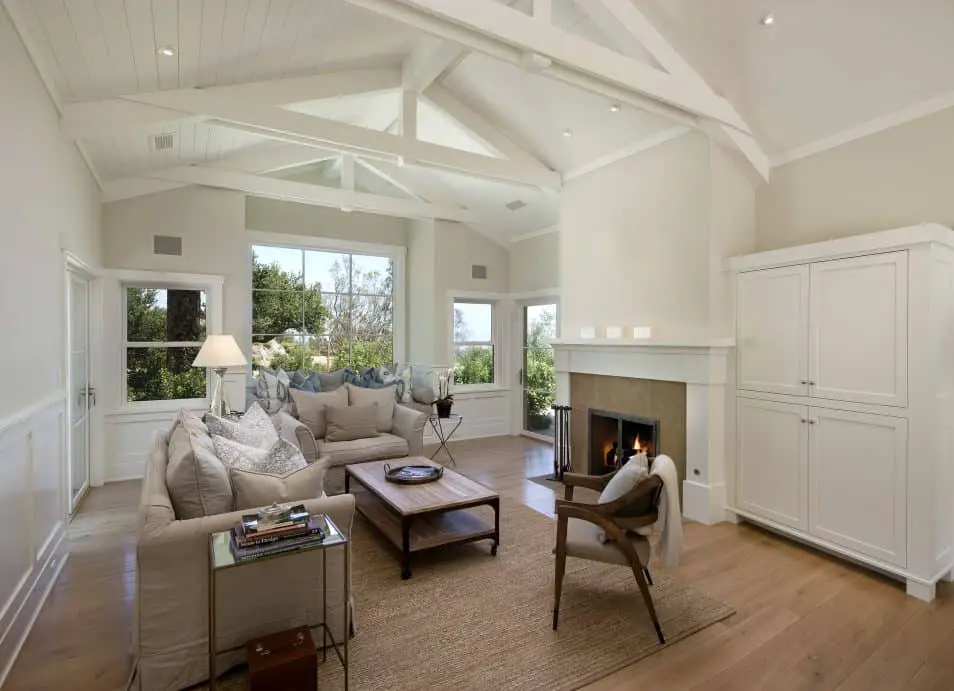 Another from the beigy white family is Antique White. Perfect for a rustic look, it has a more beige tone in it with a hint of pink hues. 
The combination of beige, white, and pink brings a sense of contemporariness as well as snugginess. 
If you are looking for a light farmhouse style color that is perfect for 2021, then this one's for you. It looks unique, stylish and enlivens the interior.
Some perfect colors to pair up with Antique White include pure white, brown, and warm tones. 
Get it here!
Similar Colors: Bohemian Lace
Alabaster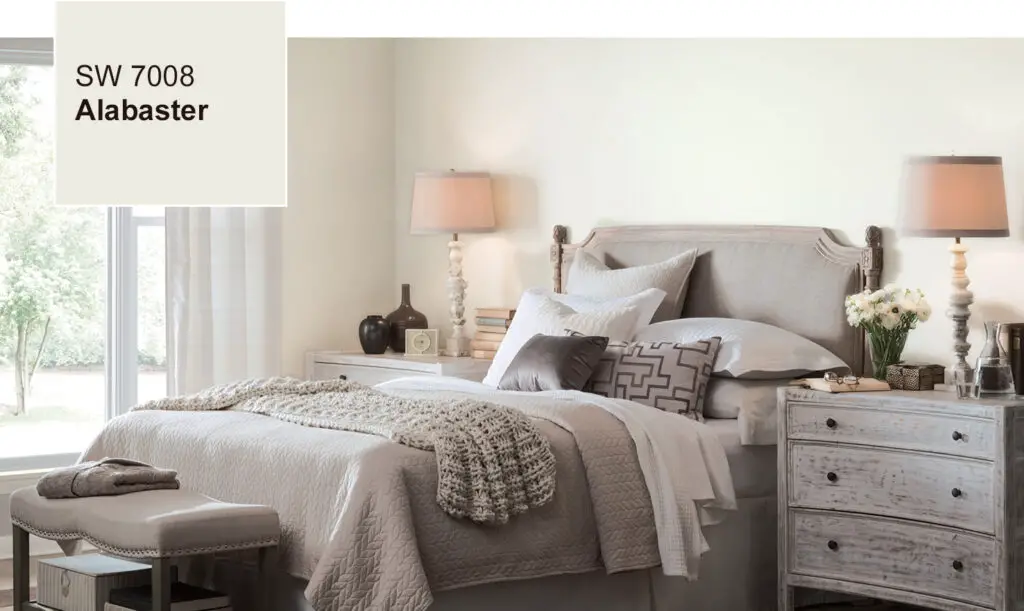 Alabaster is the absolute favorite of everyone who wants to get a farmhouse-style house. It is the first step to pull off that neutral, classy, and trendy farmhouse look. 
Alabaster is a perfect color for the kitchen, master bedroom, and dining room. It has a well-balanced blend of brightness and warmness in it. 
It makes the surroundings luminous and reflects off a happy environment. 
Similar Colors: Pure White
Gravity
Using a pure gray paint color is too mainstream. If you want to go for a farmhouse look, go for Gravity.
Gravity is a mix of a lot of colors loved by people who want a farmhouse look. It has hints of blue, silver, lilac, and gray. So, why go for simple gray when you can get a combination of such vogue colors? 
It can give an amazing look to bedrooms, washrooms, and play spaces. 
Perfect colors to pair up with Gravity are whites, navy blue, and charcoal. These colors will bring more attention towards Gravity and enhance its uniqueness. 
Get it here!
Similar Colors: Grey & Tempered Grey
Lilac Whisper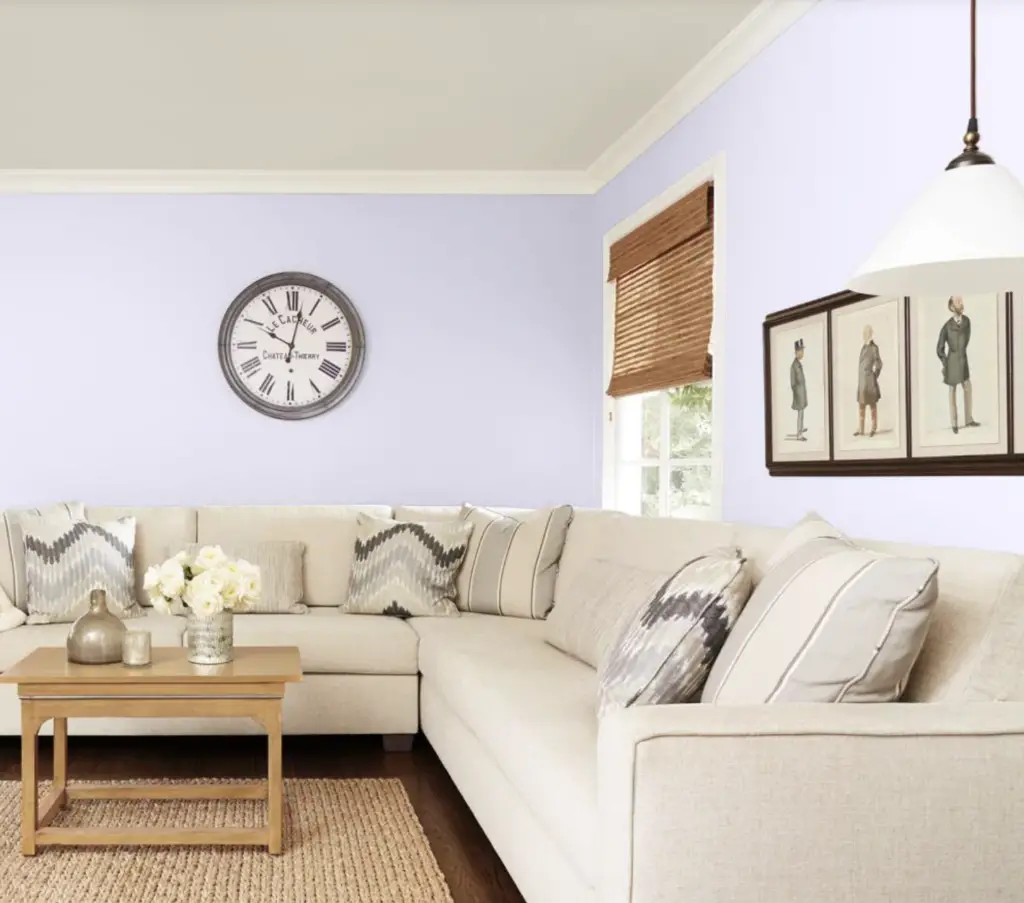 Lilac Whisper is a quirky color that would look the best in small bedrooms especially for the interior. You can use it for the kitchen interior as well paired up with white walls. 
The perfect blend of purple and white and the unique reflection in this color will bring a stylish farmhouse look to your house. 
The soft pastel lilac look makes the ambiance of your house pacified and cheerful. However, the neutrality in the color makes it perfect for a farmhouse interior look for 2021. 
Get it here!
Similar Colors: Sensitive Tint
Savoury Beige
For a maximum rustic and homely farmhouse look, get Savoury Beige. It is a color that can look good on both the walls as well as the interior of any room. You can use it in the bedroom, kitchen, dining, lounge, or anywhere else.
This color is a perfect mix of warmth and liveliness. When used on the interior, it will bring a lot of attention to it and make the whole space look bright. 
Get it here!
Similar Colors: Cream in My Coffee & Accessible Beige
Sea Salt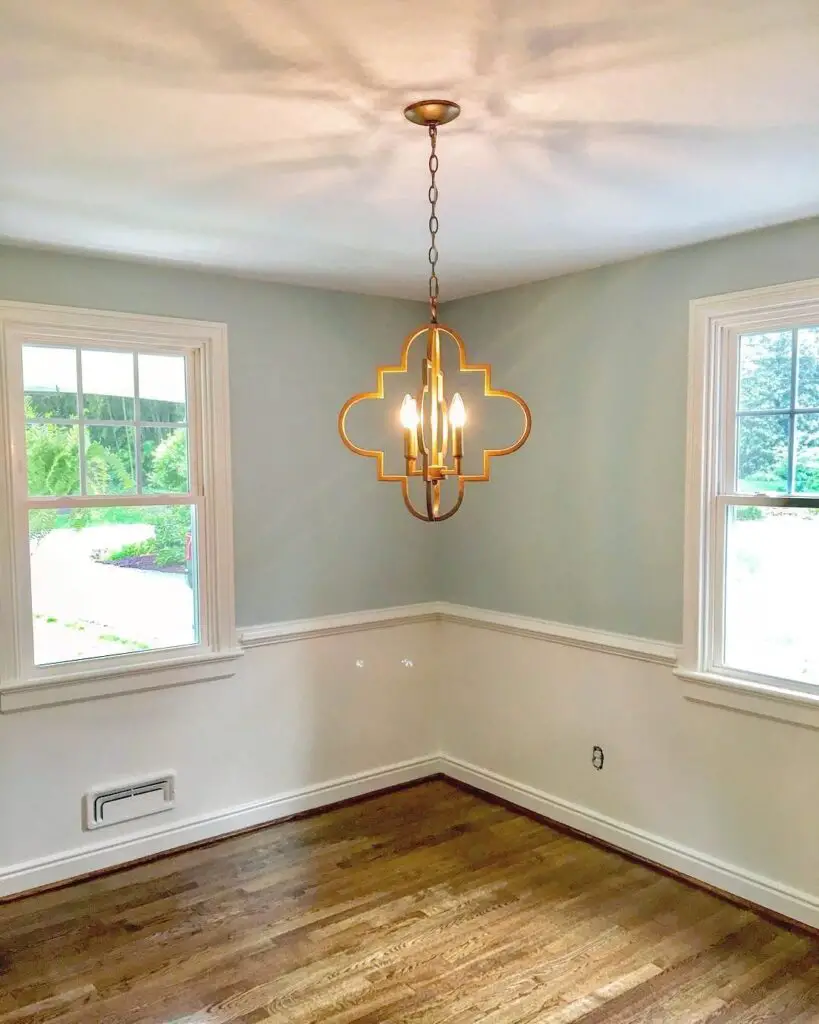 Sea Salt is a color with suitable bluish and greenish hues. Use it on the interior of your house to get a warm and cozy farmhouse look. 
Get it here!
Similar Colors: Mist on the Moors
FAQS About Paint Colors for Farmhouse
What Is The Best Farmhouse Finish?
Farmhouse is all about neutrality rather than brightness. That's why the best finish for a farmhouse look is matte.
You can get a semi-matte satin finish as well if you don't like the matte finish.
Are Farmhouse Colors Cool or Warm?
Farmhouse colors are neither cool nor warm.
Too cool or too warm tones don't go well for a farmhouse look. You need to stay in between these tones for the rustic farmhouse look.
Is Grey Still Popular?
Gray has been used in farmhouse homes for years but it seems to be losing popularity. Instead, greige is extremely popular nowadays.
Just my two-cents, but pick a color YOU and your family love. Don't worry about following the trends.
If a grey farmhouse hue is calling you, take the dive and do it.
In Conclusion…
Choose the perfect farmhouse color as per your liking and make your surroundings calm, warm and fun to be in.
The best farmhouse color is the one that is not too extravagant but keeps the surrounding luminous. 
Enjoyed this? Make sure to read these next: