Tensions rods are one of the easiest and most efficient devices you can install in your house, they are especially a great choice if you don't want to damage your walls. But while searching for a tension rod, one question frequently looms over people's heads, how much weight can they really support?
Tension rods can usually support up to 20 pounds of weight, which is quite decent if you have to use them for hanging shower curtains or even clothes. Some of the heavy duty variants out there can even support weights of up to 30 pounds, usually these varieties will be made out of steel rather than aluminium. 
For people who are not well versed with the functions of a tension rod, there are a lot of unanswered questions related to them. Let's take a look into the various functions and properties of a tensions rod..
What Are Tension Rods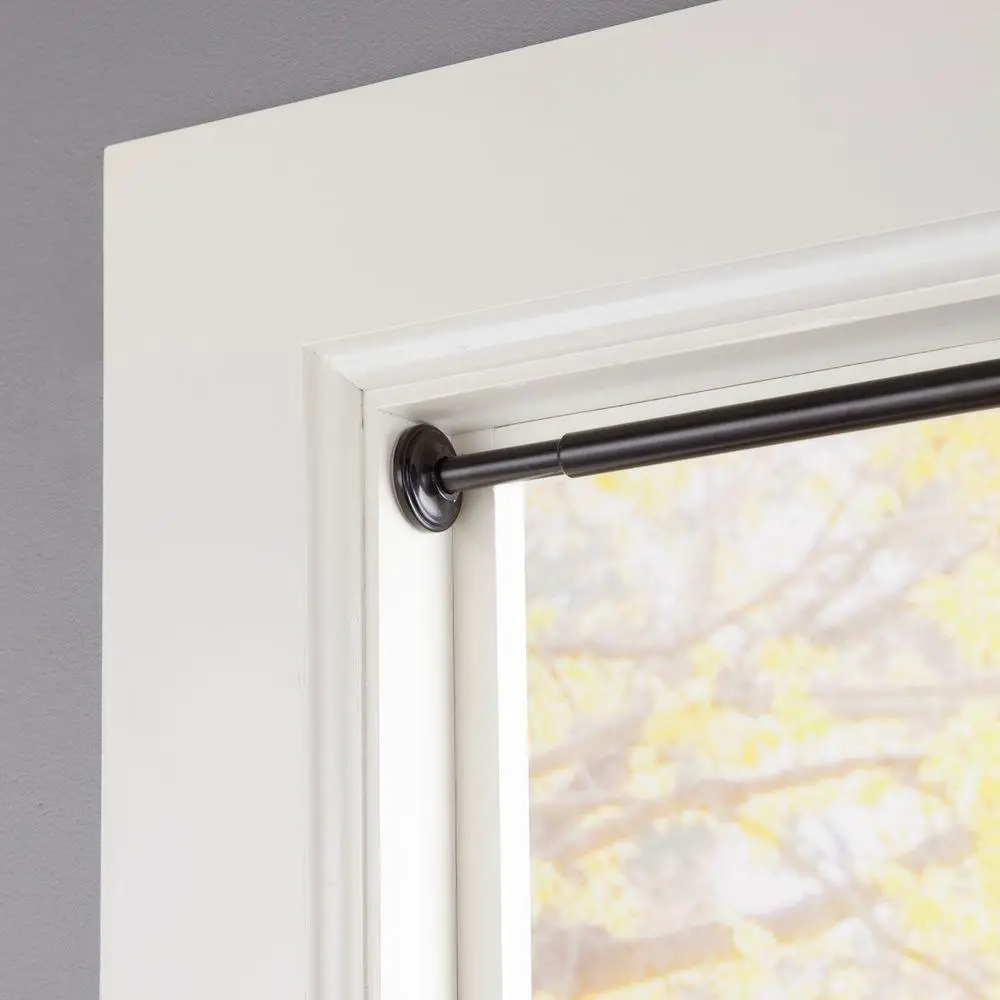 When you have to install a rod for hanging curtains or any such uses, there are usually two types you will come across. For one type, you will have to attach them to the walls using hardware tools such as nails.
The other type simply attach themselves to the walls without using any such tools. These latter types are called tension rods. 
They are called so because they use tension between the two ends to attach themselves to the walls, they also have a rubber tip at the end to protect your walls from any damage.
One of the great things about them is that you can adjust their length so you don't have to worry about their sizing issues. 
Tensions rods are pretty affordable and they are perfect to be used on rental properties as they don't damage any of the walls. You can get a decent quality tension rod for as low as $10. 
But there are some disadvantages as well. The first being the weight limitation, usually a tension rod cannot hold as much weight as a rod fixed using nails.
The second disadvantage is the aesthetic value, very rarely will you be able to customize the look of a tension rod.
They are usually plain and without any paint, so don't expect them to have any decorative element. 
The third disadvantage is its length. Tension rods are more suitable for narrow walls as they have to create a lot of tension to hold on. 
How Much Weight Can A Tension Rod Hold
Tension rods are not capable of holding heavy loads. Their usual capacity is about 20 pounds. Of course, you won't have to worry about hanging your usual curtains as they weigh less than that. 
But there are some varieties of tension rods which can hold on to about 30 pounds. They are generally made up of steel and not aluminium.
I also wouldn't recommend buying a wooden or a plastic tension rod as they will break quite easily. 
How Do I Keep My Tension Rod From Falling Down
There are a couple of most common reasons why tension rods keep falling down. One of them includes dry walls. Dry walls don't offer a lot of support which can make the tension rods loose. In this case they will end up falling over a period of time. 
The other reason is excess weight on the tension rods. Thick velvety curtains often weighs a lot more than the usually ones. If you are hanging one of those on your rod, then go for a lighter option.
The other similar reason is loose hanging curtains. They will end up putting a lot more pressure on the rod which can eventually make them fall. 
But the most important factor is poor installation process. Let's take a look at some of the steps which you can take to ensure that the fitting is ideal. 
The first thing which you need to keep in mind is the kind of wall you are attaching the rod to. If you are attaching it on fibreglass or tiled surfaces than there won't be enough friction to hold the rods in place. Therefore, make sure that you provide the rod with enough friction. 
The other thing to take care of is securing both the ends. Some tension rods come with plastic ends, make sure that you use the rubber ends as they do a better job of holding the rod in place. You might have to use an adhesive shower curtain holder and attach the rod to them. 
You can also use glue rubber shelf lining for this. Similarly, an adhesive shower curtain rod holder will also get the job done. 
What Can I Use Instead Of A Tension Rod
I have come across some pretty interesting and creative alternatives to tension rods for hanging curtains and clothes. Although I would suggest that you go for a tension rod as they are pretty cheap and durable.
But if you need something bigger for a wider wall and don't have the budget for a proper rod then some of these alternatives might just work. 
The first option is using nails, one outright downside here is that they don't look the prettiest. Keep in mind that this option is more suitable for hanging curtains and not for other uses.
Simply nail the ends of the curtain to a wall using a claw hammer. Another disadvantage here is that you will end up limiting the functionality of the curtains, as in, not being able to slide them.
This is the reason why this option is my least favorite. 
The other interesting but absurd idea is using a tree branch. Depending on the type of person you are, you will either think this is a brilliant idea or completely stupid. A lot of people like the look of a tree branch in their homes, it kind of brings a natural vibe to the entire house.
But the biggest disadvantage here is finding the right branch. It has to be the perfect thickness while also being sturdy enough. The length you can shorten but you cannot increase the thickness. At the same time, one advantage is that you won't have to buy a branch. 
The most common alternative and by far the least surprising is using a copper pipe. They can look good as well provide the necessary sturdiness.
You can easily get copper pipes at a hardware store and they come in a lot of shapes and sizes. Copper pipes also look quite good. 
The other option is using a rope. It is quite simple, cheap and can be quite strong. Of course they might not look as good but they will surely get the job done. 
Can A Tension Rod Hold Clothes
Although the most common use of a tension rod is for hanging curtains, you can certainly use them for holding clothes.
You will just have to be careful about the weight you are putting on them. They can be used as a drying stand quite effectively. 
Will A Tension Rod Damage Walls
One of the better things about tension rods is that you don't have to use nails to keep them in place.
This means that you won't have to use a hammer and make holes into your walls. But there is chance that the rod might scrape off some paint from your walls. 
If you are attaching a tension rod to a dry wall, you might see some cracks.
Sometimes when the ends of a rod press against paint, some moisture gets trapped between them. This can lead to some pretty nasty stains and even mould.
One of the ways to avoid this is using felt pads between the ends of the rod and the paint. 
Using A Tension Rod As A Room Divider
Some people have found a different use for a tension rod, that is, using them as room dividers. While it is a pretty good and cost-efficient idea, there are some drawbacks to this. First, you can only effectively use them on narrow walls. So, you won't be able to use it to divide a living room from a dining room as generally the walls are pretty wide. 
The second disadvantage is that they don't really look that great. So, if you plan to use them in areas where guests usually come a lot then you might have to decorate it further. 
But for smaller apartments and rooms, this genuinely seems like a good idea. 
In Conclusion
There are a lot of unique uses of tension rods. They are not only cheap and effective but if you buy a decent quality rod, they can last a pretty long time.
Make sure that you install your tension rod properly and that you don't put a lot of weight on them. You can even follow some of the tips to make sure that they are attached properly.