Nothing is more unattractive then a dirty shower floor, you almost feel like not taking a shower at all. There are a lot of different ways of cleaning the shower floor tiles and using the wrong method might end up ruining your floor or give unsatisfactory results. Lets take a look at some of the best methods for cleaning your shower floor. 
You can either use a vinegar or baking soda solution mixed with water or harsher chemicals like hydrogen peroxide oxygen bleach etc. First clean the tiles with hot water and then spray or spread the solution on to the tiles. Leave it for about 30 minutes and then rub it off in a circular motion using an old rag. 
How Can You Clean Shower Tiles Without Scrubbing?
The first thing which you need to keep in mind before starting to clean is that you will need to treat the floor or the tiles with some kind of a solution which can break down the dirt and other substances stuck on the floor. This will make it much easier for you later on to rub off the dirt. 
Some of the substances which you can use to treat the tiles include baking soda, vinegar, hydrogen peroxide, oxygen bleach, chlorine bleach and vinegar and dish soap. You can also use some of these chemicals in combination with each other.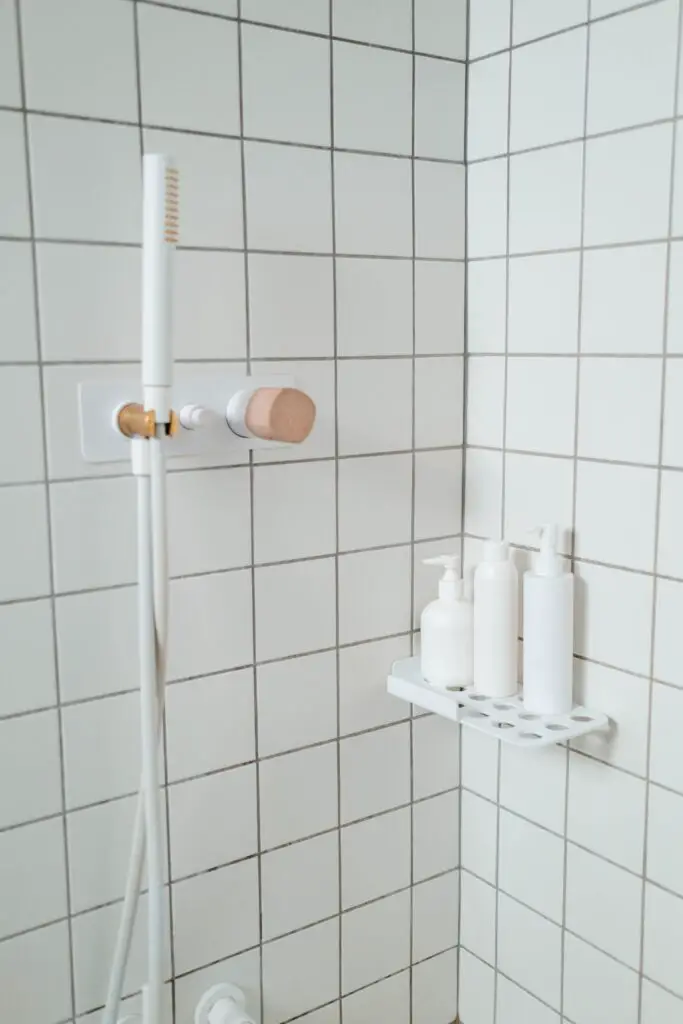 Step 1: Pre Treating your tiles 
The first step is to help the dirt particles loosen up on the tiles. You can do this by simply running the shower on very high for about 10 minutes and close the curtains or the shower door. The steam and the hot water will lift and loosen the dirt particles from the floor and help the chemicals to break them down. 
Turn off the shower and rub the floor once with a cloth in a circular motion to remove any loose dirt particles. 
Step 2: Using the Solution 
The next step is to prepare the solution which you are going to use. If you are using vinegar can mix it with one part water, the same goes with baking soda, you will have to mix it with water until you get a toothpaste like consistency. 
With hydrogen peroxide, mix it with 2 parts of water and transfer this to a spray bottle. Hydrogen peroxide can be sourced from most drugstores can be very easy to find on top of being environmentally friendly and effective. 
If you are using oxygen bleach then you will only need to mix 2 tablespoons of it with a gallon of warm water to get an effective solution. With Chlorine bleach you will need to mix ¾ cups of it with a gallon of water. But be very careful while using this and make sure your room is well ventilated. 
Step 3: Applying the Solution 
With most of the solutions that you have made, you will have to apply the solution by either spraying it or spread it on the floor and leave it for around 30 minutes. During this time, the chemicals will loosen the dirt particles on the floor and even make them dissolve into the solution. 
While using chlorine bleach, make sure to have the room well ventilated as they can release a lot of fumes which can be harmful to your health. 
Step 4: Clean off the Solution 
Always use old cloth rags while cleaning the solution as some of them can ruin the material. Rub the floor in a circular motion and clean it off with hot water after about an hour. 
How To Clean Shower Tiles With Vinegar?
Once you have the equal parts vinegar and water solution, spray it on the tiles using the sprayer and let it sit there for about half an hour. After this, clean it off using a cloth rag and rub the floor in a circular motion. Finally, clean the floor with hot water. 
How To Clean Shower Tiles With Baking Soda?
With baking soda, instead of a solution, you will have a toothpaste like consistency. Spread this paste on the tiles, you can do this using a brush. 
You can also spray the vinegar solution on top of this. This will create a bubbling effect which will further clean off the dirt particles. 
Leave this solution for about 30 minutes and then clean it off using an old cloth in a circular motion. 
Both baking soda and vinegar are some of the most popular methods which you can use. They are effective, cheap and easy to use. 
How To Clean Shower Tiles And Grout?
Cleaning grout can be a headache, it is usually light coloured and can get easily stained and especially hard to clean. You can use vinegar, baking soda and the other chemicals for this as well. But keep in mind that hydrogen peroxide or bleach should only be used if you are dealing with hard to clean stains. 
You will need a small toothbrush to get into the small cracks and to get rid of the dirt particles. While some grouts are pre coloured, which can resist stains to a greater extent, others are not. 
First scrub the surface with warm water and a medium bristle brush. This will get rid of any easy to remove dirt particles. Don't use a lot of water though, it is possible that the grout might end up absorbing some of the moisture. 
Once this is done, spray the grout with the vinegar solution or spread the baking soda solution and then top it off with vinegar and let it sit for 30 minutes. Clean the solution off and wipe it with a warm moist rag. 
You can also use commercial grout cleaners or other harsher chemicals as described above to get rid of hard stains. 
Conclusion 
You can use vinegar, baking soda, hydrogen peroxide, oxygen bleach etc to clean your shower tiles. Make a solution of these chemicals with water and spread or spray them on the tiles.
Leave it for about 30 minutes and rub it off using a damp cloth. You can also clean the tiles before using hot water to make the job easier.