Isn't it extremely frustrating when you have to cook something for dinner and you notice that your oven is extremely dirty?! I have met a lot of people who have no idea how to properly clean their oven, much less how simple it can be with baking soda and vinegar!
Cleaning an oven with baking soda and vinegar is extremely easy. Just mix a 3:1 vinegar to water ratio with a bit of baking soda. From there, spritz your oven down and let it sit for 15-20 minutes. Wipe it down with a paper towel or clothes when done. So easy and cheap!
But most people will go out and buy expensive cleaning supplies which contain very harsh chemicals. It's likely you already have the necessary cleaning supplies you need to clean your oven properly. Some basic household items are pretty efficient cleaners as well. 
All you really need for the cleaning job is some baking soda, vinegar, water, wet clothes (or paper towels) and gloves.
The entire process is very easy and won't even take half an hour once you get the hang of it. 
Why Should You Not Be Using Harsh Cleaning Chemicals For Cleaning Your Oven?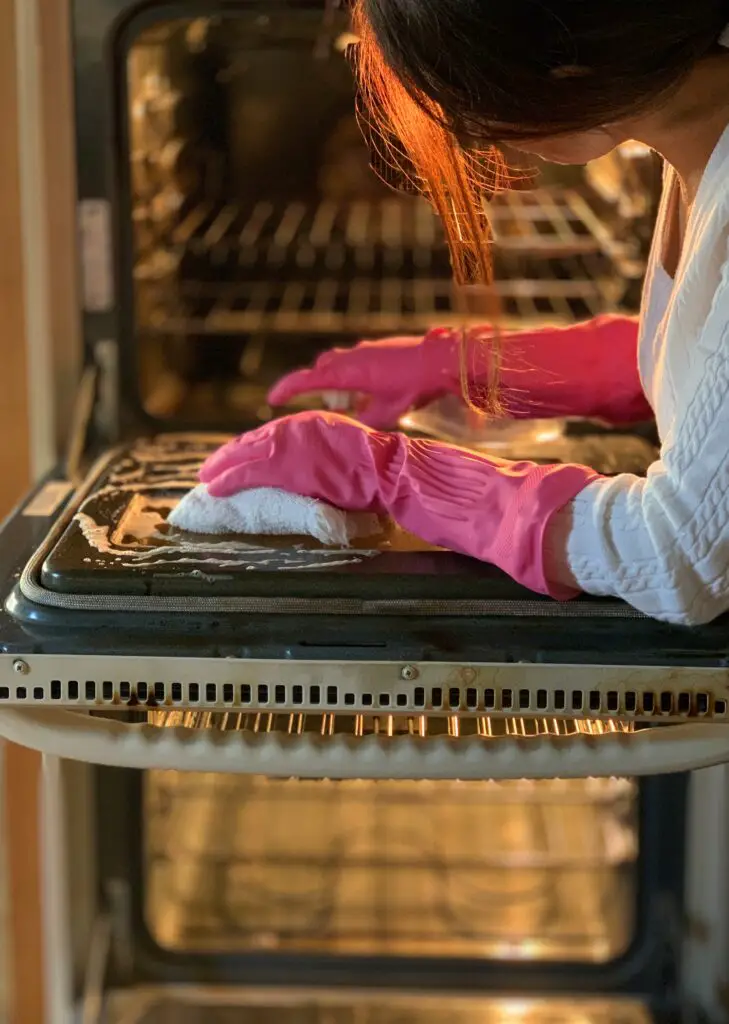 Most people usually think that to perfectly clean something they will need to use some harsh cleaning chemicals. But for appliances such as the oven, harsh chemicals can spoil the quality of the food being cooked in them for some time.
These harsh chemicals can also be very bad on your health. It is possible that some of the chemicals stay in the oven even after cleaning and they might get mixed up with whatever you are cooking in it. 
Some of the chemicals which are present in these cleaners include potassium hydroxide, monoethanolamine, sodium hydroxide and butoxydiglycol. Presence of these chemicals can cause respiratory issues; skin burns and damage to the eyes and throat. 
Why You Should Use Household Supplies For Cleaning Your Oven?
You will be surprised to know that many of the regular items you use for cooking also act as excellent cleaners. Things like baking soda, vinegar and a piece of lemon can do wonders while cleaning. 
Vinegar 
Vinegar comes in a lot of different varieties like balsamic vinegar, champagne vinegar, red wine vinegar, rice vinegar, apple cider vinegar, malt vinegar and distilled white vinegar.
The white vinegar or distilled white vinegar is the most common variety all over the world and is also very versatile in nature. It is the best option when it comes to cleaning. 
Vinegar is acidic in nature and it usually comprises of 4-8% acetic acid. It is a natural disinfectant and is usually mixed with water to form a milder solution. It is excellent when it comes to removing stains.
Baking Soda 
You must have used baking soda on a variety of foods but one of its hidden qualities is that it can also be used to clean a lot of surfaces.
It is slightly abrasive which makes it suitable for using on animal messes, grease and proteins.
You will have to be a little careful and gentle while using it on glass doors as it can lead to scratches. 
How To Clean Your Home Oven Using Baking Soda And Vinegar?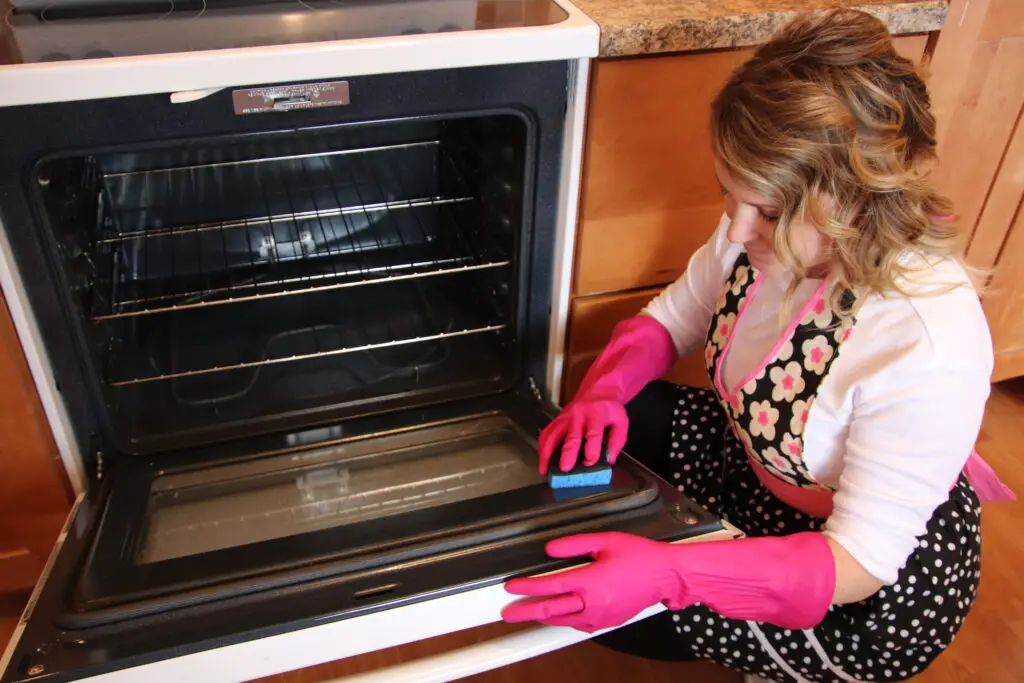 This entire process will only take about half an hour and for most of this time you will just have to wait. 
The first step that you need to take is make a paste of baking soda and water. The final consistency should be like that of pancake batter. For making this paste, mix a few spoons of water with about half a cup of baking soda. Stir this mixture for a minute or two. 
Once this is done, remove all of the racks from the oven and whatever else is kept inside. For the next step you can either use a spatula or a spoon or a rubber glove. According to my experience, the best method here is to use a rubber glove. You will be able to access some of the difficult to reach parts quite easily. 
Apply the paste to all the dirty areas in the oven but make sure not to cover the heating element with it. Once you have applied this paste, let it sit for about 20-25 minutes. Now all you have to do is to wipe out this paste using paper towels. You can use a damp cloth here as well. 
You can also make a mixture of water and vinegar in a 3:1 ratio for wiping the oven.
This will make sure that all of the hard to remove stains are loosened and can be easily removed. 
How To Use Baking Soda and Vinegar For Heavy Duty Cleaning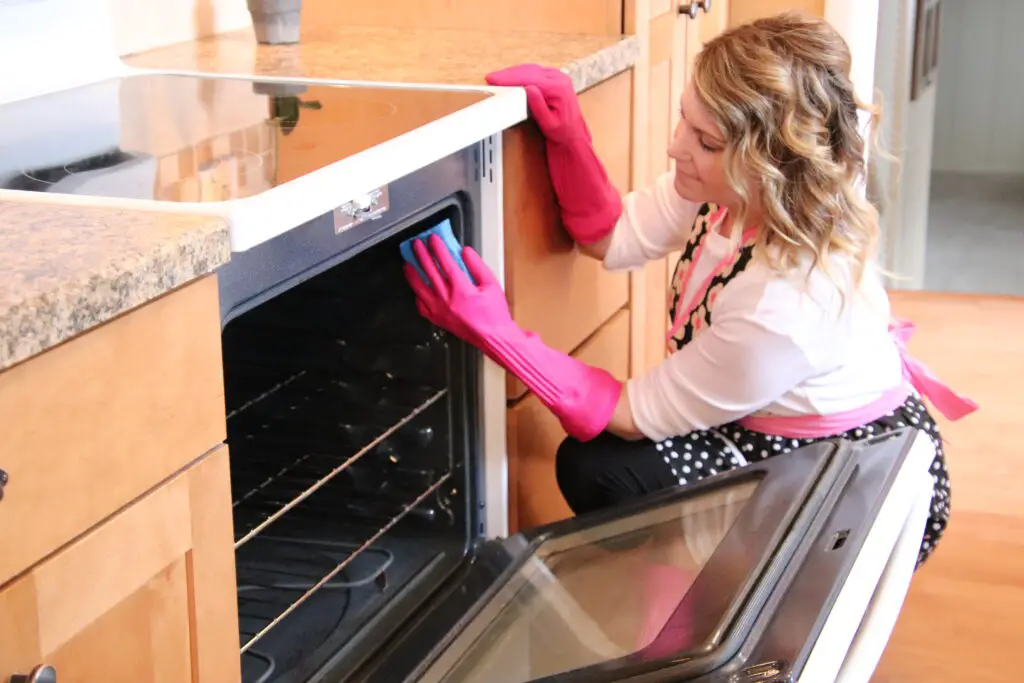 If the stains in your oven have been collecting for quite a while, they will become much harder to remove over time. even in these cases you can use baking soda and vinegar quite effectively. You will only have to change the recipe a bit. 
While making the baking soda and water mixture, add a little salt to it as well and make sure you use a lot of baking soda. This time the consistency you are looking for is rough and sandy, something like cake icing. 
This time you will have to leave the paste overnight and wait for it to completely harden. You can remove this hardened paste using spatula and warm wet towels. 
There is one more technique you can use here, instead of making a paste of baking soda and water, sprinkle some baking soda on the stain and spray a mixture of water and vinegar on it.
You will see some bubbles forming on the stain. Leave it again for about 20 minutes and wipe it clean with wet towels. 
Wipe the oven again while spraying the vinegar and water mixture. Using vinegar in this technique will make the cleaning process for the baking soda much easier. 
Is It Safe To Clean Oven With Baking Soda and Vinegar?
Compared to rest of the harmful chemicals available in the market, baking soda and vinegar are some of the safest things you can use while cleaning any appliance. We regularly cook our foods using these items and even if some amounts get left behind after the cleaning process, it will have no significant impact on our health. 

Will Baking Soda Harm A Self-Cleaning Oven?

Baking soda is safe for self-cleaning ovens! Baking soda neutralizes this grease and breaks it down which makes wiping the oven easier. Baking soda is also non-toxic and inexpensive which is pretty safe to be used on oven. 
It is regularly used for cooking food. Baking soda alkaline in nature and the usual oil spray in the oven is acidic in nature.
How Long Should Baking Soda Sit In The Oven?
Some people leave the baking soda and water mixture overnight until it hardens while some people only let it sit for 15-20 minutes. 
This generally depends on the intensity of the stains and what technique you are going to be using.
In Conclusion..
Baking soda and vinegar is one of the easiest and most effective ways of cleaning your home ovens. Use the 3:1 vinegar to water ratio with a bit of baking soda. Spritz your oven down and let it sit for 15-20 minutes. Wipe it down with a paper towel or cloths when done.
It won't even take a lot of time nor will you need expensive chemicals plus it's a lot safer to use when compared to the harmful chemicals.
I hope all of you switch to using this method for cleaning your ovens, it will surely make your food much healthier.
Enjoyed this? Make sure to read this next: