The kitchen is where house members come together for everyone's favorite part of the day: Eating Time!
If you are planning to remodel your kitchen or bought an old Mediterranean house, considering a Spanish style kitchen is a great idea. Spanish style kitchens are all about warm colors, rustic furniture, patterned tiles, and rugs. 
It brings out a cozy environment and makes everyone take out the oldest wine and have a prolonged dinner. Let's get you some inspiration for Spanish style kitchens!
What Is A Spanish Style Kitchen?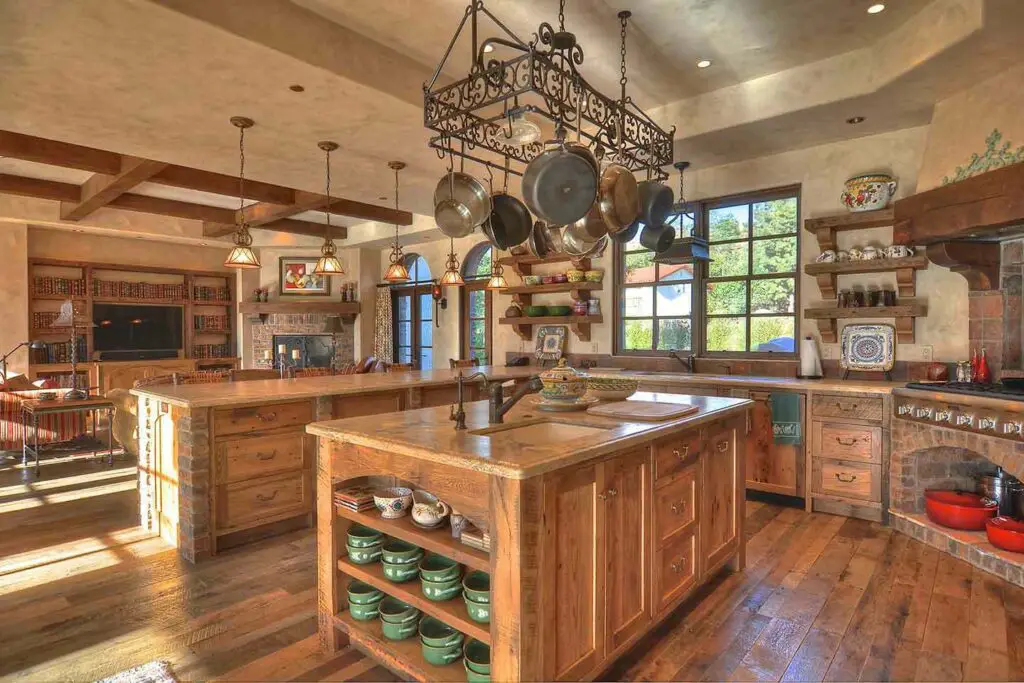 A Spanish style kitchen has all the features to make your kitchen feel homey and snug.
Romantic tile patterns, bright cheerful walls, woody furniture, and glamorous rugs are what make a true Spanish kitchen.
They are the perfect blend of vintage and beautiful architecture.
They are often filled with an abundance of details, dark wood cabinets, and painted tiles.
Is A Spanish Style Kitchen Trendy?
Yes rustic, cozy thing that seems calm and peaceful is trendy.
You can incorporate some elements of the Spanish style kitchen with modern kitchens and get a contemporary look.
Honestly, a Spanish style kitchen is timeless. It is classy, elegant, and gives your home great appeal.
A Spanish kitchen is a great selling point of a house and many people still seek them out or even renovate to create their very own Spanish kitchen.
Spanish Style Kitchen Inspiration
Looking for some inspiration for a Spanish style kitchen? 
No worries:
We have got some enrapturing inspirations that cover all the aspects of a true Spanish revival. So, let's dive right in!
Veracious Spanish Style Kitchen
Want a traditional Spanish style kitchen to get all the romantic and glamorous feel? This one is probably for you.
The woodwork emphasizes the coziness and the terracotta ceiling makes this kitchen the most Spanish. It would definitely make you and your family wanna stay in the kitchen the whole day.
Archways either in the kitchen entrance or covering a part of the kitchen are quite common in a Spanish revival.
This inspiration incorporates all the earthy colors and will make you feel closer to nature.
Rustic Spanish Style Kitchen Inspiration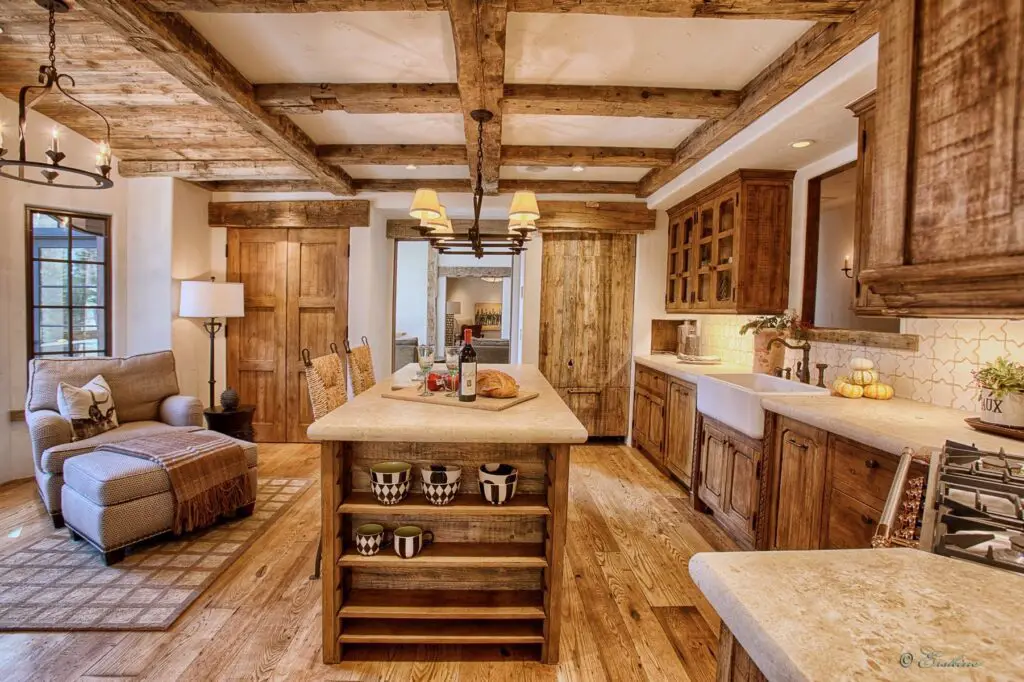 Rustic furniture, earthy vibes, all-natural colors are what make Spanish style kitchens so unique.  In this inspiration, every little element is in accordance with the Spanish and Mediterranean styles. 
You can choose any aspect and incorporate it in your kitchen or take the whole inspiration as it is. 
The best thing about this rustic look is the usage of the same wood pattern for the floor, ceiling, cabinets, and doors. If you want a traditional Spanish look, this would be it. 
The little pots with chic patterns enhance the look in a subtle yet charming way.
Mix of Spanish and Modern Style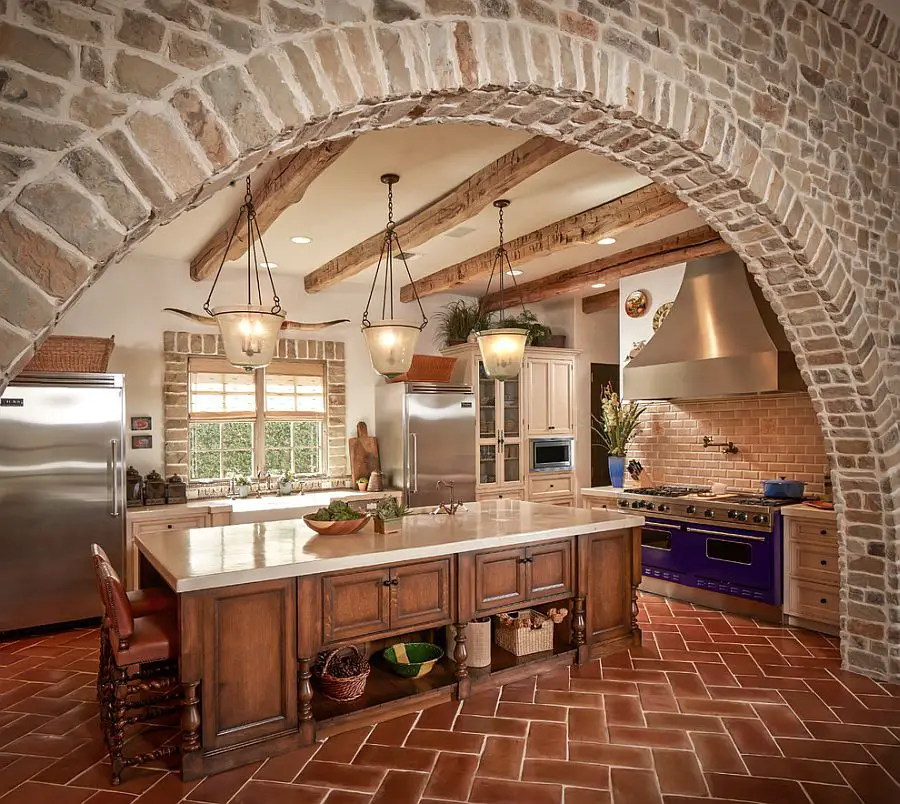 Here comes the archway again but this time in the entrance of the kitchen. The archway entrance reminds of the old Spanish forts and provides royalty to the kitchen.
The criss-cross arrangement of floor tiles is a good way to get a sophisticated pattern. 
Spanish style kitchens have a lot of dark and cheerful colors in them. These include brown more but other bright colors also look good and unique.
Therefore, the dark blue oven is a great addition to the flamboyance of this kitchen style.
Open Air Spanish Kitchen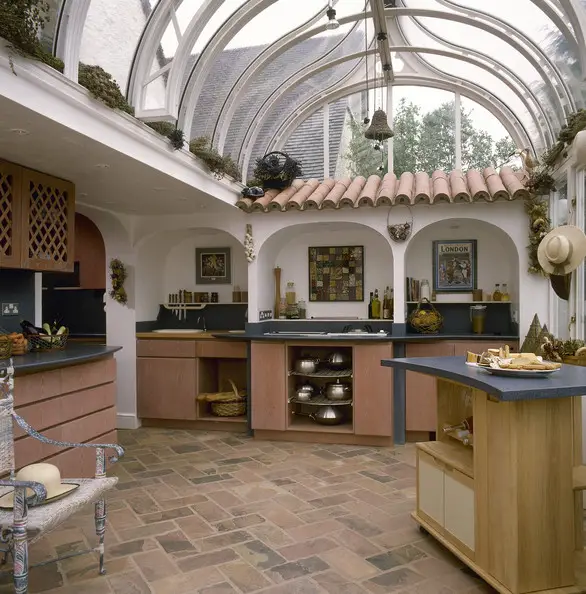 What's unique and better than an outdoor Spanish style kitchen. This kitchen is the best if you want a whole new kitchen outdoors. The natural light coming into the kitchen will light up the surroundings and freshen everyone up. 
To make it Spanish style, the usage of rustic tiles and wood furniture are incorporated.
Wicker products come of Spanish origin and using them in your kitchen will definitely bring a Spanish and boho touch.
Modern Kitchen with Spanish Touch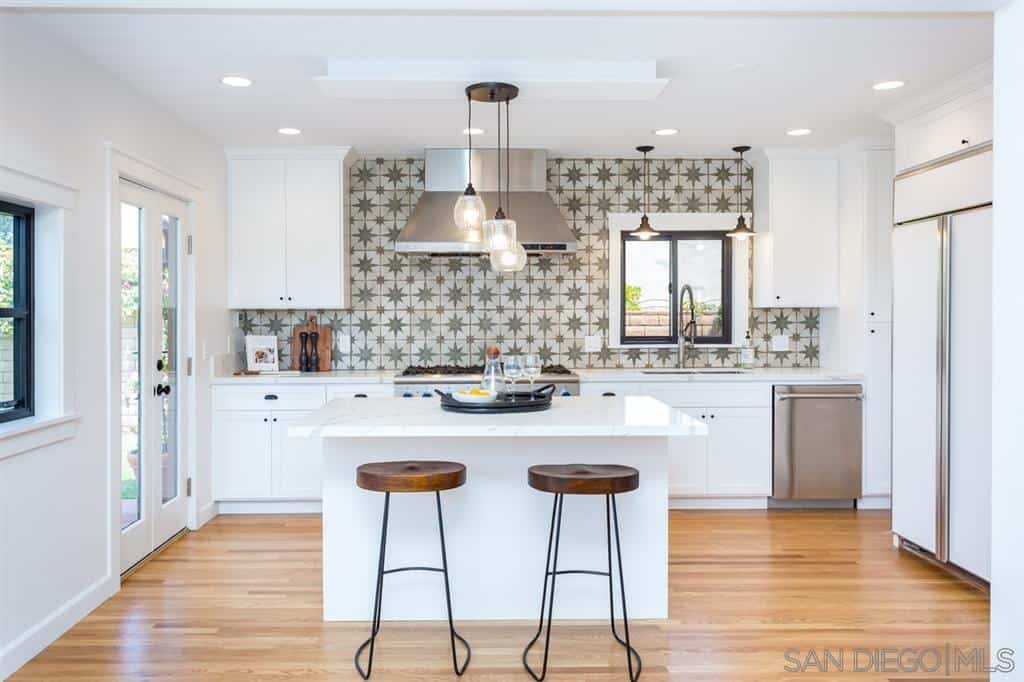 Don't want to remodel your whole kitchen or only want some Spanish elements in it?
Using patterned tiles either on the floor or on the walls is a great way to have a hint of Spanish touch in your kitchen. This will instantly make your kitchen look lively, contemporary, and glamorous.
Using some woody products like wood floor and woody chairs will provide a subtle Spanish look to your kitchen. 
It's true that a chandelier can be too big for a kitchen. But hanging lights and chandeliers are common elements in Spanish styled kitchens. As an alternative, you can use hanging light bulbs like in this inspiration.
Cheerful and Chic Spanish Boho Kitchen
Do you love cheerful, bright colors? Then try out using bright tiles on the floor and walls. 
Brick red wall tiles and woody furniture will instantly make your kitchen stand out and look Spanish style. 
Using colors that match is not important when getting a Spanish kitchen. What's more important is the brightness of the colors.
However, brick red, yellow, green, rustic colors, and dark blue are some colors most commonly used to get a Spanish look. And all of these colors have been used in this kitchen.
To keep it well balanced and not look too extra, the floor tiles have only a hint of dark blue color. This keeps the kitchen looking sophisticated yet fancy and lively.
Spanish Style Elements for Small Kitchen
If you have a small kitchen and want some Spanish style elements then try out this look. All you need is a wood floor and a patterned large rug.
The rug better covers most of the floor and has bright colors to get a boho look.
Use patterned pots here and there in your kitchen for the enhancement of this look.
Anything related to earth and nature will bring out a great look to this inspiration. The most modern way to do this is to use plant pots and flowers.
Spanish Style Floor Inspiration
This is another inspiration for a subtle Spanish look in your kitchen. The black floor with a brick red and yellow pattern in the center is a great approach to achieve a Mediterranean look for your kitchen.
You can use tiles with an earthy color such as dark brown for this look too. 
Mix and matching are usual in Spanish style kitchens. Therefore, you can mix and match some tile patterns with the floor and use it on the walls too. 
The addition of wood furniture will make your space a modernized Spanish kitchen.
Modern Take on Spanish Style Kitchen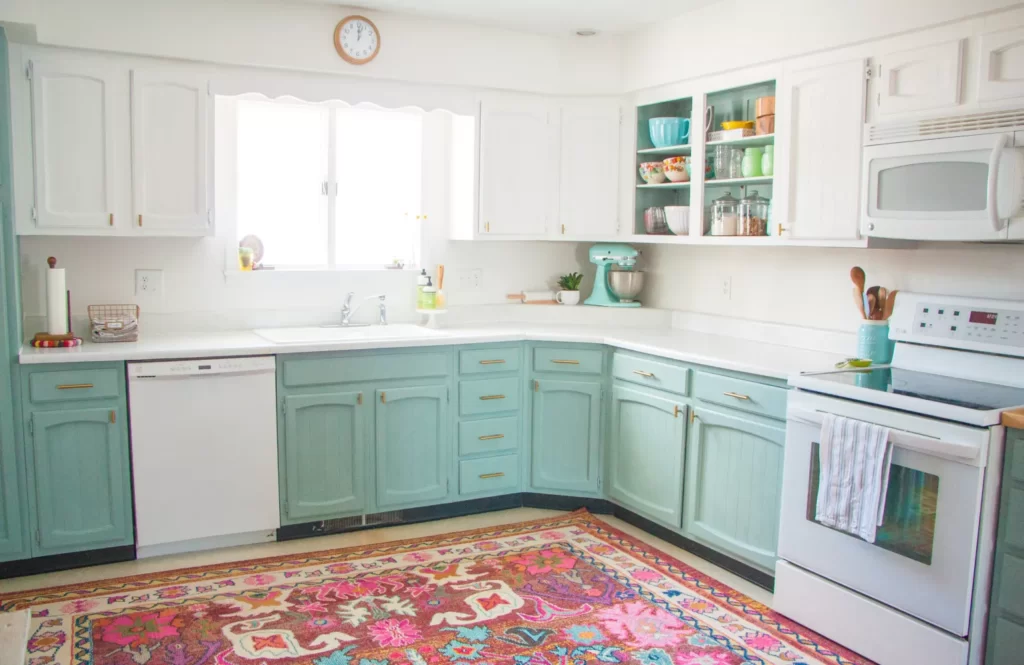 Don't want to go too far with the Spanish remodeling. No worries! You can only use some paint and rugs and get a subtle Spanish look in your kitchen.
This inspiration is perfect for all pastel lovers looking for modern Spanish kitchen inspiration.
The boho rug with colorful patterns looks super trendy with the pastel cabinets. 
It is not necessary to use pastel green. You can also use pastel yellow, pink blue, etc to achieve this look.
If you don't like pastels, you can also go for a dark blue, brick red, dark green, or brown color. All these colors are perfect for a Mediterranean look.
One of A Kind with Everything Inside Spanish Look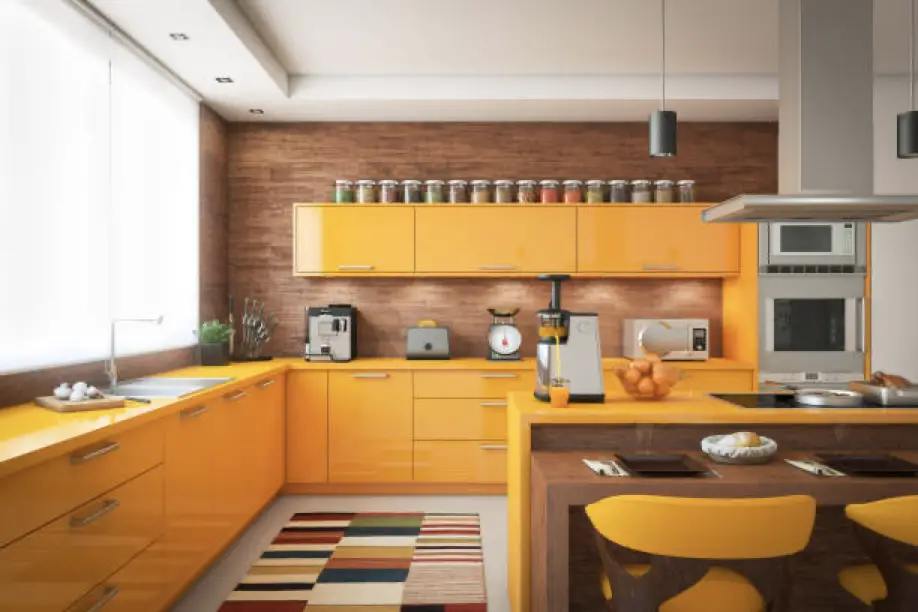 Love every aspect of a Spanish style kitchen?
Here's the catch:
You can add a little bit of everything to your kitchen and obtain that simple yet glamorous Spanish look.
This is a modern take to make the kitchen look rustic.
Brick walls with wood ceilings were famous in the Spanish forts. 
Rugs, earthy colors, wood, bricks everything is present in this inspiration to give it a traditional Spanish style kitchen look.
Little Elements to Make Your Kitchen Spanish/Mediterranean Style
There are some little things that you can add to your kitchen to achieve that Spanish, boho look. These include:
Vibrant Backsplash
Metal Sink and Tap
Bright Rugs
Patterned Pots
Spanish Style Kitchen Backsplash Inspiration
Usually, Spanish style kitchens have a backsplash of vibrantly patterned tiles above the stove. It is a contemporary way to make your kitchen look unique, cheerful, fun and boho. 
There are thousands of options you can choose from for this purpose. So, here's some inspiration to give you a better idea.
Spanish Style Kitchen Sink Inspiration
Spanish style sinks have nothing extra in them. They are simple but are usually made up of natural-looking copper or other metal elements. They definitely look quite unique and homely.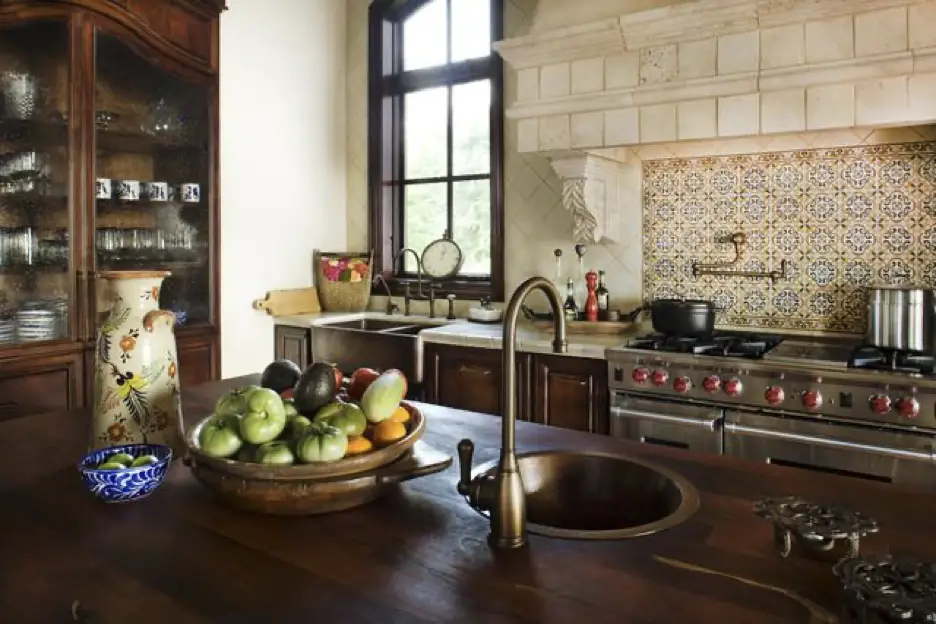 Bright Rugs for Spanish Style Kitchen
Using rugs in your kitchen is the easiest way to get a modern Spanish look. You can get any rug with bright patterns on it for this purpose. There's no hard and fast rule for this.
Rugs can be of any size but mostly in Spanish kitchens, they cover most of the floor. If you have a tiled floor especially with white tiles and you want a Spanish look, get a big-sized rug to cover the whole floor.
Patterned Pots for Spanish Style Kitchen
Patterned pots will enhance the look of your kitchen. If possible, get your hands on hand-painted pottery. They always look royal and charming.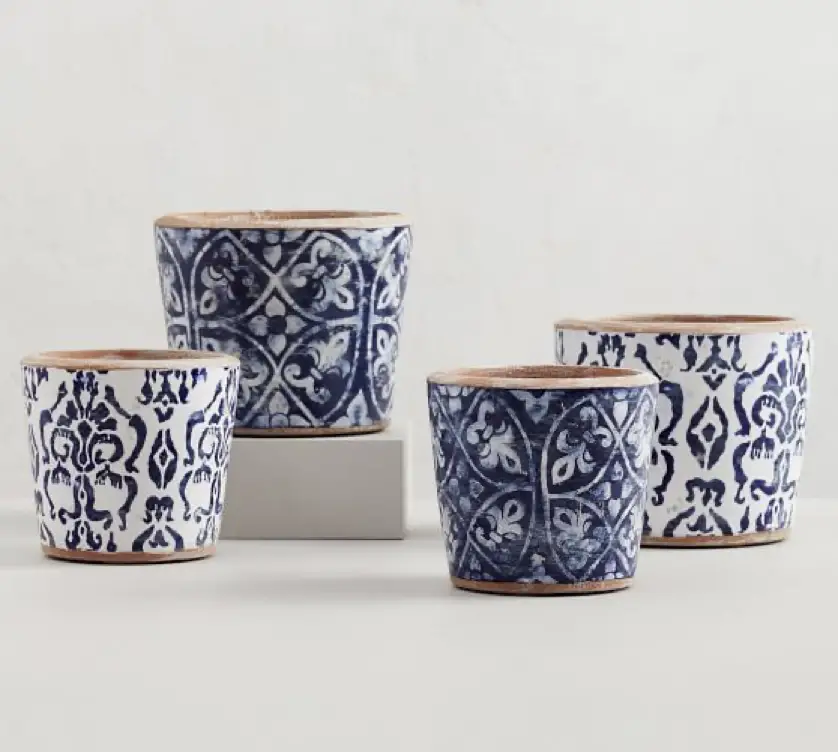 All in all….
At the end of the day, it all depends upon your personal preference. You can use any above-mentioned inspirations as they are or add your personality to the look and make it feel dear to you.
You can get a traditional or modern Spanish style kitchen by using only a few elements like rugs, pots, a lot of patterns, bright colors, and wood materials. 
It is one of those styles of kitchens where you can use your artsy skills to the fullest by mixing and matching everything.