Ceiling cracks can be a huge sign of worry, especially if you don't know the possible reasons behind it. It can be very difficult to tell if the a ceiling cracks is something to worry about or if it is simply cosmetic. Let's take a look at some of the possible reason for ceiling cracks and whether you should worry about them or not. 
Some of the common reasons behind ceiling cracks in ceilings include some kind of structural damage, natural settling of the house or a problem with the workmanship. If the cracks run all the way across the walls, between the ceiling and the wall or if there is a sign of moisture in the ceiling or if there is some sagging then it could indicate some structural issues with the ceiling and it needs to be immediately checked. 
What are the Possible Reasons Behind Ceiling Cracks?
There can be a lot of reasons for ceiling cracks, but most of the reasons can be categorised into structural damage, natural settling and poor workmanship. Some of the most common reasons include:
The most common reason behind ceiling cracks involves the natural ageing or settling of your house. As your house gets older, parts of it will start settling or ageing due to normal wear and tear. This can only cause cracks in your ceilings but also your walls and floors. 
The other reason includes moisture damage. Over time, moisture can seep into your ceiling and walls which can lead to expansion and contraction of your walls and ceiling which can lead to cracks. This is more likely if your ceiling is directly connected to your roof and you live in a rain prone area. 
Another reason includes too much pressure from the floor above. If you have kept something unusually heavy like a piano in the floor above the ceiling, it can lead to cracks in the floor below. 
Issues with the drywall are also a very common reason behind ceiling cracks. This usually doesn't indicate anything serious and is often a result of improper joints in the drywall. 
You can also have structural problems with the foundation of your house. This can be quite serious and can often result from foundation settlement. 
Different Types of Ceiling Cracks
It is important to recognize different types of ceiling cracks. You can tell a lot about the cracks by their looks. 
Spiderweb Cracks
The first type includes small thin cracks which resemble spider webs. They are also known as spiderweb cracks and are usually nothing to worry about.
These can happen with even slight movements within your walls and ceiling. They can also result from years of build-up.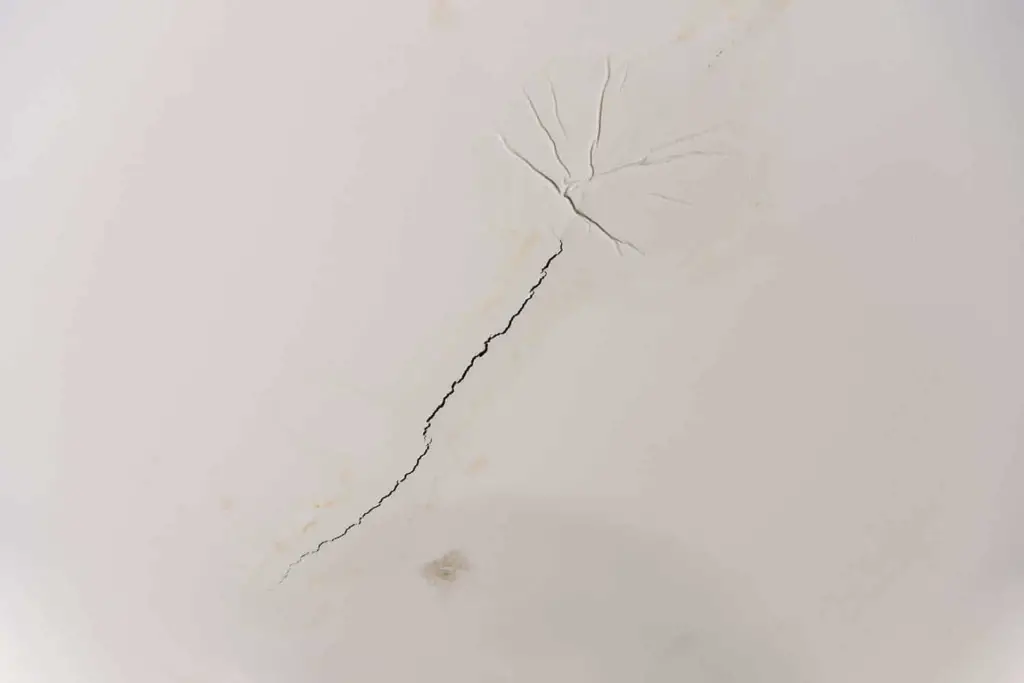 Entire Ceiling Cracks
The other kind are the cracks which run across the entire ceiling and continue down to the walls.
In case you have these kinds of cracks, you should get them checked immediately as more often than not, they indicate some kind of structural damage.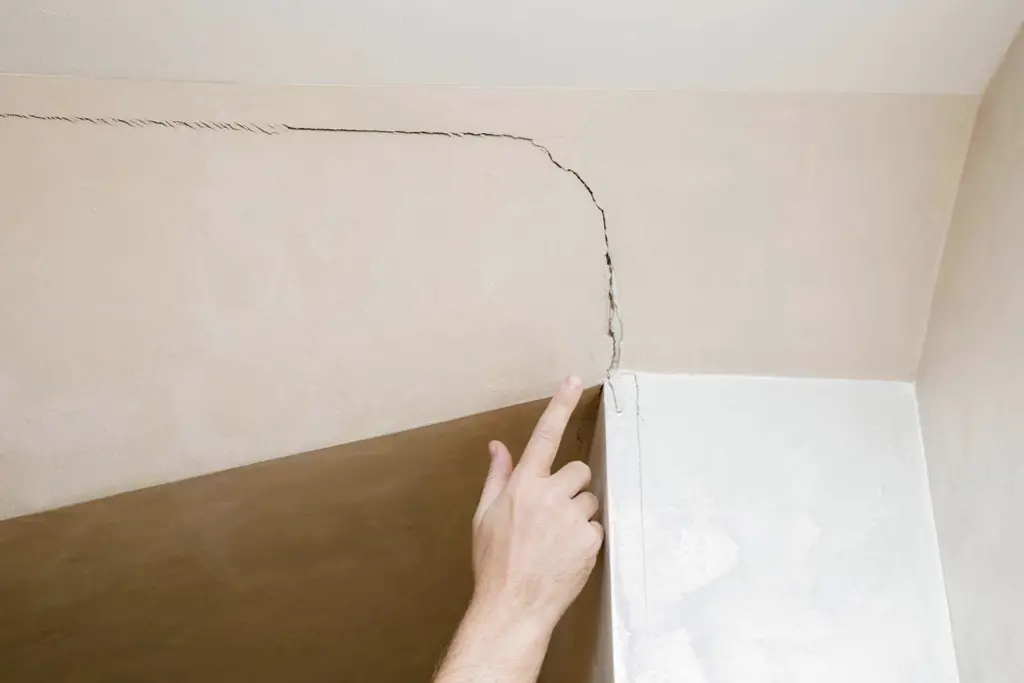 Sagging Cracks
The third type are the cracks which also come with some kind of sagging, these also indicate some serious problems with your ceiling and you should get them immediately checked out.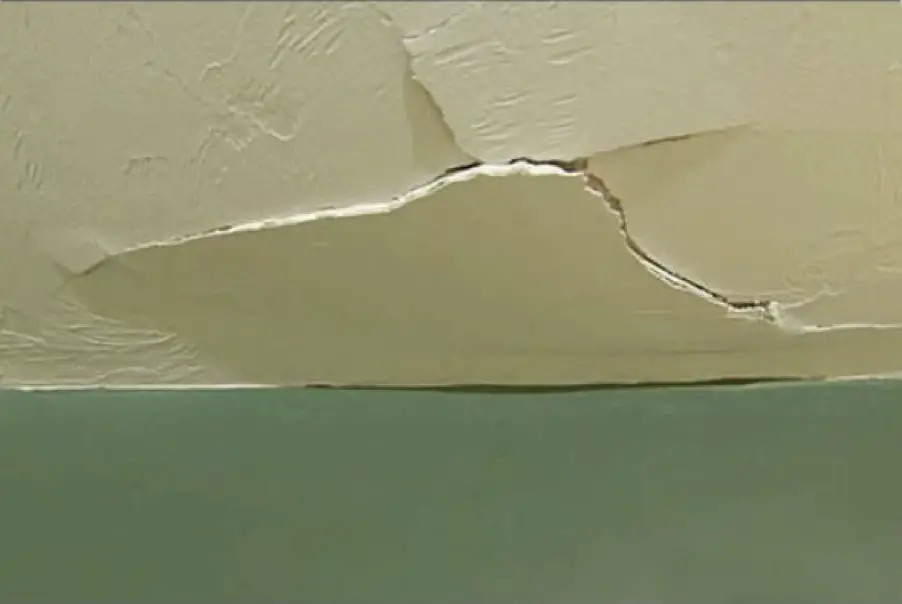 Gap Cracks
The last kind are the cracks which happen between the ceiling and the walls which often look like gaps between the joints.
You should also get these types of cracks checked. 
Moisture Cracks
Brown or yellow colours cracks are a clear indication of moisture damage to your ceiling.
These should not be taken lightly, call for some professional help as soon as possible.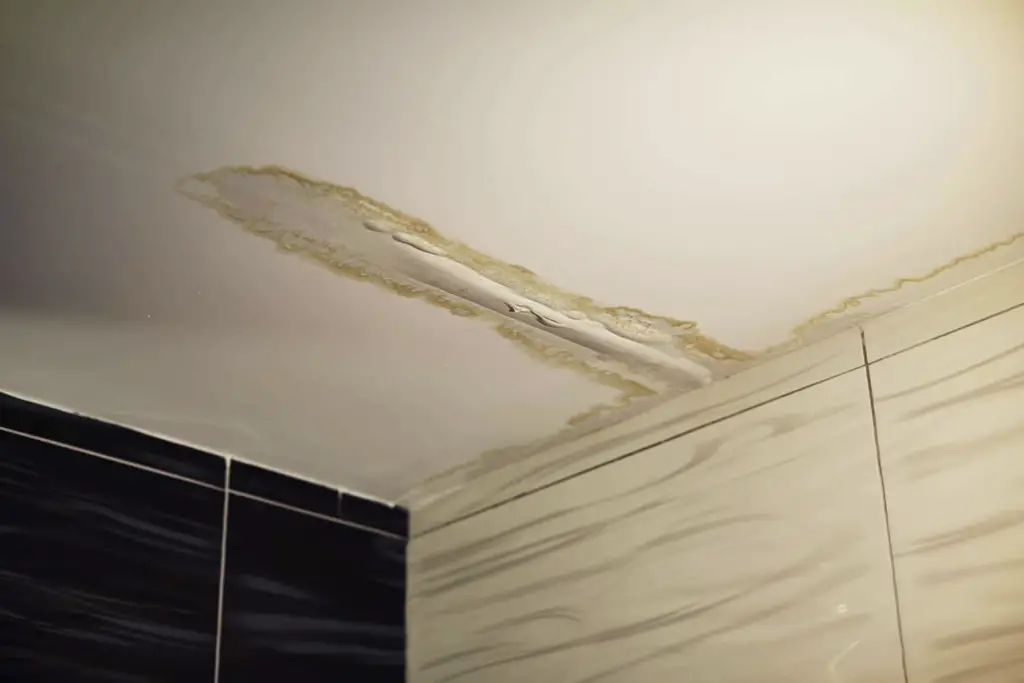 Hairline Cracks
Hairline cracks are small thin cracks which usually occur due to some issue with the plaster in the wall.
These are often caused by modulations in the temperature and humidity and are usually not a cause for concern.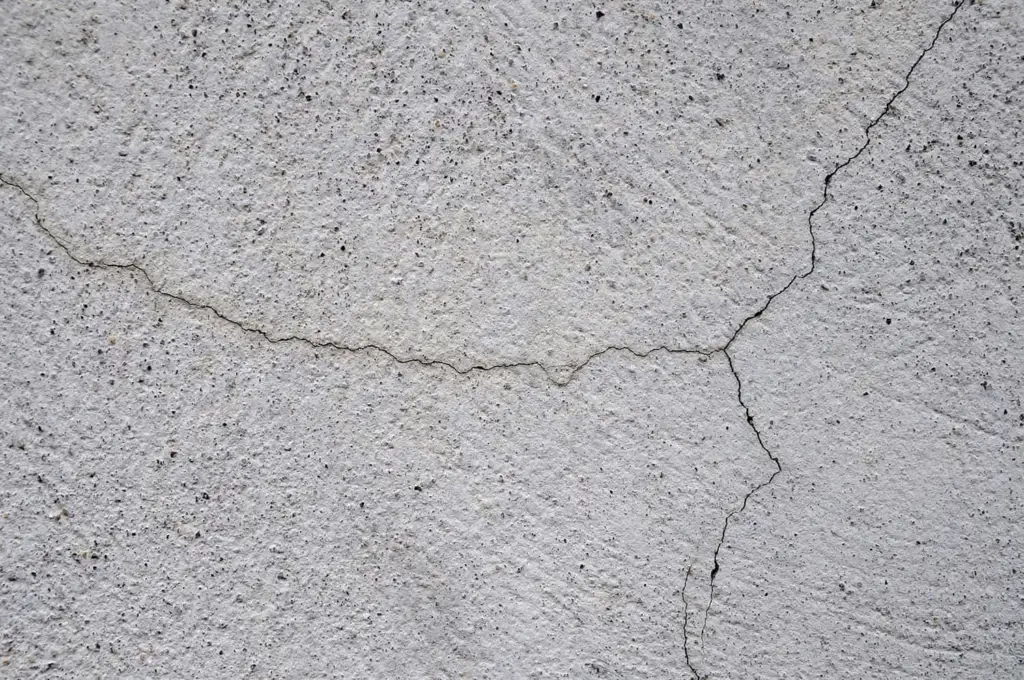 How Do You Know If A Ceiling Crack Is Serious?
In any case you should first pay attention to the type of ceiling cracks you have. If you think the cracks run down the walls or occur along with sagging or if they are between the walls and the ceiling then you should get them immediately checked out. 
Along with the cracks, you can also look out signs like uneven floors or slopes, sticking doors and windows, cracked walls, wall rotation due to excess moisture within the walls and the ceiling, cracked mouldings or water in your basement.
If you see any of these signs, then it might indicate some serious issues with your house. 
What Do Hairline Cracks In Ceiling Mean?
Hairline cracks are not usually serious and are usually caused by temperature and humidity fluctuations which cause the plaster wall to contract and expand which leads to these types of cracks.
They are usually only till the plaster of the wall and do not represent any structural damage. 
You can either choose to ignore them or retouch using some paint to hide them. 
How Can You Tell If A Crack Is Structural?
The best way to figure out if a crack is structural, you will not only have to pay attention to the type of crack you have, but also to the surrounding symptoms.
As discussed above, if the cracks are accompanied by sagging, rotation, cracks running across the walls, slope, clear signs of moisture damage etc. 
If the crack is only localised to the drywall or the plaster then it likely means that the cracks are not structural. 
Who To Call For Ceiling Cracks?
In case you are noticing ceiling cracks, the best recourse you have is to call for some professional help.
You can either contact your architect or builder or call a foundation expert. Some people choose to call a plumber or a carpenter but it is better to look for a foundation expert. 
With the latter choice, he or she will also analyse how serious the situation is on top of repairing the ceiling itself. 
How Much Does It Cost To Fix Crack In Ceiling?
Depending on the type of ceiling cracks you are facing and the amount of structural damage, you can expect spending anywhere between $20 to upwards of $1000.
It is always recommended to contact a professional to get a better idea. 
Conclusion 
Hairline cracks in the drywall are usually not a reason to worry but if the ceiling cracks run down to the walls or if they are between the ceiling and the walls and are accompanied by sagging, moisture or rotation of the ceiling then it could indicate some kind of structural damage to the ceiling.
This needs to be immediately dealt with.