Figuring out the right garbage disposal system for your kitchen is one of the most essential things which you need to take care of. A garbage can should be placed in a location which is both convenient, efficient and aesthetically pleasing. No one wants the unsightly image of a garbage can as the first image of your kitchen. 
Some of the most common areas where you can place a garbage can includes a pull-out drawer, under the sink, beside the sink, in a closet, outside the kitchen or under the countertop. You should also take into account the layout of your kitchen along with your family needs while making the decision. 
Possible Places For Putting Your Garbage Can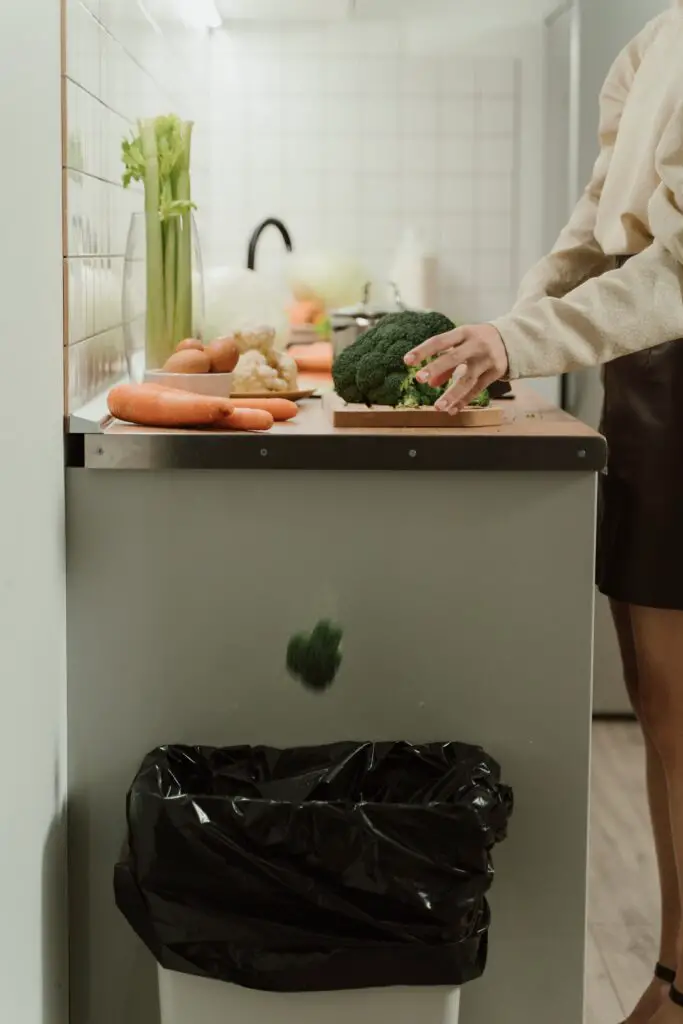 Some of the most common places where you can place your garbage includes:
Pull Out Drawer
Having a pull-out drawer to keep your garbage can is one of the most popular methods of garbage management in new modular homes. This gives you the advantage of keeping the garbage can out of sight yet also making it accessible at the same out. Having a pull out drawer also gives your kitchen more walking space. 
But one disadvantage of having this system is that you might have to touch the drawer every time you need to use the garbage can. Although this problem might not occur with every model, it is something to consider. 
Under The Sink 
Placing the garbage can under the sink is an excellent choice for people who don't want to remodel their entire kitchen. It is a good place to throw scrap food items efficiently and it is usually placed close enough to the cooking station. 
But one thing to keep in mind is that if there is a leak in the sink, there is a chance that water might leak into the garbage which can create a lot of mess and smell. 
Next to the Sink 
An alternative to the above method is storing the garbage can next to the sink rather than under it. This solves the problem of possible leaks. But this will also allow everyone who comes to your kitchen to see your garbage can. This method is very suitable for kitchen with limited dimensions. 
Under The Countertop 
Houses which have island kitchen can really utilize the space under the countertop to put their garbage cans. This will also give you the convenience of throwing garbage right after or during cooking. 
In a Closet
Some people who have unused closet spaces in their kitchen can also use this space to keep their garbage cans. But keep in mind that the closet needs to be on floor level. This way your garbage can will be away from people's vision. 
Some people also choose to add wheels to their garbage cans when storing them in a closet, this way you can move around the can depending on your needs. For example, if you are cooking, you can move the can next to you for the time being. 
How Can You Prevent Your Kitchen from Smelling Like Garbage?
Even if you place your garbage can in the perfect location, neglect can end up spreading the garbage smell to your entire kitchen. But fret on, there are some very easy and efficient methods which you can use to tackle this problem. 
The first thing which you should do is to clear out your garbage immediately. The longer it stays in your kitchen, the more smell it will generate, and it will be more difficult to get rid of it. 
The simplest thing to do is to use coffee grounds to neutralize and mask the smell. Coffee grounds have nitrogen in them which help in neutralizing odors while the strong coffee smell is really effective in immediately masking other smells. Just spread some coffee ground around the garbage cans. 
You can also use a bleach solution with water to deal with the issue. Bleach is a really effective disinfectant. Just add some bleach to water in a spray bottle and spray it around the garbage can. Leave it on for about 10 minutes and wipe it off with a cloth. 
Baking soda can also be used here, it is really effective in masking acidic smells like sour milk. It also absorbs moisture which reduces the chances of mold, mildew etc. 
Should You Take Out the Garbage Every Day?
It is recommended that you take out the garbage every day, especially if you add substances such as meat, fresh produce, dairy products, diapers etc. these substances can decompose and start smelling quite easily.
Although a lot of people choose to clear out their garbage every alternative day. 
Why Shouldn't You Place a Garbage Can in a Cabinet?
Although a lot of people choose to place their garbage cans in a cabinet, there are a lot of reasons which you should avoid this. 
The first reason is that inconvenience. Unless you have a cabinet, which is easy to open and close, in most cases, you will have to repeatedly touch the cabinet doors to access the garbage can. Over time the cabinet handles can get dirty and sticky, and it is likely that you will not clean it as regularly. 
The other reason is the possible smell. If you are even a little bit negligent with taking out your trash, your entire cabinet can start smelling like garbage and it will be really hard to get rid of. Keeping the can in a cabinet also makes it more likely for you to forget 
The third reason is that storing garbage cans in a cabinet can end up limiting your trash can options. You will be limited by the size and design of the cabinet itself. This might stop you from taking into account your household needs. 
Factors To Take Into Account While Placing a Garbage Can
While deciding where to place your garbage can, there are some factors which you need to take into account. 
The first thing is the layout of your kitchen. You want to place the garbage in a place which is convenient to reach from the most used locations. For example, the garbage can shouldn't be too far away from your stove, sink or tabletop. 
The other factor is your household needs. Do you have a lot of household members? This will lead to your garbage can being accessed more than usual. This means that you should place the can in an area which is easy to reach and convenient. Also if you have a lot of family members, you might need a bigger trash can which might eliminate a lot of storage options. 
Conclusion 
While deciding where to place your garbage can, keep in mind the layout of your kitchen as well as the household needs.
The most common areas to keep your trash can includes, under the sink, next to the sink, under the tabletop, pullout drawer, cabinets etc. ideally you should place the garbage can in an area which is both convenient and hidden from everyone's eyes.