Colonial style kitchens take inspiration from the American Colonial Era in the 17th and 18th centuries. Made from all-natural materials like wood, granite, bricks, etc provide a toxin-free environment in your kitchen.
If you love adding historical touch to your house and looking for some inspiration, a colonial style kitchen is a great idea. With this style, you can play around and make your kitchen look both modern and colonial at the same time.
We have got you some of the best inspirations including traditional, modern, and unique takes on the colonial style kitchen. So, let's check them out..
What is a Colonial Style Kitchen?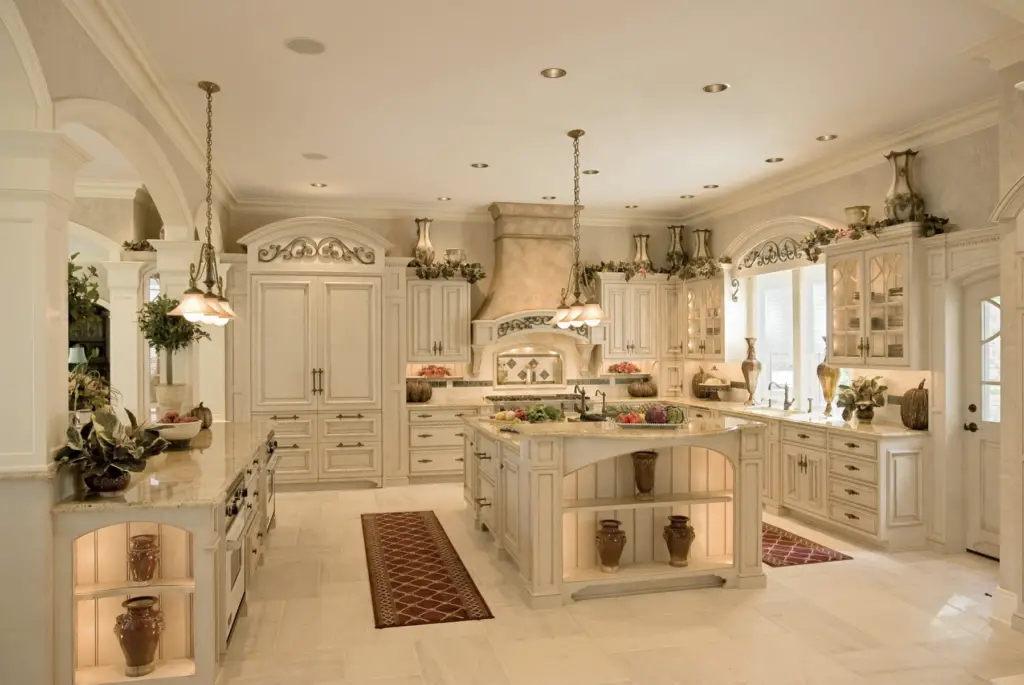 A colonial style kitchen depicts the kitchen interior of early American sophisticated kitchen styles.
It involves natural wood floors, brick walls or hearths at some corners, light-colored cabinets often white, and understated wall paints. 
How Were The Kitchens In Colonial Houses?
In the colonial houses, the kitchens were actually built separate and away from the living area.
It is because the heat generated by the kitchen was thought to be harmful to the house members.
Therefore, they also used natural materials to build the kitchen and kept it looking classical. 
Colonial Style Kitchen Inspiration
We have tons of inspiration for you to adorn your kitchen according to colonial style.
You can choose any of the inspirations or even take different elements from each inspiration and build your dream kitchen.
So, let's get right into it…
Traditional Colonial Style Kitchen Inspiration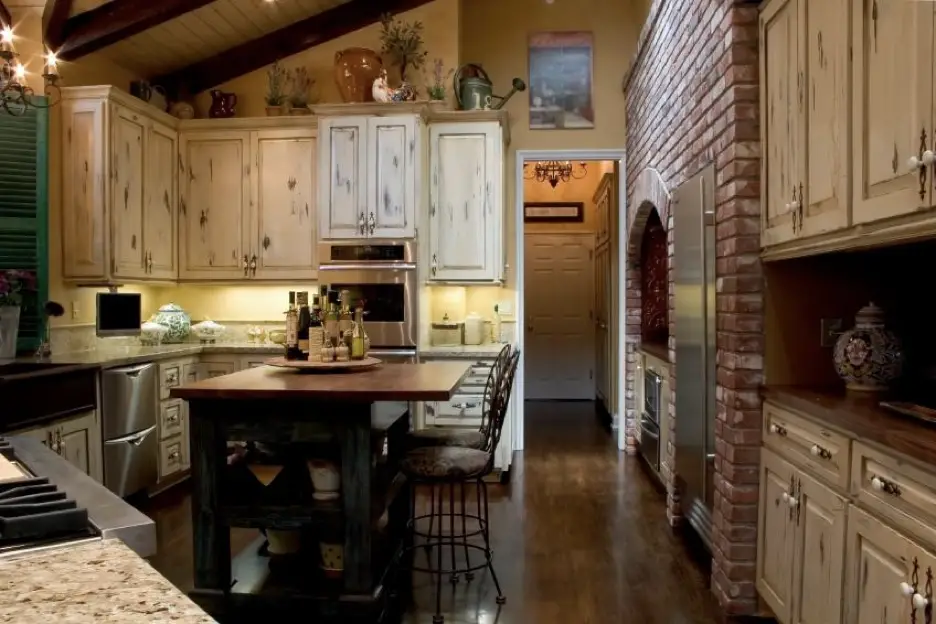 Colonial style kitchens are all about woody materials, light colors, and brick walls. This inspiration involves all the elements that make a kitchen true colonial style. 
Colonial kitchen cabinets look like they are handcrafted with beautiful carving. Yet their colors are light and classy such as white and beige.
Using the same wood and same color for all the cabinets in your kitchen is a classy approach to a colonial kitchen.
The brick hearth makes the kitchen look like it belongs to the 18th century American colonial era. No, you don't need to paint over the bricks. Just a simple raw brick wall will serve the purpose.
Modern Colonial Style Kitchen
This kitchen inspiration is the most contemporary take on the colonial kitchen. It involves most of the key elements of a colonial kitchen yet it definitely looks trendy and chic. 
The white cabinetry is what makes it the most colonial. Moreover, natural wood floors with a dark palette are a great way to enhance the look of the kitchen and keep a good balance of colors there.
To replace the historical hearth, the kitchen includes a modern wood hearth-style cabinet above the stove. It has a backsplash of a brick wall but they are painted with white color to match with the cabinetry.
All Natural Colonial Kitchen Look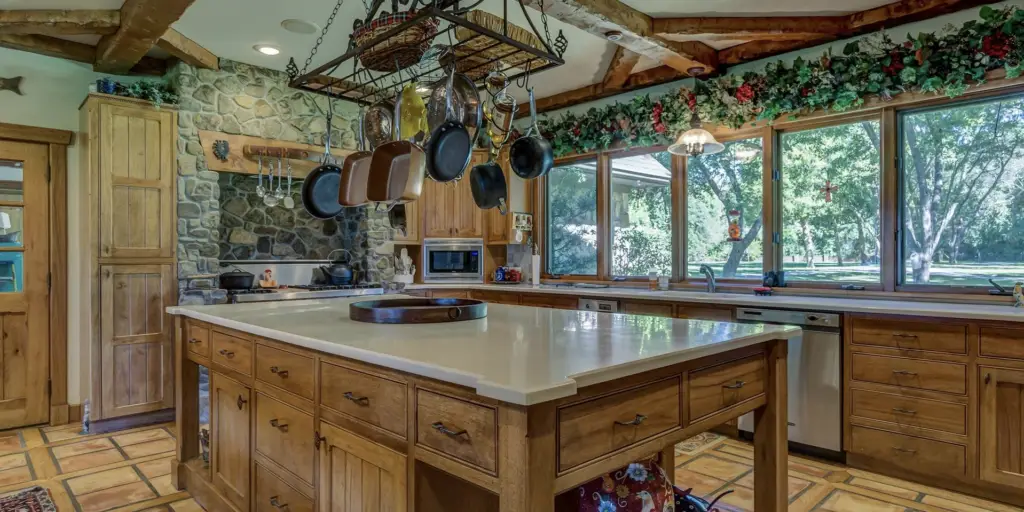 If you are looking for a full remodel of your kitchen to a colonial style, this inspiration is amazing. It looks like you are living near the forest and makes you feel close to nature. 
Extensive use of wood for most things brings out a heavy touch of colonial style. 
Instead of using red bricks, you can also use stone or marble stones for a quirky yet chic look. 
If you think the wood is too much, you can also use tiles with wood and earthy tones. Moreover, a lot of windows to let the natural light come through will brighten up the whole setup.
Mix and Match Colonial Style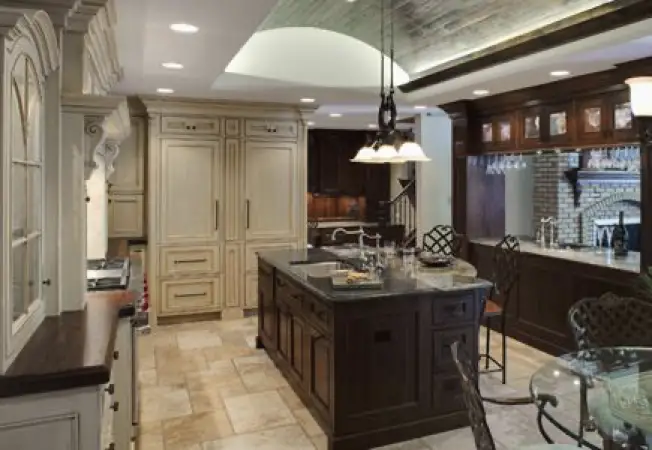 This inspiration involves a lot of earthy colors and incorporates different wood styles. People who love to use their creativity by mixing and matching different elements can use this inspiration.
The mix of white, dark brown, and the beige color looks like an approach to add a little bit of every aspect from a colonial kitchen.
Contemporary Take on Colonial Style Kitchen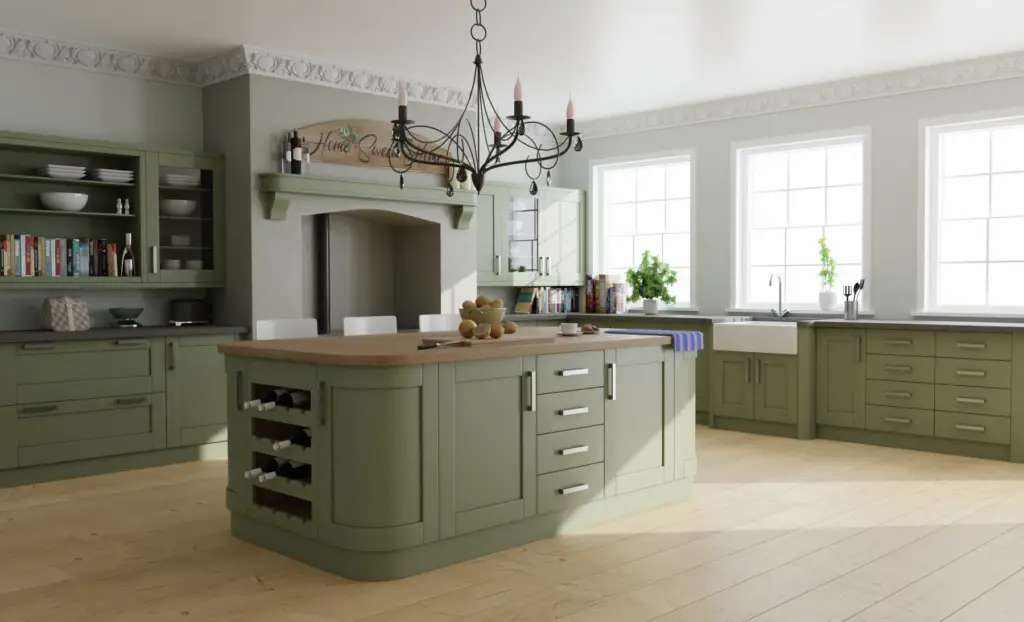 Want to take a little inspiration from history and keep your kitchen looking modern? This inspiration is for you.
Here's the catch:
The unique, pastel green color is not something common among the colonial kitchens. But why be mainstream when you can be eccentric?
What makes this kitchen a modern colonial style kitchen is the wood flooring and delicately carved cabinets. 
Moreover, the simplicity and classicity of this inspiration are what colonial kitchens are all about. 
The elegant candelabra hanging above is a good addition to this look.
Gothic Colonial Style Kitchen
Love dark colors and gothic themes? Then why not incorporate it in your colonial style kitchen?
You can keep the floor light-colored and make the cabinets darker to spice up things a little bit. 
These dark-colored cabinets look like they came from the royal age. They make the whole set-up look quite intimidating and alluring. 
The intricate design and carving on the cabinets retain a unique colonial kitchen style look.
Classic Colonial Style Kitchen
Another modern take on the colonial style kitchen is this inspiration.
It does include all the colonial elements but it has retained the modern era look as well. 
The white cabinetry with delicate carving and light-colored wood floor is a true depiction of a modern-style colonial kitchen.
Light colors light up the whole surrounding and make the environment serene. This set-up will make cooking enjoyable and relaxing rather than tiring and laborious.
Little elements like small plant pots and windows for natural sunlight are a good way to enhance the classic look. 
Mix of Colonial and Mediterranean Style Kitchen
This inspiration includes both a kitchen and a dining room. So, you can match up the eating area with the cooking space. 
You can use maple, oak, cherry, etc for the natural wood flooring and cabinets. Moreover, a candelabra is what adds to the Mediterranean look. 
This look is for someone who loves adding small historical aspects to their house yet keeps the house looking trendy. 
The quirky colonial setup will leave every friend and family member in awe. 
New Way to Achieve Colonial
Tired of boring, classic floor colors? Then try out some trendy patterns on the floor. You can use marble/ tiles for the floor and make it look colonial. How?
Here's the thing:
Small elements like candelabra, wooden tables, white intricate cabinets are more than enough to get a sense of colonial style in your kitchen.
Therefore, you can spice up things like adding patterns to the floor or a wall. This will allow you to use your creative, artsy side and get your dream kitchen.
Exotic and Chic Colonial Style Kitchen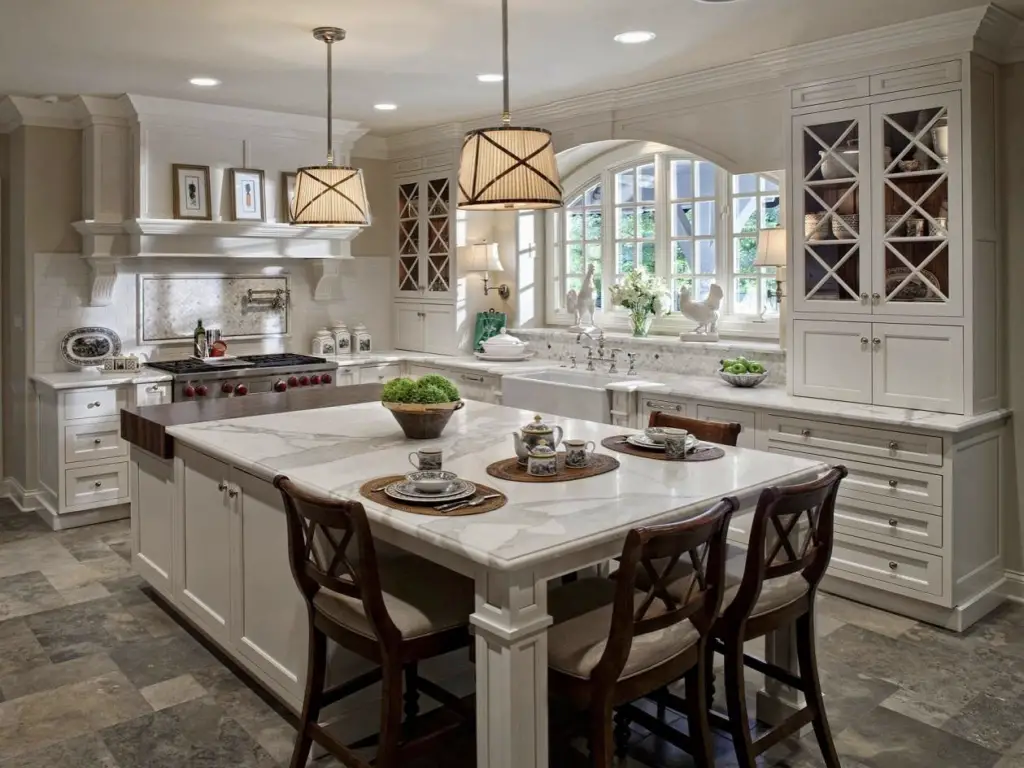 Looking for a glamorous way to make your kitchen look colonial? No worries, here's the sign for you!
This inspiration is a personal favorite because of the classic white interior designing. The marble floor and granite countertop match quite well with each other.
Next, the true white cabinets with minimal adoration look extremely sophisticated yet exotic. 
Most colonial kitchens give out a heavy look and the hearth style outgrowth above the stove adds to its massiveness. 
Having a lot of delicate details and carving is an element that is highlighted a lot in the colonial style kitchen. And the criss-cross style cabinet doors are a modern take to include the intricate carving.
Colonial Kitchen with Touch of 21st Century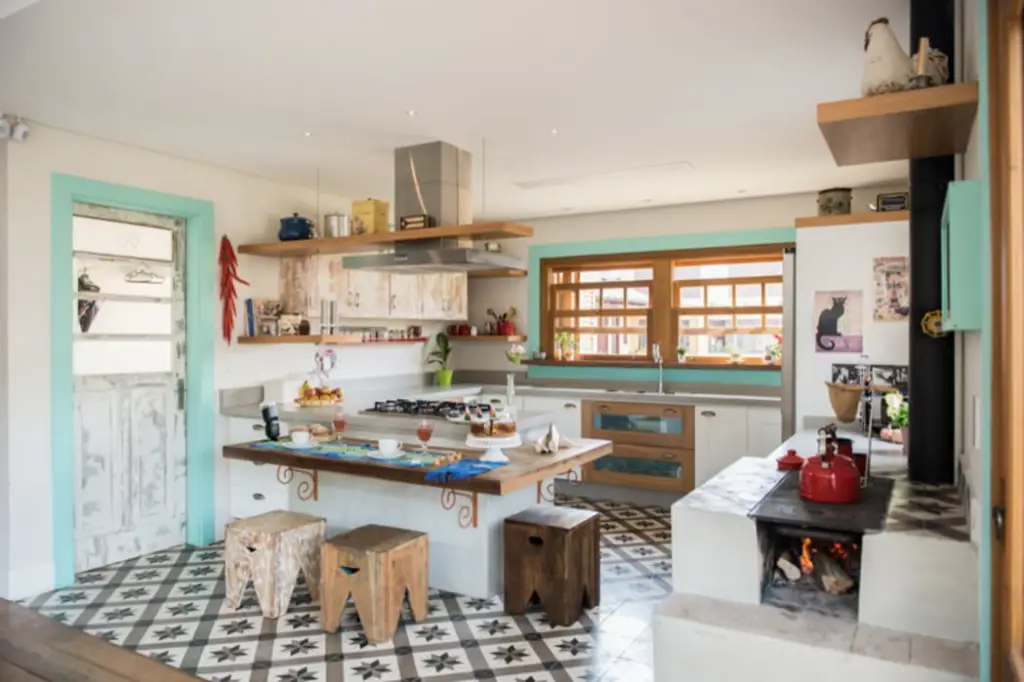 Wanna intermingle the 17-18th century with the 21st century? This is a great way to do this.
The unique green color on the door and window edges is a great addition to make the kitchen look modern. 
The little wood chairs add to both the uniqueness and colonial style. To add to the colonial look, the natural-looking white door is there.
The black and white marbled floor looks beautiful. If you don't like the normal wood floor, you can use such floors as they have a fine pattern which colonial style is all about.
How to Make a Small Kitchen Colonial Style?
You don't need a lot of kitchen space to achieve the colonial look. There are some things you can add to your kitchen to get that traditional colonial style kitchen.
The first thing is the white or light-colored cabinets. Cabinets with the least designs yet intricate carving are great for this look.
Next, you need a natural-looking floor. For this, a wood floor is the best option. 
If you want more natural elements in the kitchen, you can also use wood cabinets with earthy colors. 
Using modernized versions of kitchen hearts with a backsplash of brick of marble walls will make the kitchen look chic and colonial styled.
In Closing…
Now you have a lot of inspirations for the colonial style kitchen. So, which one is your favorite?
At the end of the day, it all comes down to your personal preference. You can go all out and use all the aspects of a colonial kitchen or only choose some of your favorite elements from it. 
You can even intermix different kitchen layouts and get a unique outcome.
Just choose what makes you feel comfortable and peaceful. Trendy is whatever makes the person fall in love with their space. 
Enjoyed this? Make sure to read these next:
13 Incredibly Gorgeous Spanish Style Kitchen Inspiration To Drool Over