Are you thinking about buying a new fridge but you can't figure out how much time will your food have to stay out? This is a pretty common worry for people who need to switch fridges in an emergency. What if you have some very perishable food items and you can't decide whether you need to worry or not. I'll help you go through all of such doubts in this article so you can make the correct decision. 
There is no clear answer when it comes to cooling times, it highly depends on a lot of factors like the size of a fridge and how often will you be opening the doors of the fridge. The time it takes to cool can range from a couple of hours to up to 24 hours.
The usual temperature as advised by the FDA for food storage is around 40F and 5F for the freezer. 
What Are Some Factors That Affect A Refrigerators Cooling Time?
There are some factors which will definitely affect the cooling time of your fridge, of course the timings will also depend on the brand you are using but most of these factors apply the same way to any brand. 
The first thing which matters is the size of your fridge, if your fridge is small then of course it is going to take a short period of time to completely cool.
Even though larger refrigerators have a bigger cooling system, it usually takes a longer time to cool them. It also depends on if you have a bottom freezer or a top freezer, usually the latter takes longer to completely cool. 
The area your fridge is kept in will also determine the time it takes to fully cool. For obvious reasons if your refrigerator is kept in a hot area or if you are living in a hotter region, it will take much longer to cool when compared to living in a colder area.
Places in your house like the garage or a storage area will be much hotter when compared to the kitchen or the living room. 
The status of your fridge will also be a factor in the cooling time, for example, if your fridge is relatively new it will cool down much faster because its compressor and the cooling mechanism is fresh.
On the other hand if your fridge is very old. Older than ten years then it will take much longer to cool down. This rule is not necessarily true, your fridge can have excellent cooling capacity even if it is old. 
The other factor is the amount of items inside your fridge. If you have already stocked up the fridge before it is cold (which is not recommended), it will take much longer to completely cool. 
How Can You Speed Up This Process?
Even though the cooling time largely depends on the above factors, there are some things which you can keep in mind to fasten this process. The first tip would be to open the door as less as you can. The more you keep the door open, the more cold air will be able to escape. 
If your fridge isn't new then I would also recommend to clean the coils once, especially if there is a lot of dust collected on it. It is usually recommended that you get the coils cleaned twice an year. 
The other tip would be to ensure good airflow around the fridge. This is why it is suggested that you at least keep a gap of a few inched between the wall and the fridge.
Another tip (and I am not too sure about this one but no harm trying) would be to keep a bag of ice in the fridge while it is cooling, this should fasten the process a little. 
How Will You Know If It's Time To Put In Food?
After you have taken all of the precautions and the fridge has been cooling  for a few hours, how will you actually know when it is time to start putting in food?
First you should know the recommended fridge temperature for food storage, which according to the FDA is around 40F. 
Depending on the type of the fridge and the company, the cooling process can take anywhere from 2 hours to a full day. If you have a thermometer around you, then it would be perfect if you can measure the actual temperature. 
The other thing which you can do is go to the user manual and search for their recommended time periods. Each company has its own recommendations and its best if you can go by their times. As I mentioned, cooling a fridge can range from 2 hours to 24 hours. 
How To Switch Food To A New Refrigerator
Place all of the meat at the lowest shelf. This is supposed to be the coldest region of the fridge and it will start cooling also pretty early.
Next place all of the milk in the second all shelf. Just like this each part of the fridge is going to get progressively cooler and you can keep storing the food according to their life. 
For example, the next thing which you should put is bread and vegetables. The pre-packaged manufactured items can be put in last. They usually have a long life and can even last for a few weeks outside the fridge. 
Can I Put Food Into A New Refrigerator
You shouldn't immediately keep all the items in your fridge as soon as it has arrived. The fridge should first be allowed to settle once it has been moved to its location. This should be done for about 2 hours.
After this, switch on the refrigerator and wait for at least 3-4 hours before putting food in it. So you will have to wait at least 7-8 hours once the fridge has arrived before you can put any food in it. 
How Long Do You Have To Wait Before Putting Food In A New Refrigerator

Once you have bought the fridge and placed it at the appropriate location, the next thing which you should do is to plug it in. I have gone over the time period it might take for your fridge to completely cool but how long should you wait before putting food inside it? 
If you put in your food too early, it may spoil the food and also leave a bad stench inside the fridge. Sometimes even if the food hasn't gone bad, the fridge will keep smelling like that food item for a long time. 
Some people recommend that you wait just for two hours before putting in the food but I would suggest that you wait for at least 4 hours. On an average for an average sized refrigerator for a 4 member family, it will take about 2 for it to cool enough to preserve anything.
But if we are to listen to the FDA, the temperature should be 40F at least for the food to be preserved. This is why I would suggest waiting for a couple more hours. 
While Procool suggests that you wait for at least two hours, Samsung recommends between 2 to 4 hours. 
For How Long Should Hot Food Be Cooled Before Putting In The Fridge?
If you have recently cooked your food and you fish to put it in the fridge, you shouldn't just keep it in while its fresh and hot.
Putting hot food inside the fridge will not only take longer to cool but it might also leave some stench inside the fridge. 
The ideal time period for letting your hot food cool is around 2 hours. 
Should You Plug In Your Fridge As Soon As It Arrives?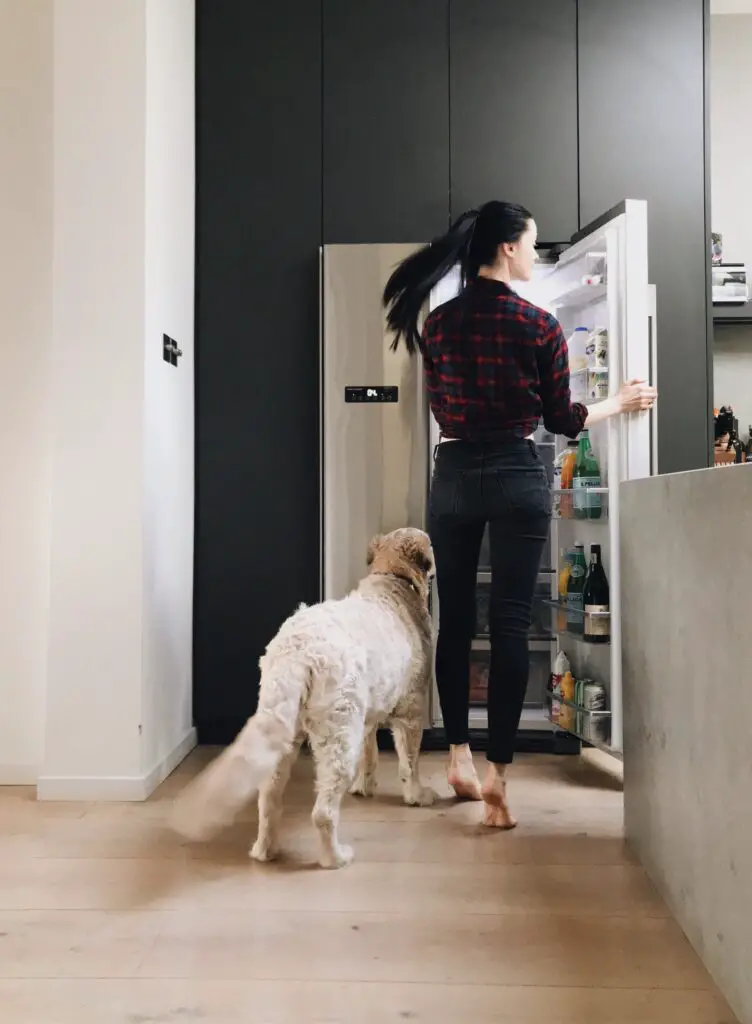 Not a lot of people know this but a refrigerator contains numerous fluids inside it. These fluids can also start to leak from the appliances if you are not too careful.
Now imagine that your fridge has just arrived maybe from Amazon or something and you start to move it all over the house to place it wherever you wish. 
Now, if there are fluids inside the fridge and you move the fridge a lot, the fluids inside the fridge will also start to move a lot. So whenever you make the fridge upright, these liquids will also take time to settle. It is recommended that you at least wait for about 3-4 hours before plugging it in. 
Not a lot of people do it and not every one of them face any issue with the fridge, there is a small chance that it may happen. But why take unnecessary risk when you can just be a little patient.
What Do You Do With Food When Changing Refrigerators?
If your current fridge has stopped working and your new refrigerator will arrive in a day or two, a lot of the food inside the refrigerator can be saved for a couple of days if you are careful with the whole process.
Let's get into it…
Okay, so the first thing you need to do is get all of the coolers in your house. The ones you use for keeping beers during barbecue will do.
Take out all of the ice and ice packs in your house and stuff all of the coolers. Take all of the frozen foods like meats and put them in the coolers and stuff it with more ice. 
You should probably take all of the vegetation and fruits and put them in fresh air. fruits are meant to be grown in normal temperatures so keeping them outside will be fine. The thing which will go bad the quickest is the milk in your fridge.
So, try to put milk in the coolers or consume it as soon as possible. Things like bread will also getting fungus within a day or two so try to consume the bread as quick as possible. 
Store the other things in an airtight container which will prolong their lives.
What Should You Do Before Putting Food In A New Refrigerator?
Make sure the refrigerator is properly cleaned before putting any food. A lot of times there are chemical cleaners used in the shops to clean appliances and make them extra shiny. Make sure to clean the fridge with some damp cloth to remove the chemicals. 
The next thing is to check the temperature. If you have a thermometer or if your fridge automatically shows the temperature, then even better. If you don't have a thermometer with you then just check if the fridge is actually cooling or not. 
In Conclusion….
It is very difficult to tell an exact time for your refrigerator to cool. It is always a good idea to be safe and wait a few more hours than what you think.
Smaller fridges take a lesser amount of time to cool and you can fasten this process is even more by not opening the door too often and to keep the fridge in a cooler room.
In any case you should wait for at least 4 hours after it has been turned on before starting to put any food inside the fridge. 
Enjoyed this? Make sure to check these out next:
5 Refrigerator Brands To Avoid Like The Plague (And 3 We Are Obsessed With!)