A washing machine is one of the most essential appliances in your household. But if you don't take care of it properly, it can lead to a lot of issues. One of the most common problems with a front loading washer is mildew and mold formation. This not only looks and smells bad but can also be extremely harmful to your health. So how can you remove mold from the front load washer gasket?!
One of the easiest ways to clean and remove mold is through a mixture of water and vinegar. Spray this mixture on the gasket and let it soak for some time. Afterwards, simply scrub the mold off and make sure everything is removed and cleaned properly. Run an empty cycle after this with hot water and you are good to go.
Also make sure to clean the soap dispenser as well. 
How Does Mold And Mildew Form On Front Loading Washers?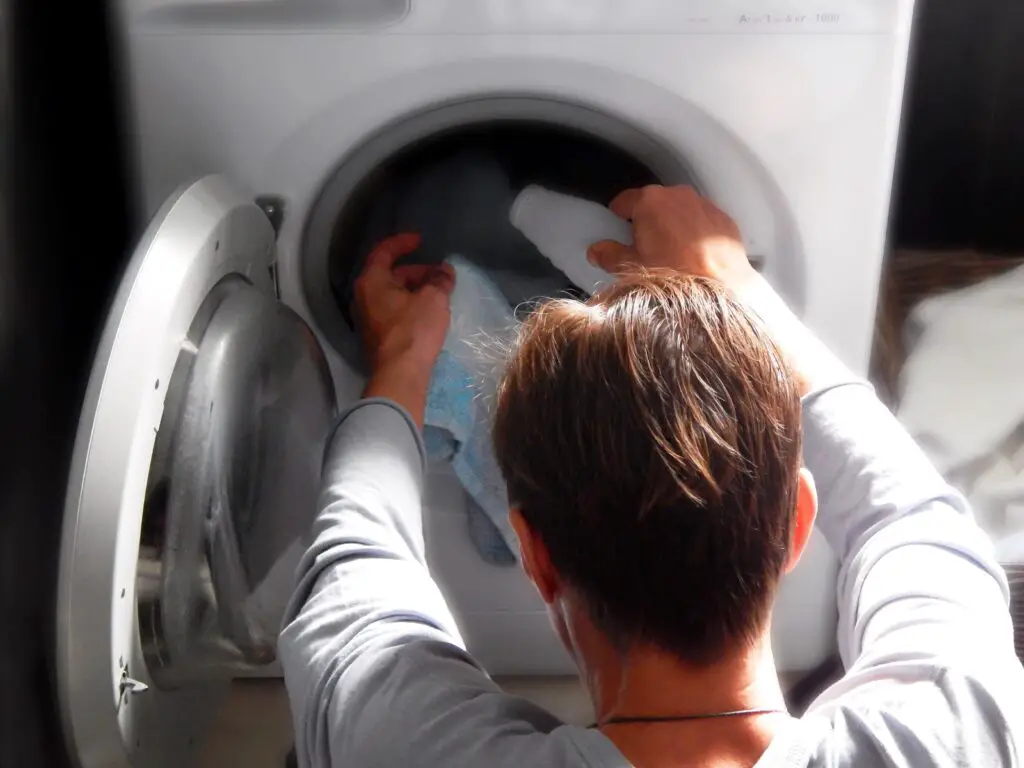 Front loading washers are notorious for mold formation. There is a very simple reasoning for this, because the door of the washer forms the seal so that water and clothes don't come out, a lot of the soap and water gets stuck inside the rubber seal of the door. 
If you don't clean this rubber lining from time to time, some mold and mildew will easily grow there. That region is perfect for mold formation, dark, damp and humid. Even the soap suds and other chemicals left behind by detergents are perfect for mold formation. 
This is why top loaders have an advantage here, since the door doesn't need to form a tight seal, not a lot of water and soap sloshes against the door. But it doesn't mean that you won't have to clean a top loading washer, there is still soap, water and humidity present inside the drum which if left unattended can lead to mold and mildew formation. 
How To Remove Mold And Mildew From Front Load Washer Gasket?
The entire cleaning and removing mold process is quite simple and easy if you simply follow the steps. Begin with taking a spray bottle and pouring some white vinegar into it. You can dilute it if you want but I would recommend not to. 
Spray this vinegar directly on the rubber gasket and leave it for a couple of minutes at least. A lot of people also use bleach here but you shouldn't do it at all. Bleach is not only very bad for your health but it will also ruin the rubber gasket. 
Make sure you spray this vinegar into the inner parts of the gasket as well. Take a washcloth and soak it in water, properly rub it and clean the entire gasket properly. You will most probably see some slime, dirt. You might also have to scrub a lot to remove all of the mold. 
Another tip would be to make a baking soda paste and mix it with one cup of water. Spray that as well and let it soak for a few minutes. This will further make the entire process way simpler. 
Once you scrub all of the mold out, make sure the inner lining of the gasket is clean as well. Open the door and let it dry out naturally, turn the fan on high in the room so there is proper ventilation. 
What Other Parts Do You Need To Clean To Remove Mold From The Washer?
The other area which is very susceptible to mold formation is the soap dispenser tray. If the soap dispenser is not properly cleaned, a lot of the leftover soap particles gets mixed with the remaining water and also forms a perfect spot for mold spores to germinate and settle. 
This is where most of your mold problems can start and people usually don't pay any attention to it. 
Once the soap dispenser is cleaned, try to run an empty cycle on the hottest water cycle possible. It is also recommended that you add a little baking soda or vinegar in the drum while running this cycle. There is no harm trying as both the chemicals are pretty safe anyways. 
But if you do add something in this cycle, run an empty cycle again without any of the chemicals. This is done so that all of the smell can get out and your clothes won't start smelling of vinegar or baking soda. 
What Should You Do To Prevent Any Mold Formation In The Washer
There are a lot of things which you can do to prevent mold or mildew from ever forming on your washer. Some of these tips are pretty obvious but I have noticed that a lot of people are very complacent with these. 
First things first, make sure that you properly clean your gasket and the soap dispenser at least once in 2 months. But other than this, you can also leave the door open on your washing machine especially after a cycle. This will get all of the moisture out and ensures that there is proper air circulation. 
The other tip which a lot of people ignore is using the right detergent. For example, if you have a high-performance washing machine or an HE machines then make sure to only use a HE detergent as well. using the wrong detergent can lead to excessive suds and foam formation which get stuck behind and give the perfect opportunity for mold growth. 
You can also use a de-humidified in the room where the washer is kept removing the excess moisture from the air. Always remember what mold need to form and try to not provide those conditions.
Another good habit is to remove clothes right after they have been cleaned and dried. Leaving moist clothes will also lead to excess moisture build-up. This will also ensure that your clothes don't smell damp. 
Also use a ready-made mildew and mold cleaner, usually they come in a spray bottle and you can simply wipe the gasket surface with this solution once a week. Also keep in mind to not use excess detergent. 
In Conclusion.. 
If you properly take care of your washer and make sure that you are regularly cleaning the machine, then the chances of mold or mildew forming can be reduced by a lot.
But even if there is mold formation, the cleaning and removing process is pretty simple.
All you have to do is keep some basic things in mind and you are good! Always remember that if the mold formation is extreme you can always call a professional cleaner. 
Enjoyed this? Make sure to read these next:
How To Clean Glass Shower Doors With Vinegar and Baking Soda? (EASY & QUICK!)