Dishwashers are an absolute necessity in every household. In fact, when I was renting, a home without a dishwasher was a complete dealbreaker. Some people love cooking and some hate it, but I have never met anyone who loves cleaning their dishes.
If it wasn't for dishwashers, I don't know what I would be doing. But you will be surprised to know how many dishwashers have a mold problem.
According to a study conducted in 2011, almost 60% of all household dishwashers have a mold problem. Let's take a look at some of the ways you can deal with this problem. 
You don't have to have fancy equipment to remove mold from your dishwashers, in fact most household items can get the job done. Some of the things you will need include baking soda, vinegar, water, a cleaning cloth and a spray bottle. To remove mold from your dishwasher, all you need to do is mix some vinegar and water or make a baking soda paste and scrub the entire surface of the appliance. Clean it off and let it dry to get it looking brand new. 
Why Your Dishwasher Is The Perfect Place For Mold Infestation
To understand why dishwashers, have a mold problem all over the world you need to understand the conditions which are perfect for mold growth.
Mold thrives in dark, moist and warm conditions. Now think about the conditions inside your appliance, every time you run a cycle, I don't think you will wait to let it dry off before closing the doors. 
When you do that, the inside of the appliance remains dark, moist and warm for a long time. Once any mold starts growing inside it, it will have the best conditions for further growth and before you know it, the entire appliance is infested with mold.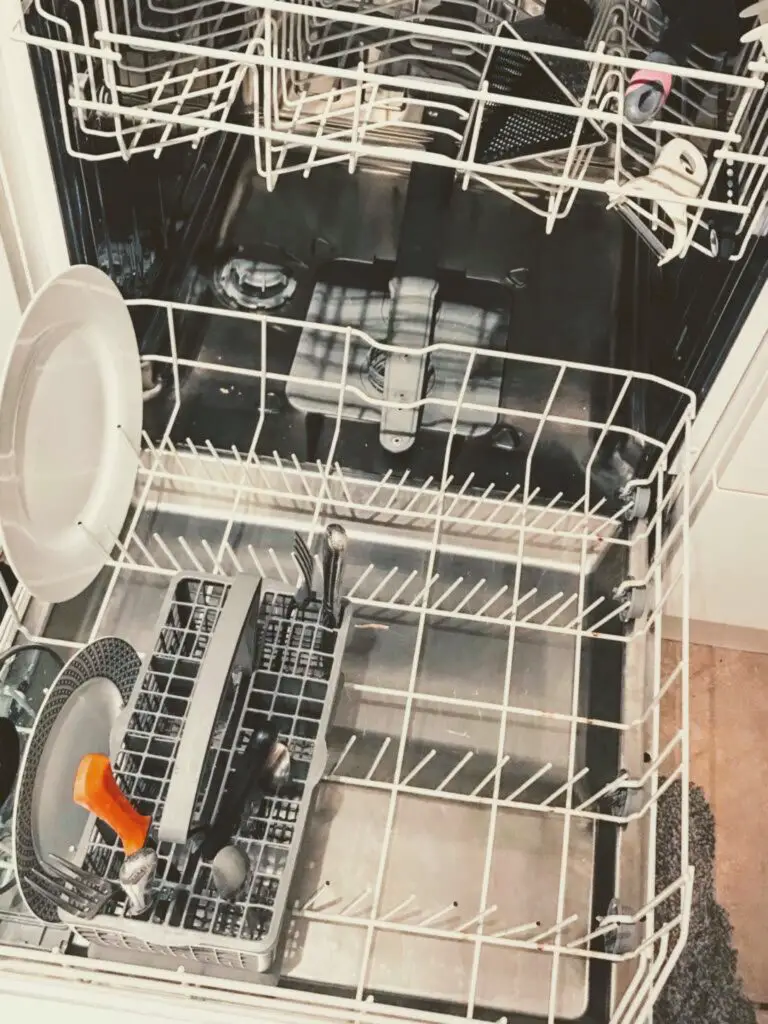 How To Know If Your Dishwasher Has Mold
The problem isn't the fact that your dishwasher has some mold, the problem arises when you don't know that your dishwasher has some mold. Because if left unattended, the mold will just keep on growing until it becomes a serious health issue. 
Most people get to know about their mold issue when it reaches a dangerous level which also takes more effort and time to remove, so how can you find out if your appliance has mold or not? Let's take a look. 
The most obvious place for mold to form is on the edges of the appliance, especially around the rubber seals and crevices. The thing is, even if you wash on the hottest settings, mold can easily survive through that, especially if it is stuck around the edges. You will have to remove and check under the rubber seals to get a good idea. Mold can occur in a lot of colours ranging from black, green to blue green. 
You can also get an idea from the smell inside the dishwasher. If the smell is foul or something seems off you should probably take a better look. 
How To Clean Mold From The Dishwasher
A lot of people will suggest different ways of tackling the mold issue. Some people prefer using water and vinegar while some people swear by baking soda and water. None of these methods are wrong strictly, but after going through countless methods, I came across one which seemed perfect both in terms of ease of use and its effectiveness. 
Before we get to the actual cleaning process make sure you take all of the safety precautions. Make sure the dishwasher is disconnected from the power source and try not to run a cycle just before cleaning begins. I would suggest having the dishwasher at least a little dry before cleaning. 
Also remove all of the racks from the appliance, remember that you will have to clean these racks as well using the same process. Taking them out will help you reach some of the corners and to even clean the racks properly. 
Also check the filter of your appliance for any mold growth there. If you find something, you should get it professionally cleaned as cleaning a filter can become tricky. Once this is done, we can get on with the cleaning process. 
There are two ways you can go about it. Either use vinegar and water or use baking soda and water. You can also use both one after another for the best cleaning option. The only downside is that it will take a bit more time. 
If you are using vinegar, then mix one cup of vinegar with two cups of water and put it in a spray bottle. Shake it up a bit and spray the entire inner surface of the dishwasher including the racks which you took out. Leave it for about half an hour and wipe it off with a damp cloth. Keep the same solution in a dishwasher safe bowl inside the dishwasher and run a cycle on the hottest temperature. This will further disinfect the entire dishwasher. 
Keep the doors open inside the dishwasher after the cleaning process and let it dry for at least a couple of hours before using it. 
If you are going to be using baking soda, then you will have to make a paste for it. You will also be using the powder so keep it with you for future use. First make a thick paste out of baking soda and water and use it to scrub the insides of the dishwasher. Make sure you reach the corners and do this for your rakes as well. 
Leave it aside for about 30 mins and scrub it off using a clean wet cloth. After this step, sprinkle some baking soda on the trays and the insides of the dishwasher, leave this also aside for about 20 min and clean it off. 
Run the dishwasher on a hot cycle and leave the doors open until it dries off. You can use either of these methods and follow up with the other method for optimum results. 
How To Prevent Mold In Your Dishwasher
Cleaning your dishwasher won't matter if you don't prevent the mold from coming back. There is no fancy technique which you can apply here.
There are some very basic and simple steps which you should follow. To start with, don't close the doors of your dishwasher right after running the cycle. Keep it a little open for about an hour at least after running a cycle. This will prevent moisture build-up inside of the appliance. 
This technique will also prevent any bad smell from accumulating inside your dishwasher. You can also put some lemon inside water in a bowl and run a cycle on hot water every once in a while, to clear out any chronic bad smells. You should deep clean like shown above every couple of months to make sure no mold or mildew is accumulating inside your appliance. 
If you also have a garbage disposal, make sure to run it before putting inside the dishes inside your appliance. Garbage disposals often use the same pipe as that of the dishwasher so this will ensure there is no garbage pieces stuck in the pipe. 
Enjoyed this article? Make sure to read these next to learn can I put dishwasher tablet in bottom of dishwasher and can you use dishwasher pods for laundry
Conclusion…
Excess mold formation can be really bad for your family's health. They are also disgusting and can leave your dishes smelling bad.
This is why you should always ensure that there is no mold present in your dishwasher.
The steps couldn't be simpler and you can always get the required items easily. If you haven't ever deep cleaned your dishwasher, this is the sign that you should do it at the earliest.