If you argue cleanliness is subjective, you'd be somewhat right. For some people, household cleaning means a light-duty vacuuming once a week while for others it entails regular thorough floor mopping, laundry, dishwashing and all. Then there is this category of people who never attempt to do any of these things. Why do they fail to tidy their homes?
People fail to clean their houses mainly due to lack of time, tiredness, and commonly physical or mental illness. Since cleaning is physically demanding, people with some form of handicap, whether physical or psychological, will find cleaning challenging. Similarly, people suffering from mental illnesses like depression lack adequate energy and motivation to tidy up.
Basically, tidiness can be attributed to choice or ability.
Profoundly, simple tasks such as taking out the trash bag could a challenge for an old or immobile person. An anxious individual will also find this and more activities challenging or nerve-wracking.
Why People Don't Clean Their Homes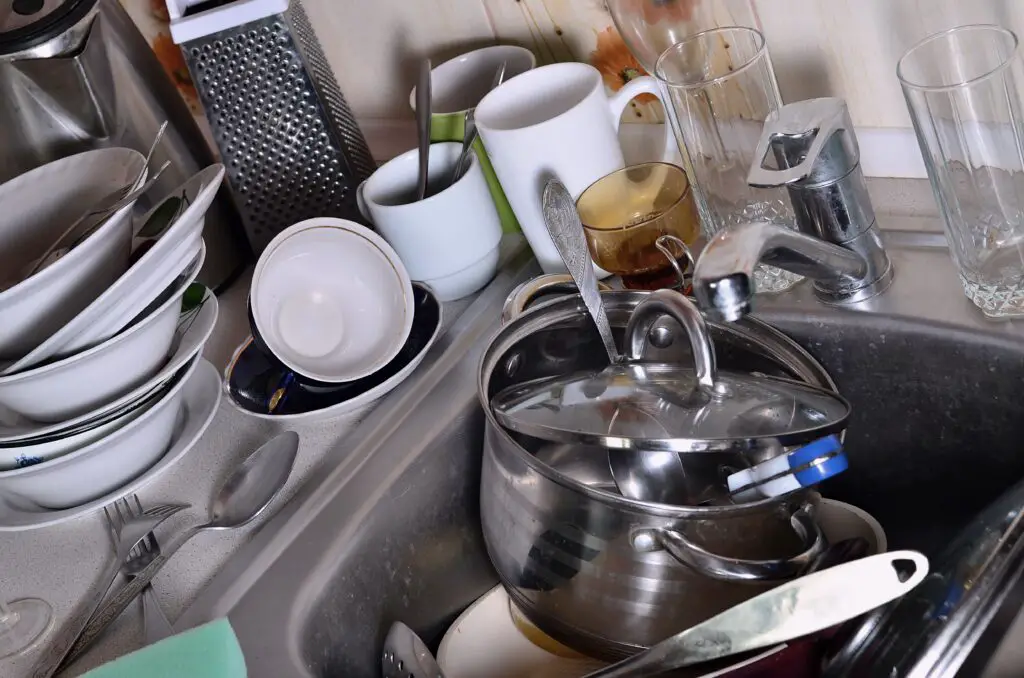 Superficially, these reasons why people live in untidy houses might seem literal. However, there is more to it. Whereas some people are just okay with living in a messy place for no reason, some want to clean, but they can't. These are the reasons.
Lack Of Time
People require a significant amount of time to clean up depending on the situation.
If you live in a big home and or/ are working 80 hour weeks it can be incredibly difficult to find the time to tidy up. When there is little time, cleaning is poorly or not done at all.
This is the case for most busy individuals. Lack of time comes from being busy with other activities that are deemed much more important on the individuals list of priorities.
Over time, filth piles up and leaves the house messy. And the more it piles up, the harder it is to find the time to do a deep cleaning. 
Personality Traits
Did you know that cleanliness is a personality trait? While some people never mind dirty socks lying on the rug, others will become restless in this circumstance.
The first group of people find nothing wrong with this, while Obsessive-compulsive Personality Disorder (OCPD) won't let the other rest. 
Now, you don't have to be extremely tidy, but some people just don't mind a little dirt in their home.
Things like stains and spills aren't urgent because they simply don't bother them.
Mental Or Emotional Problems 
Psychology has a lot to do with why some people choose to live in messy home.
Mental disorders like depression and anxiety crowd judgements based on what matters and what doesn't.
Cleanliness is among the aspects affected in these mental states and considered irrelevant.
If you suffer from depression, ADHD, anxiety and other mental health problems, it can be hard to find the motivation to clean your home. The smallest task like doing the dishes can be paralyzing.
Over time, things get worse and worse and the messes pile up significantly causiing a vicious cycle.
Tiredness And Burnout
Most people like to live in a clean home, but they lack the drive to clean for reasons like burnout.
This feeling of intense exhaustion will make people neglect demanding activities such as cleaning.
This explains why most people who like tidiness but can't do it hire professional cleaning services for help.
Physical Challenges
Physically challenged persons will have a hard time mopping the floor or operating a washing machine. Paraplegic or people in wheelchairs fit in this category.
Cleaning activities that require constant movement is hard for them. In fact, most of them require external help to maintain personal hygiene. 
Hoarding 
The more stuff people have in their house, the harder it gets to organize and clean. Hoarding is a term that means having too many possessions.
People with hoarding tendencies value every item in the house and it's almost impossible to let go of belongings. Most of the time, old and worthless stuff they cling to becomes clutter. 
Messy vs Dirty – What's The Difference? 
Messy and dirty are closely related, but they mean different things. To elaborate, a messy house might not necessarily be dirty.
By definition, messy means chaotic, while dirty means, well, unclean, filthy, etc.. When a desk is messy, maybe the books are disarranged, but when it's dirty, it could be because of spilled coffee, for instance. 
Both messy and dirty are the opposite of the term neat. Therefore, to restore neatness, messy places need to be arranged, while dirty places need to be cleaned.
It all comes down to the method used to restore neatness.
Messy isn't inherently bad but dirty definitely is. Dirty invites things like roaches which can be a huge problem for your home.
Is Cleanliness Important?
Absolutely. Health is the prominent reason why humans need to maintain cleanliness.
Dirty places house bacteria which are a threat to human health. The importance of cleanliness goes beyond personal advantages. For example, a tidy house makes you get compliments from friends and neighbors. 
Surprisingly, a little mess is good for your creativity. However, this research does not overlook the benefits of cleanliness and order.
Even so, this works for particular settings, such as an office where inspiration for creative work is required. Furthermore, as we saw, messy is not exactly untidy.
Dangers Of An Unclean House
On top of health risks, a dirty house exposes you to several other threats. Most people only focus on specific areas of the house when cleaning.
As a result, some areas of the house are left unattended.
These areas include the ceiling, store, guest rooms, and patios.
Over a prolonged time, these areas become hiding places for creatures like snakes, spiders, and other unfriendly animals.
It's recommended to conduct a general cleaning once a month to ensure at least the entire house is clean.
What Shows That A House Needs cCleaning?
As seen earlier, cleanliness is subjective. Nonetheless, there are general guidelines that distinguish clean from murky.
Subjectiveness in this case plays a part in the degree to which a place is dirty or clean. Again, these extremes apply to "clean freaks" and messy people.
For regular people, dusty floors are a sign that the house needs mopping. Same case goes for fingerprints on mirrors, spider webs on wall corners, stained floors stench from the bathroom and many more.
What Does A Dirty House Say About You?
For an able person, an unkept house communicates volumes to the outside world. For one, it shows that you are lazy. When done promptly, cleanliness is easy to observe. Secondly, a dirty house shows that you have poor time management skills.
Yes, cleaning is time-consuming, but allocating cleaning time is an effective strategy to keep your house clean.
Finally, a filthy house tells the world you are careless about your wellbeing. All these are avoidable when you take a little time off your day to clean.
Enjoyed this? Make sure to read these next:
My House Is Falling Apart And I Can't Afford To Fix It