An ice dispenser is one of the most important components of your fridge. Your fridge not making enough ice is one of the most common issues that people face, but even the opposite can be quite annoying.
If your fridge won't stop making ice, it can lead to a lot of water wastage and create a mess along the way. Let's take a look at some of the possible reasons and how you can fix them. 
the most common reason a whirlpool fridge won't stop making ice are issues with the shutoff arm or the shutoff switch.
Less common, but possible, reasons include the ice maker not being level, a blocked or dirty bin sensor, a button being stuck or there being a bug in the system. It's also possible that the accelerated ice function or the ice max functions is turned on. 
Most of these are very easy fixes that you can do in little to not time and don't need to call a professional.
Here we'll go over how to diagnose the issue and fix your whirlpool fridge in no time…
Why Your Whirlpool Fridge Won't Stop Making Ice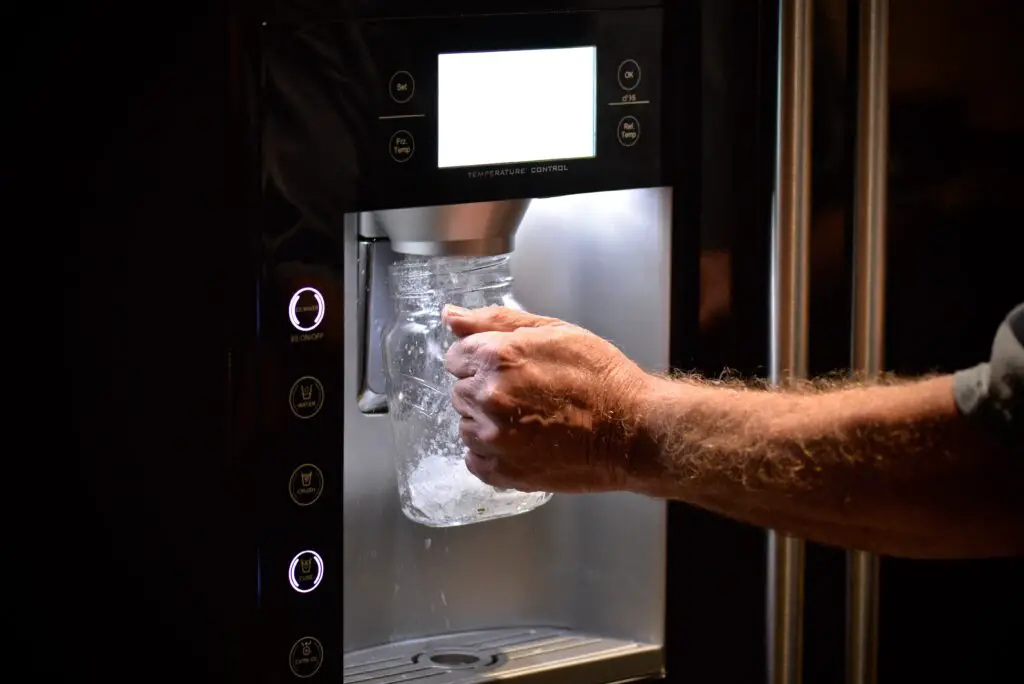 But first….
Before you check your fridge for any issue, it is important to pay close attention to your safety.
Make sure the fridge is switched off and unplugged before you try accessing any of its components. 
Remember to never work on a refrigerator that is still connected to electricity. You'll likely be in contact with water while trying to fix the fridge and the combination can be extremely dangerous.
Read: Whirlpool Fridge Won't Dispense Water Or Ice
Issue with the Shutoff Arm
The shut off arm is responsible for regulating the ice production in your fridge. It tells the fridge to stop making ice when the ice tray is full. You can locate this arm over the top of the ice bin. When you push the arm up, it stops making any ice. 
If this shutoff arm is broken, damaged or stuck, it won't be able to inform the fridge to stop making ice. 
You can test the arm by lifting it up and try locking it into position. If it works, the fridge will stop producing ice but if it doesn't, you will have to get it replaced. 
Problem with the Shutoff Switch
Faulty shutoff switch can also be a reason for a faulty ice maker. To access the shutoff switch, you will have to dismantle the ice dispenser. If you are not comfortable with doing this, call for some professional help. 
Check the components for any damage or rust or corrosion, using a multimeter, check whether the switch is working or not. If the component does not work, you will have to get it replaced. 
Ice Maker Not Leveled 
Your ice maker needs to be properly level for it to work properly.
Check whether your ice maker is level or not, in case of the latter, you will have to make several adjustments to get it level. 
Blocked or Dirty Bin Sensor
The ice level sensor in a fridge is responsible for sensing the levels of ice in the fridge. If this sensor gets blocked or dirty, it can stop working properly and the ice maker will either stop or over produce ice. 
Make sure the bin sensor is not blocked and clean it properly once to clear off any debris. You can clean the sensor using a soft and damp towel. 
Accelerated Ice or Max Ice Feature Turned On
In some fridges, there are settings where you can set the fridge to overproduce ice if you need to have a lot of ice for an occasion.
A lot of times, people forget to turn this setting off. Check whether this is the case with your appliance. 
Stuck Button or Bug in the System
If neither of the above problems are the issue, you will have to call a professional to get it checked out. But one of the other reasons can be simply a stuck button or a bug in the system.
You can reset the fridge by unplugging it from the power socket for 10-15 minutes before switching it back on. 
These issues can be caused by a build-up of grease and other particles over time. Not to mention, repeated use of the buttons in really old fridges. 
Before you go, make sure to check out our similar articles here:
Conclusion 
Some of the most common problems behind your ice maker producing too much ice include a stuck button or a bug in the system, the accelerated ice or max ice function selected, the ice maker not being level, a problem with the shut off arm or the shutoff switch and a blocked or dirty bin.
Most of these issues are quick and simple fixes. They can be solved by yourself but if there is a problem with any of the part, you may need to get it replaced.