The belief that a washing machine cleans itself as it washes garments is false. These appliances accumulate a load of filth after several cleaning cycles that need to be cleaned. When neglected, a dirty washing machine will stain rather than clean your clothes. But how do you clean a washing machine? Can you just run it on empty?
Washing machines can be cleaned in many ways. The most common and recommended cleaning method is running it empty and letting the water wash off the interior. This cleaning method is done the same way as a cleaning cycle is done, just without the clothing to be cleaned. It's recommended to use mild cleaners such as vinegar or baking soda in the empty cycle to improve the result.
For these situations, vinegar is the best household cleaner.
Despite that running an empty washing machine is considered the right way to clean it, there are variables needed to be considered for a successful cleaning.
Is your washing machine a front-load or a top-load? Does it have a self-clean function?
These are some of the factors that dictate how to clean a washing machine.
How To Clean Your Washing Machine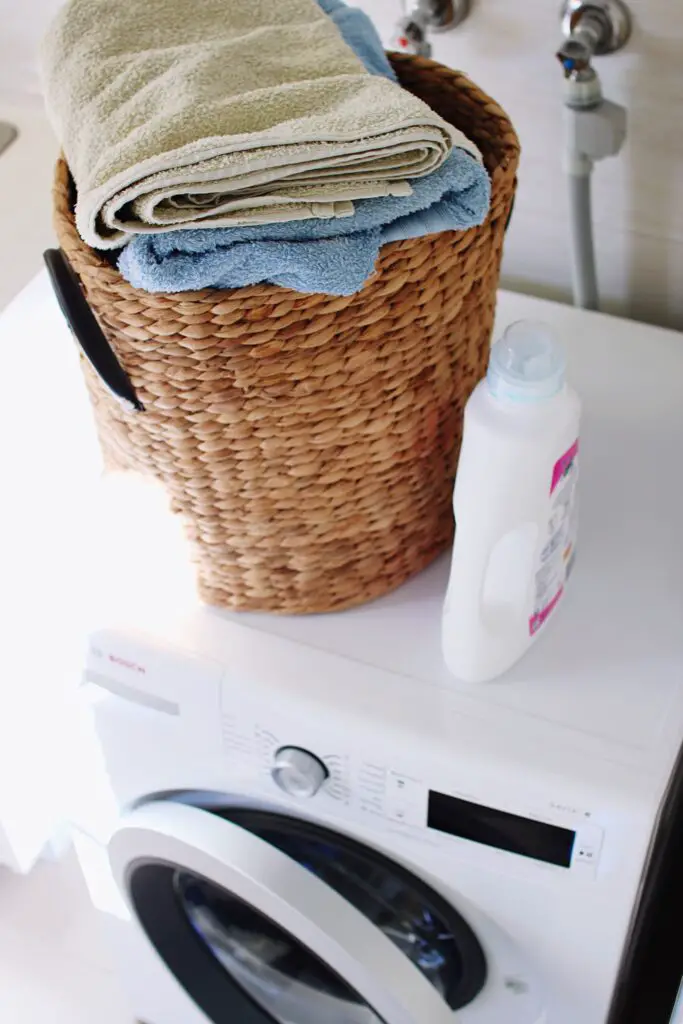 Like most appliances in our homes, cleaning the washing machine is part of essential maintenance practice. If anything, clean washing machines ensure all clothes come out smelling fresh after every wash cycle. 
A successful cleaning routine will vary in terms of time and approach, depending on a few things. For instance, a washing machine that is regularly cleaned will not require much work compared to one that is rarely cleaned. It's the same case for a washing machine that is periodically or hardly used to wash clothes. 
Running an empty washing machine can be overwhelming when you don't know where to start. Lucky for you, we have broken down the steps needed to be followed for a fruitful outcome.
Steps For Cleaning A Washing Machine
Step #1: Gather the supplies you will need. These include vinegar, baking soda, a microfiber cloth, a spray can, toothbrush.
Step #2: Add vinegar into the sprayer and sprinkle it in the washer drum. Let the vinegar sit for a few minutes and use the cloth to wipe out the filth.
Step #3: Clean the door and around the rubber gasket. These areas accumulate mold and grime as the machine runs. Don't leave them out when cleaning. 
Step #4: Use the detergent dispenser to add vinegar into the machine and run it with high water temperature settings. This will be the first and longest empty cleaning cycle.
Step #5: After the cycle is complete and water is drained, add baking soda directly into the washer drum and run it. This will be the final cycle and will also act as a rinse. 
Step #6: Wipe off the outer parts of the machine and any overflowing water. 
This procedure works well for a front-loading washing machine. However, that doesn't mean it's entirely different for a top-loading machine. The significant difference comes when washing the outer parts like the dispenser and the door. 
Read: How To Reset Maytag Centennial Washer
How Often You Should Clean Your Washing Machine
As seen earlier, there are several factors that dictate the amount of dirt that accumulates on your washing machine. On top of that, the number of times you use it and the type of garments washed will determine how often the machine needs to be cleaned.
Essentially, a washing machine can be washed after every use or periodically—say weekly, monthly, or annually. After use, cleaning could be as simple as wiping off surfaces or even running the machine empty. Over time, grime from dirt and detergent grease needs extra work to clean off. This is where empty cleaning cycles with cleaners come in handy.
The self-clean function in the washing machine follows a somewhat similar logic, but intuitively. For instance, Samsung's Washer soaks the tub with water for a while and starts a spin cycle to clean and rinse off the dirt. 
What Makes The Washing Machine Dirty?
It's important to understand how dirt gets into a washing machine for various reasons. With this, you will be able to optimize your washing experience and take better care of your washing machine.
Food, bacteria, and detergents are top of the list of notorious causes of dirty washing machines. After repeated washing cycles, these three mixes form a filmy layer of soap scum deposited on the drum's surface. Moreover, this explains why sometimes you get foul odors or stains on clothes after a wash.
The other reason that makes washing machines dirty is using low water temperature when running a washing cycle. Did you know that bacteria can survive inside a washing machine? Now, these bacteria are hard to get rid of with cold water. Therefore, repeated use of cold water facilitates the accumulation of this bacteria, leading to a dirty machine.
Since some items require cold washing, you will need to run the machine empty with hot water to remove the bacteria. These bacteria also cause molding that is common in many washing machines.
Alternatively, lime deposits can make your washing machine dirty. This substance is found in hard water, and it is basically natural minerals. Lime is, in fact, unsafe for a washing machine as it can lead to breakdowns. Using Washing Soda when doing laundry can mitigate the effects of hard water. 
How To Deep-Clean Your Washing Machine
Deep cleaning a washing machine is a fancy way to categorize thorough cleaning. This type of cleaning is especially important when the machine is icky or clogged. In most cases, this will require expert-level cleaning services. Similarly, there are special cleaners designed to eliminate the toughest stains or stenches found on washing machines. 
Whichever the case, an empty run should fix most of the filth or foul scents. However, provided that washing machines vary in specifications and type, it's always good to follow instructions on the manual to avoid complications. Doing so will keep your washing machine clean and your warranty valid.
Enjoyed this? Make sure to read these next:
How To Clean Mold From Front Load Washer Gasket?
Can I Put Dishwasher Tablet In Bottom Of Dishwasher? (FIND OUT)