One room that can change the overall look of a home is the kitchen. Upgrading the kitchen with the latest appliances can boost the home's resale value. If you plan to rent out the house, having the latest appliance helps you get a fair amount as rent. 
But one doubt that most homeowners have is whether they can have mismatched appliances in the kitchen. Should the appliances be of the same color and finish? Or can you mix and match the appliances?
Do Kitchen Appliances Have To Match?
In general, kitchen appliances should have the same finish. However, they don't have to match as far as brands, styles, and models are concerned. If you want to mismatch appliances, you should stick with two styles at most. Having too many colors and styles won't give you a sleek and finished look that many go after.
To learn more about mixing and matching appliances, keep reading…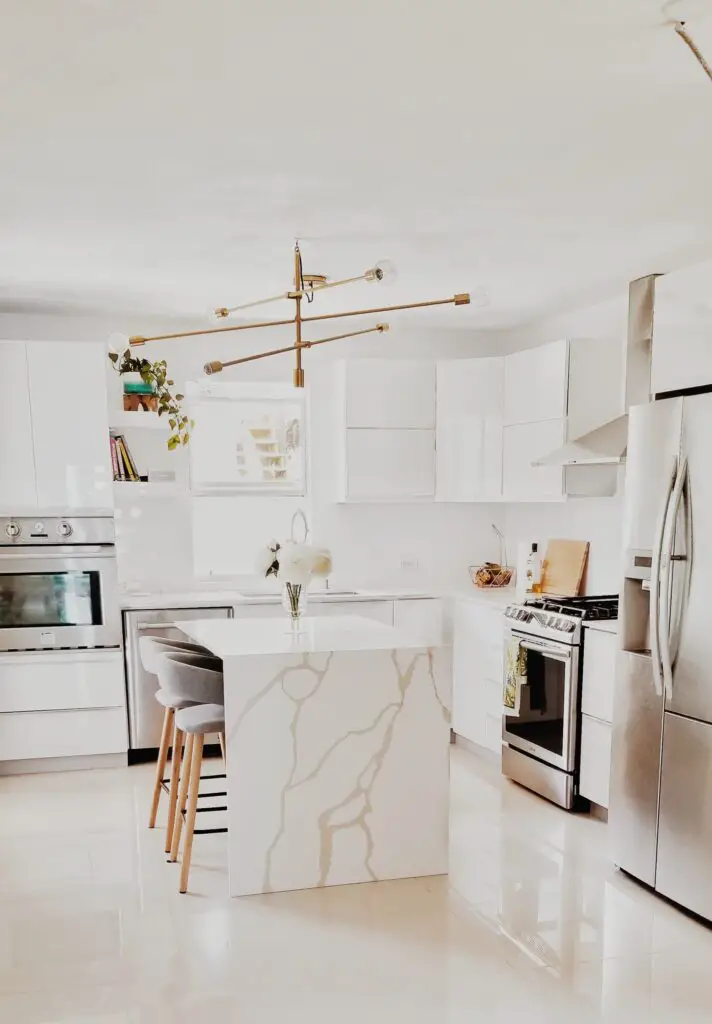 Is It Okay To Have Mismatched Appliances?
It is perfectly fine to have mismatched appliances. It is your personal choice whether to have mismatched appliances or not. If you want a sleek and uniform kitchen, you should choose matching colors. On the other hand, having mismatched appliances is the way to go if you want a bold style statement in your kitchen.
But it would be best not to have too many colors as it can be unpleasant for the eyes.  
Most big stores have tools that help you build your own kitchen virtually. You can select colors as per your choice and visualise them before purchasing the appliances. You can also view some model kitchens before going for mismatched appliances. 
Can You Mix And Match Kitchen Appliances?
Yes, you can mix and match kitchen appliances. But continuity in design is very important while mixing and matching. Also, it is a good idea not to go for more than two finishes for your kitchen appliances. 
It is best to start with stainless steel finish as it easily blends with all colors. This is particularly important if all appliances are exposed. Most big brands offer appliances with a stainless steel finish. Thus, it is easy to mix and match appliances. 
Another color that you can use for mixing and matching kitchen appliances is black. Since black is a neutral color it easily blends with a wide range of colors. Moreover, it also provides a bold look to the kitchen. 
Which Are The Color Combinations That Blend With Stainless Steel Finish?
Blue: If you want to provide a mid-century modern look to the kitchen, pairing stainless steel with blue is a great option. Blue provides depth and dimension to the kitchen and, at the same time, easily blends with a stainless steel finish. You can consider painting your kitchen cabinets blue. The countertop can be left white so that the kitchen does not look cramped up. 
Another way to incorporate blue is to go for patterned tiles. You can use blue patterned tiles on the floor or backsplash. This provides ample color yet creates a subtle look. 
Yellow/gold: Yellow or gold is another combination that you can easily pair with stainless steel. You can incorporate gold in the form of hardware. Matte gold hardware in the kitchen cabinet will go easily with stainless steel appliances. 
You can incorporate yellow by going for a yellow rug in the kitchen. Upholstering a wooden dining chair in yellow is another way to add this bright hue to the kitchen. 
Lavender: Lavender is another shade that blends with stainless steel. Lavender may not be a bold color, but it can look bright when used in the kitchen. Thus, the idea is to use it sparingly. You can paint the kitchen island lavender or use it as upholstery on the bar stool. 
Which Are The Colors That Blend With Black Finish?
Sage green: The earthy shade of sage green blends perfectly with the black finish of the appliances, thus making your bathroom look stunning. It also provides a cozy look to your kitchen. You can also go for cream and distressed wood to pep up the interior. 
Navy blue: Navy blue and black may not be a perfect combination when used together. But when paired with a lighter shade like white and natural wood, it can create a stunning style statement. Navy blue can be used as an accent color on the central part of the kitchen. But remember to keep the rest of the room white. Furniture in natural wood can add to the beauty of the kitchen. 
Ruby red: If you want to add a dash of color to your kitchen, ruby red is a great option. You can mellow down the bold color of ruby red by using neutral gray accessories.
The matte black finish of the appliances helps strike a balance between ruby red and gray shade. 
Do Appliance Brands Need To Match?
No appliance brands don't need to match. The appliances you select for your kitchen serve your individual needs. Sometimes, you may not get all the appliances in the same brand that matches your need. In such a case, you can mix and match brands.
If you are particular about the appearance, then make sure that all appliances are of the desired shade and not the same brand. 
Sometimes brands provide promotional offers for their appliances. If you purchase two appliances of the same brand, you will get the third at a lesser price. In such a situation, it is best to purchase appliances from the same brand to save money.
But if you are not tight on budget and are ready to spend on appliances that satisfy your need, you can mix and match appliances from differnet brands. 
Do All Stainless Steel Appliances Match?
No, all stainless steel appliances do not match. Stainless steel itself has different finishes. Thus, depending on the finish, they may look different. This is why stainless steel appliances of different brands might look different. 
If you are particular about the same stainless steel finish but from different brands, you might have difficulty matching them. 
Stainless steel appliances are primarily available in black stainless steel, uncoated stainless steel and finger resistant stainless steel. 
Black stainless steel: Black stainless steel entered the kitchen market a few years ago. Its shining and lustrous look makes it a popular choice for kitchen appliances. The main advantage of black stainless steel is that they are easy to maintain. All you have to do is wipe it down with a clean cloth to get the shining and smudge-free look. 
Uncoated stainless steel: Uncoated stainless steel has a silvery finish. It is resistant to scratches and corrosion and hence is highly durable. But the main drawback of this type of stainless steel is that fingerprints are clearly visible. Thus, it can get dirty very fast. 
Fingerprint resistant stainless steel: This type of stainless steel comes coated with a layer that makes it resistant to fingerprints. Thus, cleaning the stainless steel appliance is rather easy. If you use a stainless steel cleaner, it can even provide a shining effect to the appliance. 
If you enjoyed this article you may enjoy these as well:
Conclusion…
When it comes to kitchen design, what matters the most is the look and functionality. The appliance should not look out of place owing to its finish. Similarly, kitchen appliances should cater to all your needs.
The appliance brand does not matter unless you are very particular about a certain brand.
Your personal style and functionality matter the most when renovating a kitchen.