Have you just started designing your house and you are wondering what all rooms will you need in it?
There are some very obvious and simple choices but when it comes to some of the other rooms there are a ton of options out there.
It can get pretty confusing with so many options, a lot of people might even have a difference of opinion on some options.
Let's go through a list of some of the best room options which you must have in your house. I hope this list will make the process much easier for you. 
Essential Rooms In A House

I'll start off by going through some of the rooms which are a must, and you cannot skip on these.
Anything else should only be considered once these rooms have been planned for.
A lot of these options may seem obvious to you but trust me, I have met some people who have planned a house by themselves and included all of the fancy stuff but skipped out on some of the essential ones.
I'll also try to help you with the number of each rooms you might need in your house, of course some of this will also depend on your preferences. 
Entrance Foyer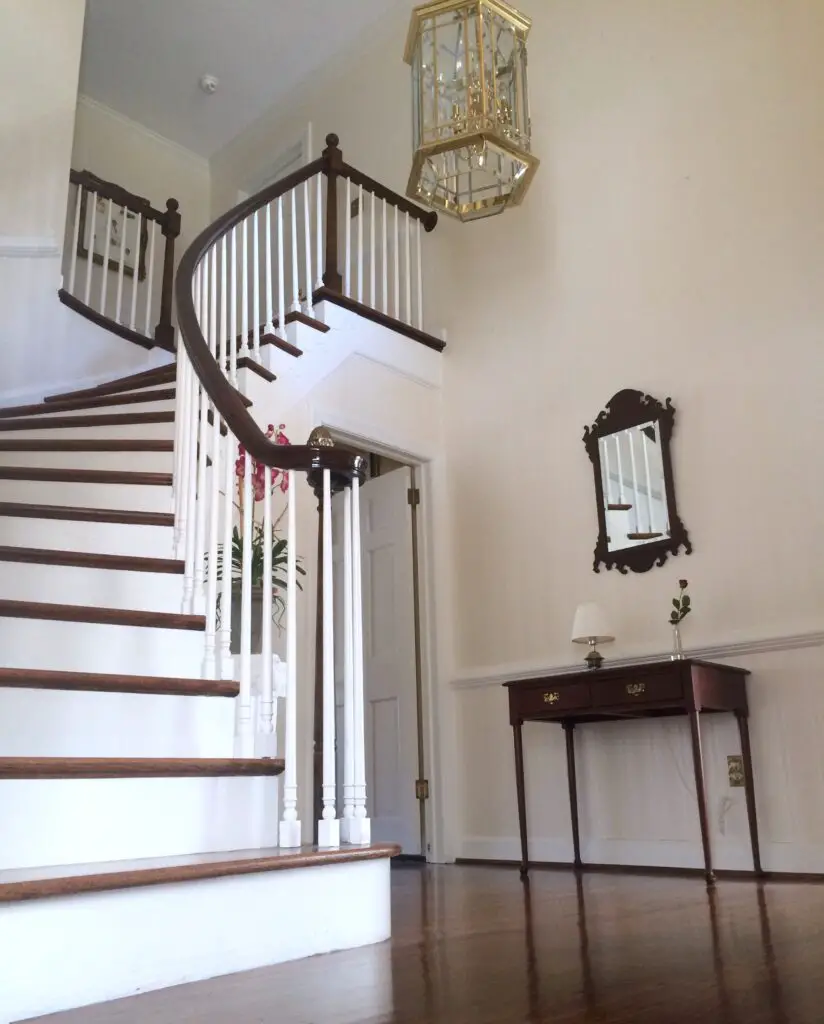 I have met a lot of people who don't seem to pay much attention to the entrance of their homes. They don't even consider this as a necessary room in their house. But hear me out, how can you ignore the entrance of your inner sanctum?
I mean it is the first thing that you and anyone coming to your home will see so why not pay attention to it. 
There are multiple things you can do with this space, in smaller homes for example, you can just keep a side table for putting keys and other stuff plus a hanger where you can hang your coats and umbrellas.
To add a bit more functionality you can also put up a mirror which can come pretty handy to check your appearance as you are about to leave or enter your house. 
If you have a larger home, then I would recommend to not overstuff it with a lot of things.
All of the things which I mentioned above can be use and the only addition you need to make is to hang some pictures or put up a plant or two.
Adding plants to the entrance of your home can add a refreshing look to your home.
But when you are designing your house, don't skip this entrance as a necessary addition. Trust me, during rainy season this space can prevent your home from getting dirty as people can also take off or clean their shoes in this space. 
Kitchen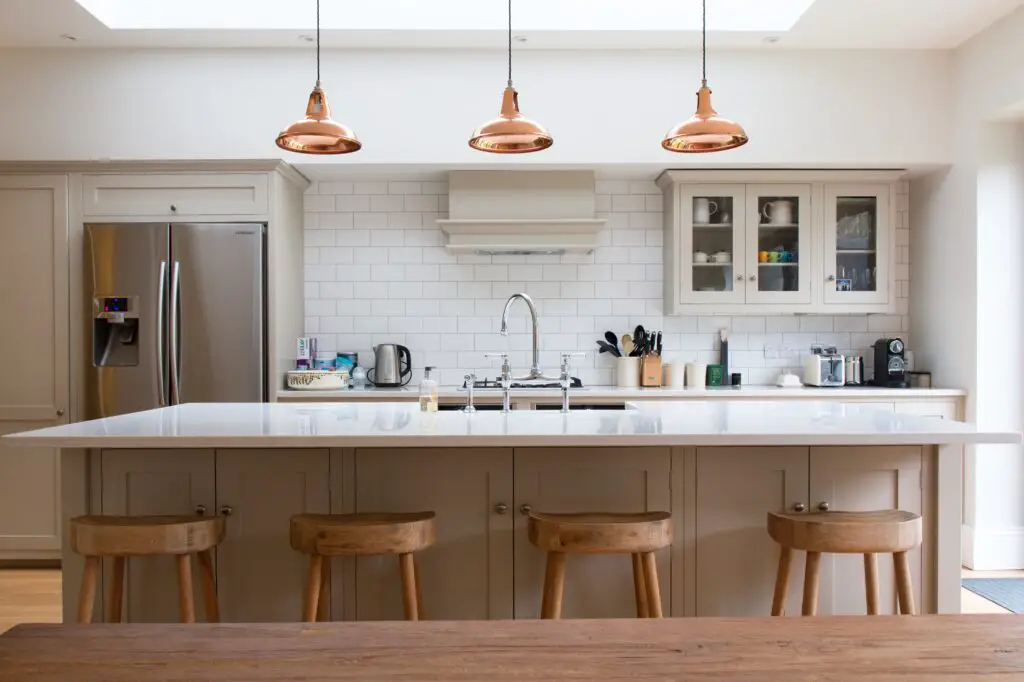 For obvious reasons this room is one of if not the most important place in your house.
It is not only a place where you cook your food, but it also acts as a gathering and eating space for your family and friends.
I have observed that in small and intimate get togethers kitchen is the place where people tend to gather around. 
There are basic components you need to pay attention to, for example you have to ensure that there is enough storage space in the room. Lack of storage space can clunk up your kitchen and make it look untidy.
You also have to keep in mind where and how will all of the appliances be located in your kitchen. A lot of people don't take this into account and the final space ends up being cramped. Some of the essential appliances include a refrigerator, dishwasher, oven, microwave etc. 
If you have a larger space, then you can also construct an island in the middle of the kitchen. It brings a very modern and elegant look to your home while also giving extra space for chopping and cooking.
Kitchen islands also ends up being an informal eating place. 
Looking for some inspiration? Check out these colonial style kitchens and these Spanish style kitchens for inspo.
Dining Room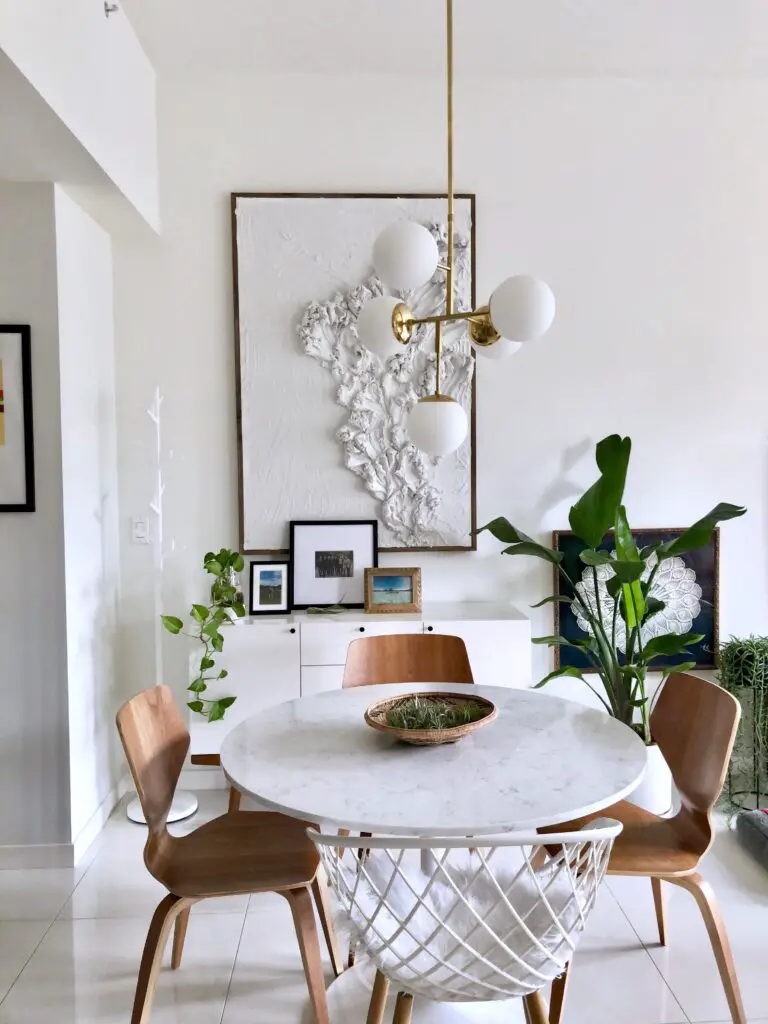 A dining room is a must in your home. I have come across homeowners who tend to skip this room and combining it with the living room.
But trust me, having a dining room gives your entire family a definite place to sit during dinners and lunches which is much better than eating on couches in front of a television. As the saying goes, "a family which eats together stays together".
A dining room also ends up making the cleaning process much easier. When people are eating in the living room, a lot of stuff can drop on the floor or on the couch and the rug.
This can be very annoying when you have to clean everything up. An advantage of a dining table is that all of the mess is around one space which is relatively easier to clean. 
A dining room also comes in very handy when there is a get together or a small party in your house, and don't forget events like the thanksgiving dinner which will be very difficult without a dining room. 
I would suggest that you keep this room not too big and don't overdecorate it. Make sure there is enough space to move around and keep it sparsely decorated. 
Living Room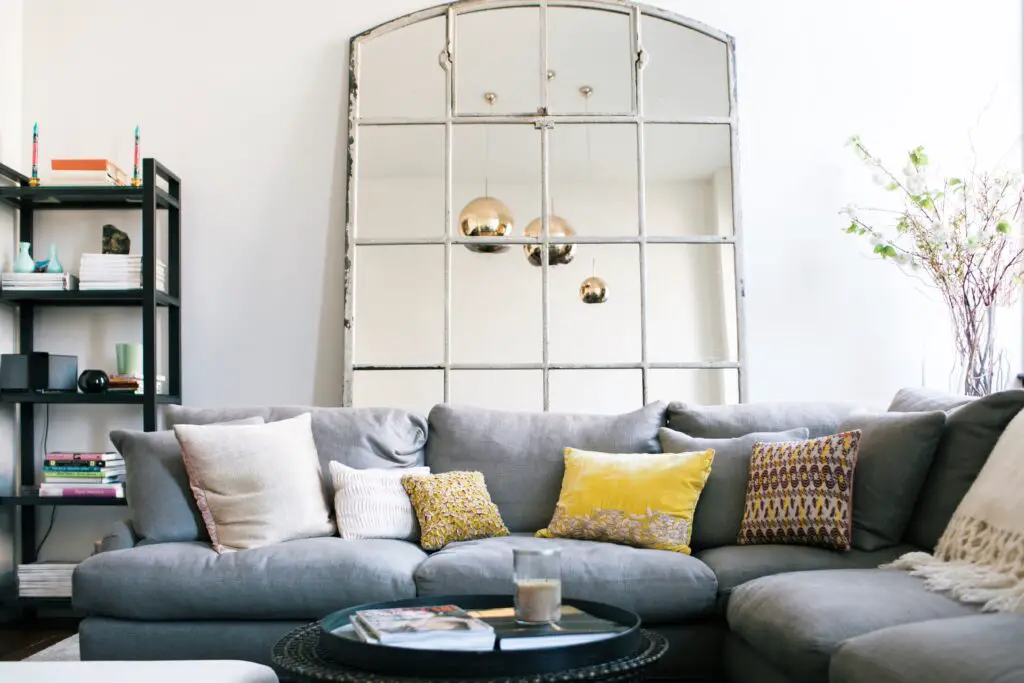 A living room is the one of the first things which you should plan for. I would argue that this is the most important room in your house, including all of the bathrooms and the bedrooms.
A living room is where almost everyone who comes to your house will be spending their time. Not only this, even you will end up spending most of your time here. 
This is why it is important for a living room to be spacious and well decorated. Make sure your design it in such a way that there is a lot of natural light in the space.
A lot of people also put up some shelves and tables where you can keep items like photos and books, something you want your guests to see.
A coffee table also adds a nice touch. I would also suggest keeping the living room close to or next to the dining room. This way you can shift your guests from one room to the next easily. 
Another thing which is very popular is to have a big screen tv in the living room.
If you don't have the space or the finances for a theatre room then this is the place where your family and other people can gather and watch a movie or a game. 
Bedrooms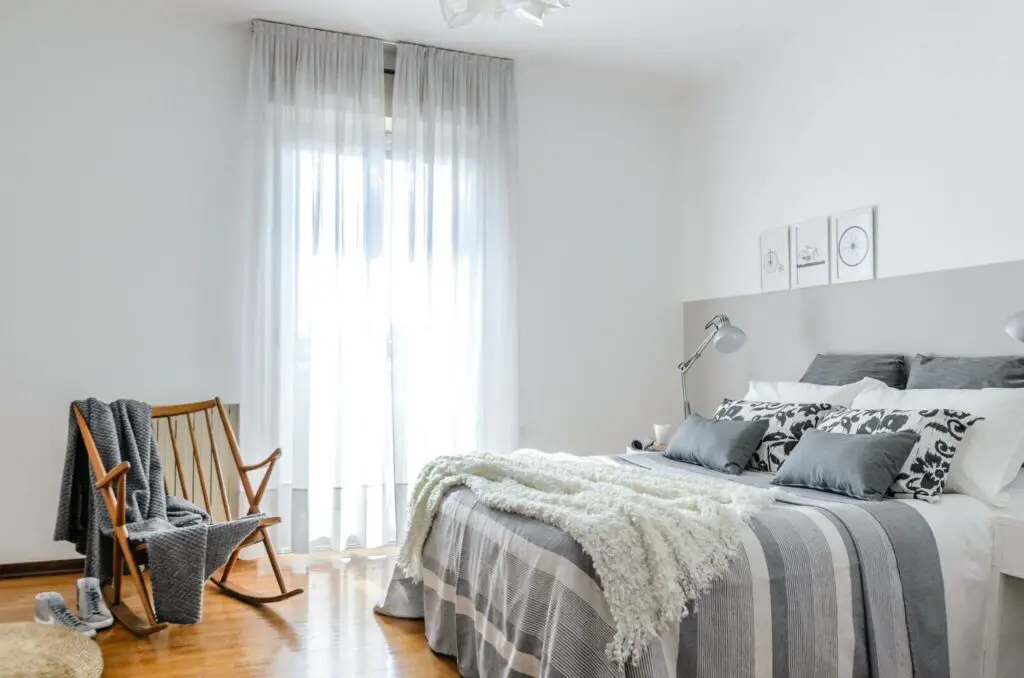 I don't think I need to explain why this is an important and essential room to have. The question which arises is, how many bedrooms do you actually need?
Another question is what the size of each bedroom should be. The answer is pretty subjective. 
The first factor involves whether you have kids or if you plan to raise kids in the house. Apart from the master bedroom, you will need a room or two for the kids and another room which can act as a guest room.
Some people tend to skip on the guest bedroom, but it could create a nuisance if somebody ever decided to come over. 
As far as the size of the room goes, keep the master bedroom the biggest as this is where you will end up spending a third of your life.
Keep the guest room the smallest as most people are only going to spending a couple of nights at a time.
Your kids will also need a lot of space so you cannot compromise there. 
Bathrooms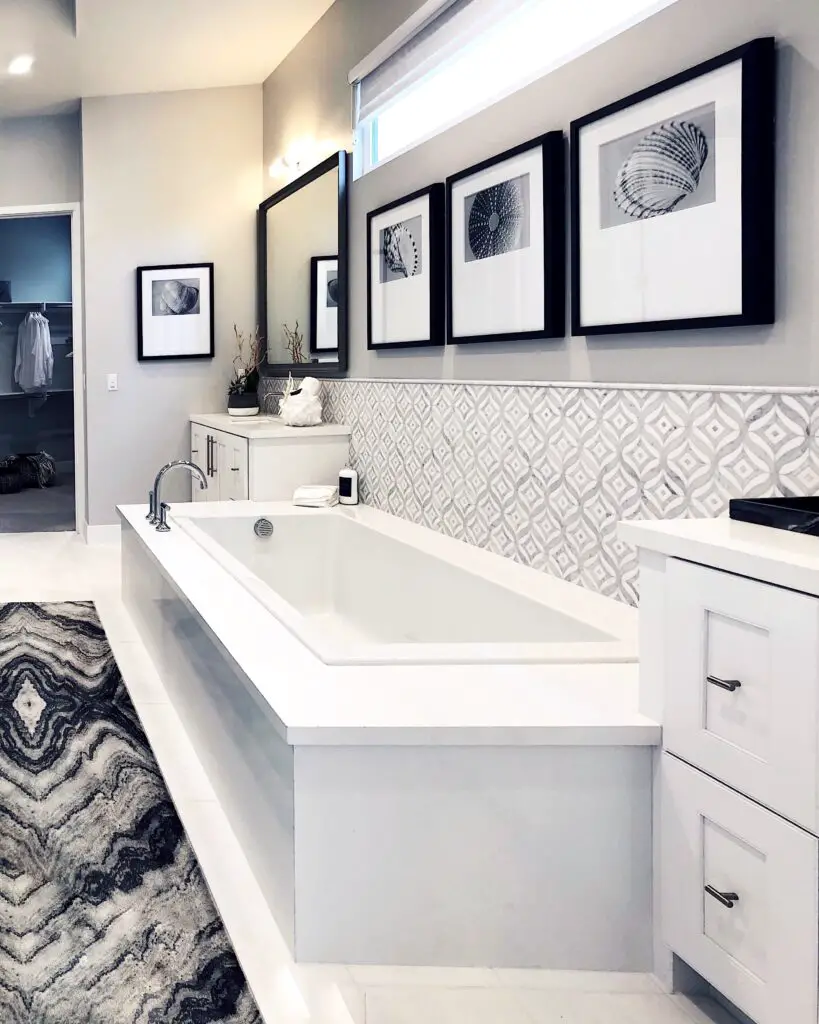 Again, this room is pretty self-explanatory. But there are few factors to consider like the size and number of bathrooms you will need.
There should be at least one bathroom with every bedroom and then one more which can act as the bathroom during parties and get togethers. 
A good washroom or a bathroom is essential for comfortable living. You will be surprised by many people judge a home by the quality of their bathrooms. Make sure it is sufficiently spacious and not cramped.
I would also suggest keeping a small plant to add some liveliness to the room. 
Half Bathrooms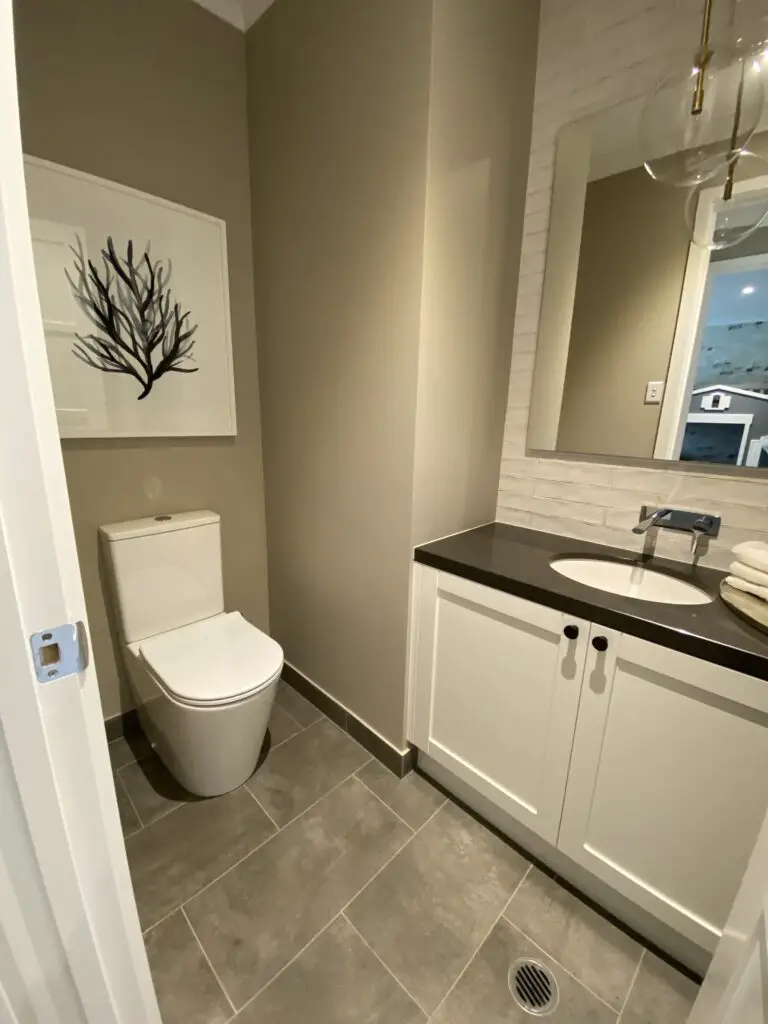 Most people don't consider this room to be essential to a house, but it really comes in handy.
Let's say you don't have enough space to accommodate so many bathrooms, what you can do is set up half a bathroom where people can take care of their business without having a space to shower or take a bath. 
You can set this up in place of an extra party bathroom which I talked about above. Any guest or family member can use this during a party or in case of an emergency and your clean and precious bedroom bathroom will not have to be used. 
You don't have to do much here, just make sure all of the essentials are taken care of. 
Garage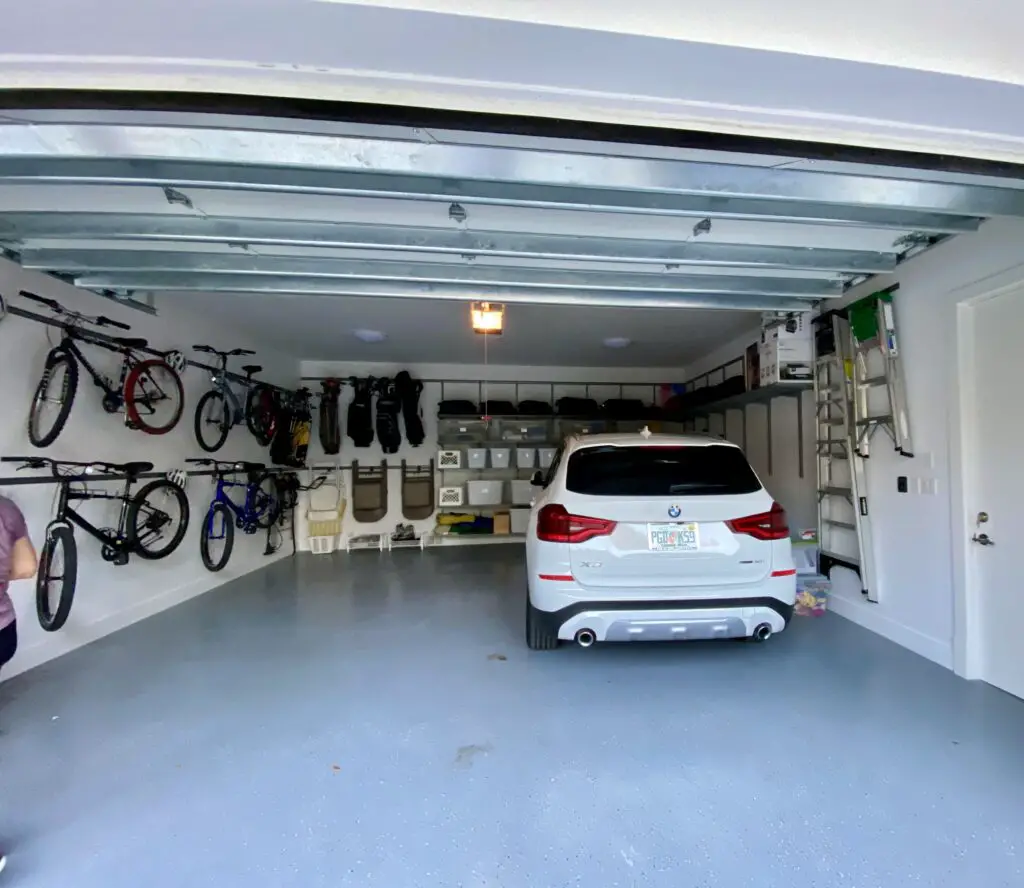 Room Types For Productivity 
Other than the essential rooms which you definitely need in your home, there are some extra rooms which you can plan for.
These rooms can help you in boosting your productivity and declutter a lot of your personal space.
All of these rooms are conditional on the space available to you and your financial situation, only a few of these options should be considered necessary if you don't have the budget and space to plan for them. 
Study Room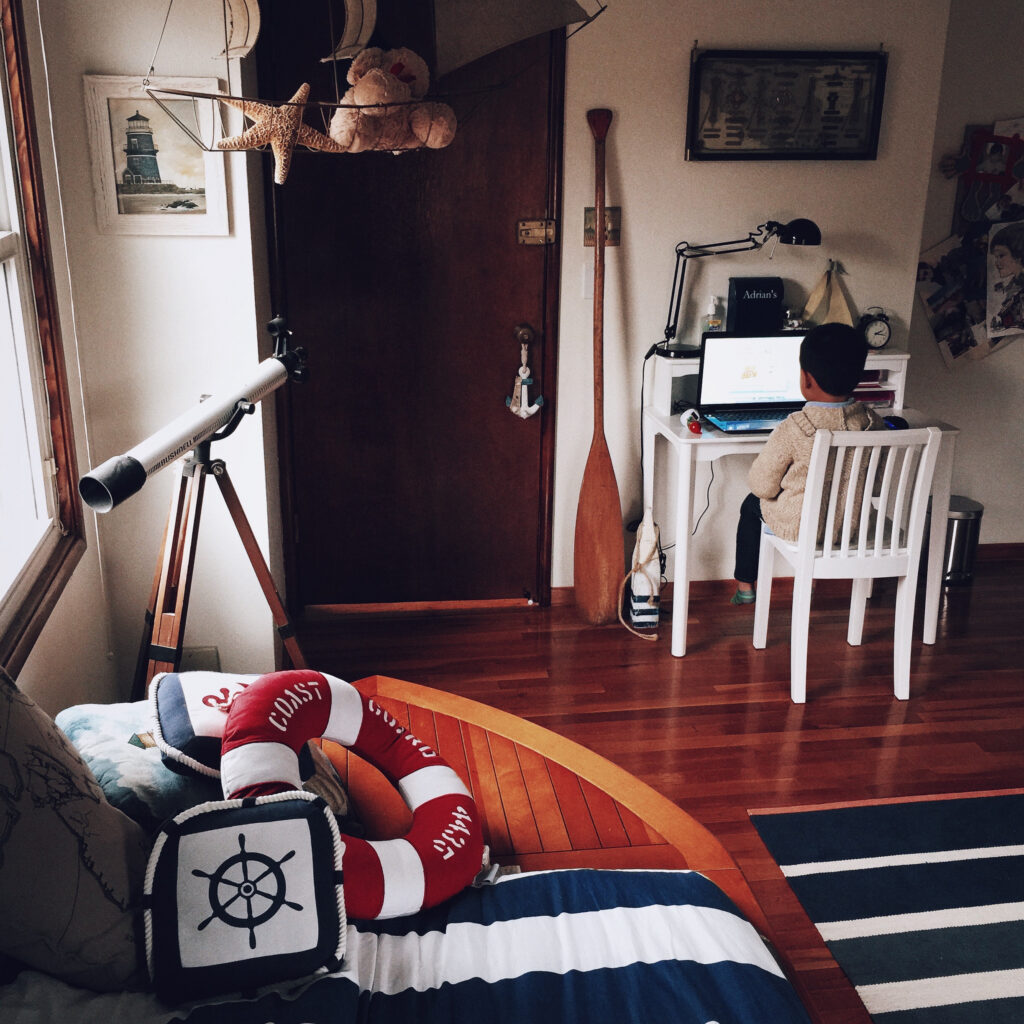 This is one of those rooms which can add a separate space in your house for your kids or yourself to study or work in silence.
This does not have to be a large or a well decorated room, just a spacious place with ample lighting and a place to sit comfortably. You also have the option to combine this room with a home office or a library. 
This room can serve multiple functions, you can even use this to unwind and have a glass of wine after a long day at work.
You can soundproof this room and be in complete silence and away from all of the hustle bustle of your kids. 
Office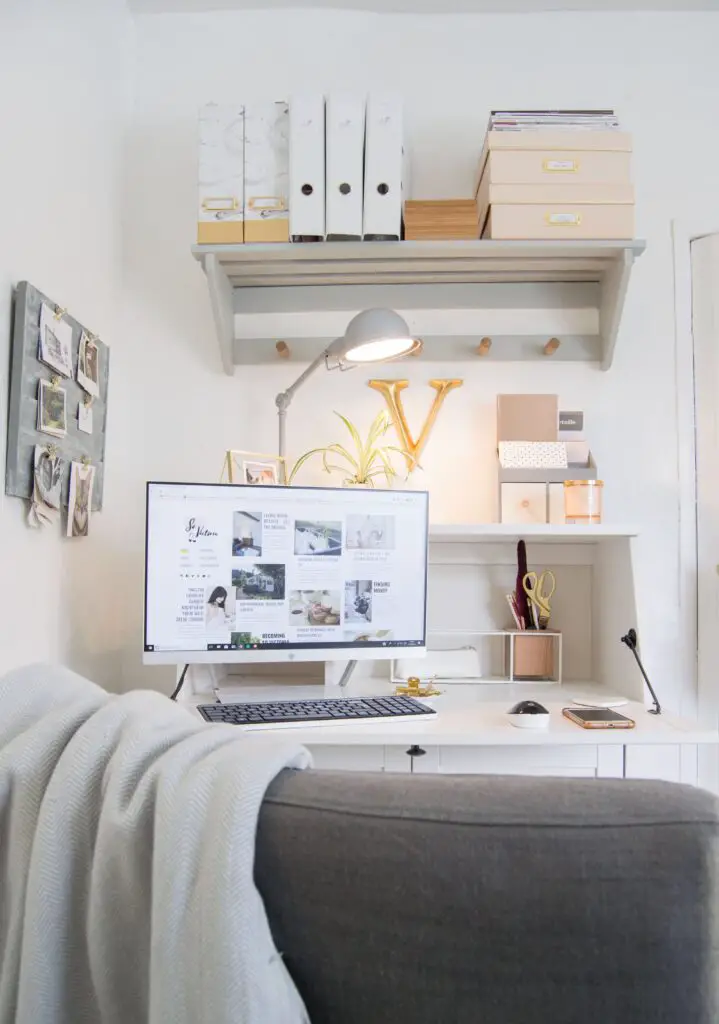 This room couldn't be more important in today's time. With work from home becoming more and more prevalent, you don't have to spend all your day on the dining table or on your bed. Having a home office is not only convenient but it is also much better for your productivity. 
Being at home all day can give you a lot of distraction and sitting on your bed for long hours is also very bad for your back. For this room, try to keep it in a more secluded area of the house and don't decorate it with too many distractions.
Ample lighting, a comfortable chair and table should do the job. You can even build a small library or keep a reading space. 
Some other variations can also be made depending on what your job is like adding a workstation if you are a designer. 
Home Gym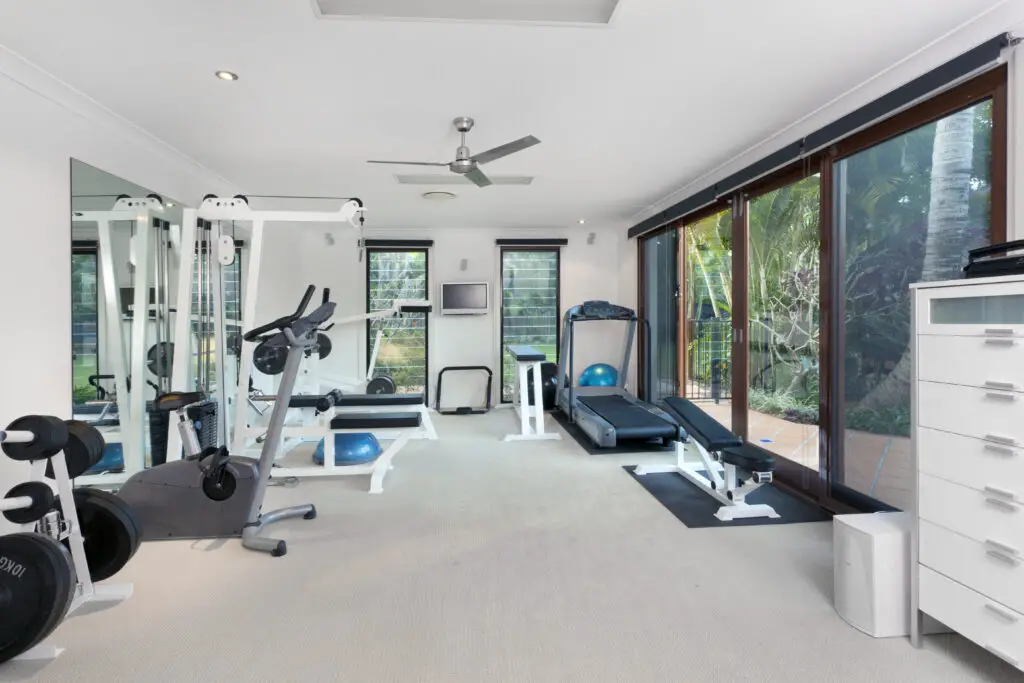 This is the perfect room for you if you are a fitness fanatic. A lot of times you might want to get a workout in before the end of the day but after a long day of work, it becomes a task to go to the gym for it.
Having a home gym is the peak efficiency you can hope for. All you have to do is go to the other side of the house and get a good workout in. It is not only peaceful and empty but also saves a lot of time. 
Building a home gym can be tricky but if you are looking for just a place to get a decent workout in, you don't need to have a fancy and big gym. All you need is a spacious and well-ventilated room where you can get a few equipment in. A barbell, a bench, some dumbbells and maybe a cardio machine can get the job done. 
The only factor to consider is to make the room ventilated and use components which do not absorb sweat and start to stink. 
Library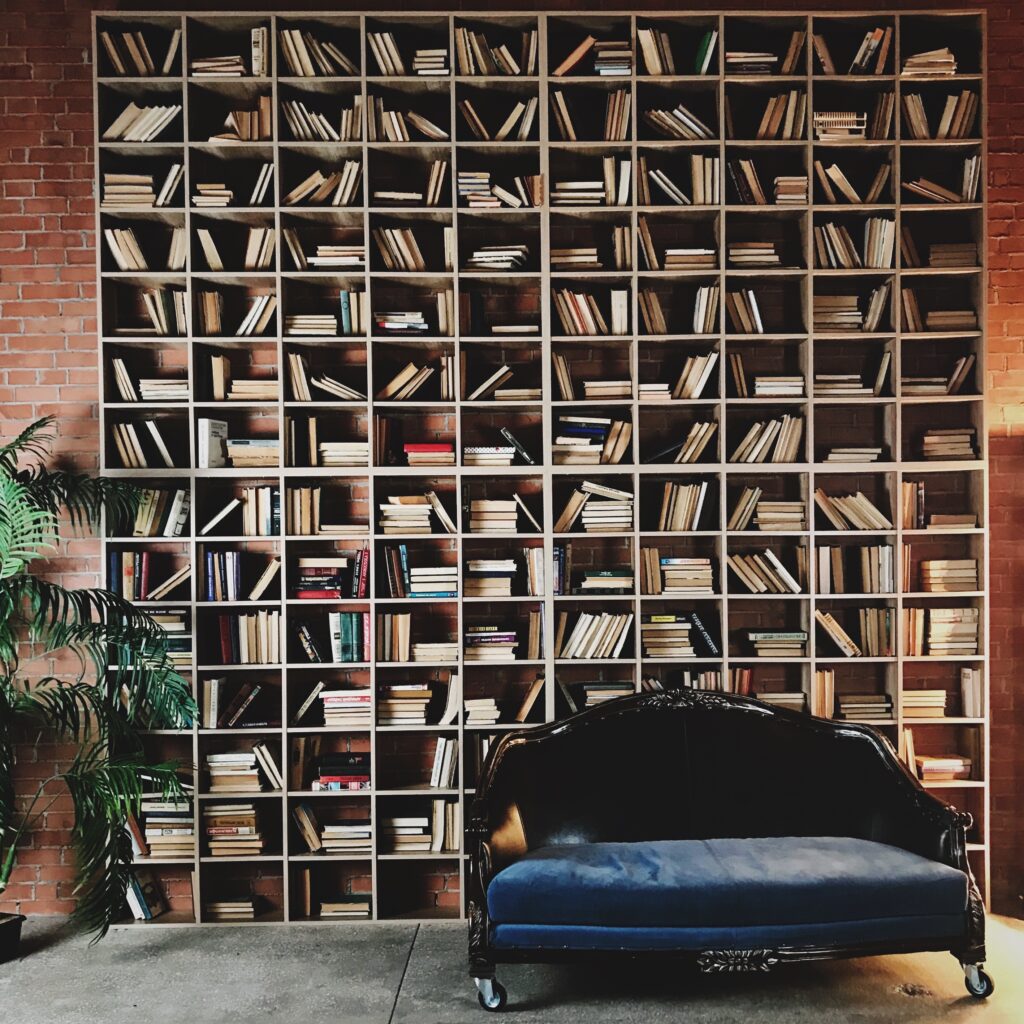 On the other hand, if you are passionate about reading and you already have a good collection of books then adding a home library can be wonderful for you.
You can combine this room with your office, and you will have a nice peaceful place where you can read for hours in peace. 
You don't need a fancy setup for a home library, a well-lit room with some shelves for storing books will get the job done. I would also suggest having a comfortable recliner in this room as this will make your reading time much more enjoyable. 
Another suggestion is to keep this room away from the kid's room and the kitchen as these rooms tend to create a lot of noise. 
Family Room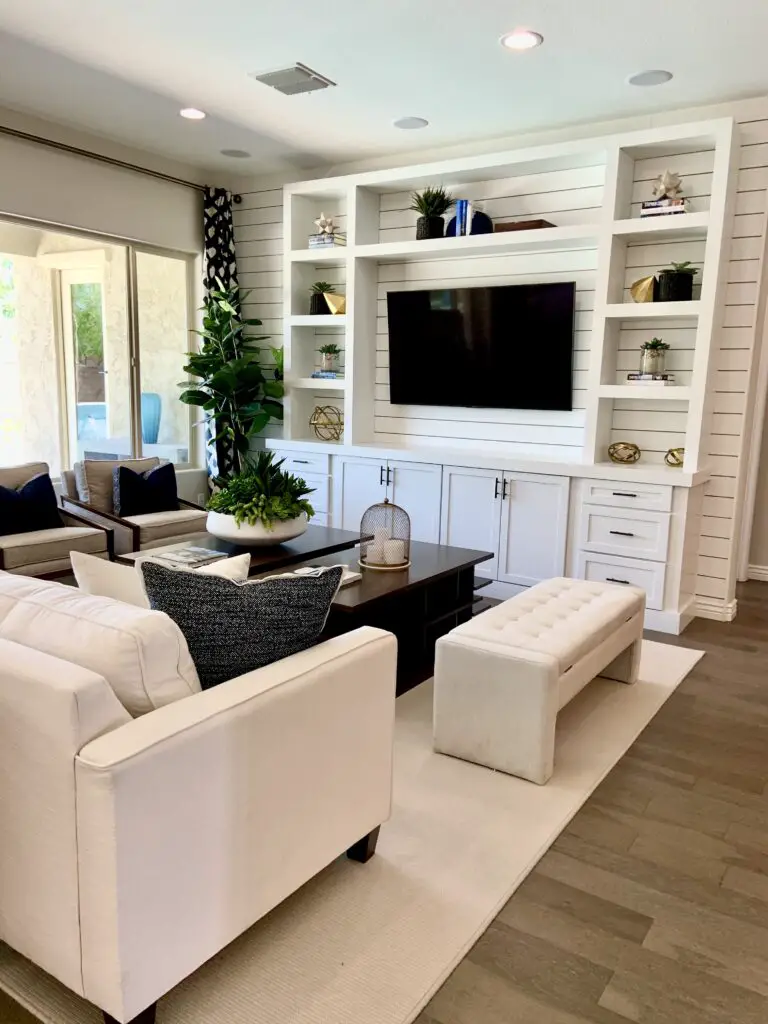 The family room is not at all a necessity and is only possible if you have a large enough house. A family room is basically like a second living room but a bit more informal.
This is where the family hangs out if there are no guests present.
This room can also be combined with a lot of other rooms like the gaming room or a theatre room.
If you do plan to incorporate a family room, you don't need to be meticulous while planning it. It is supposed to be informal so some mix and matched furniture's will also do. You can design any room to be a family room including your basement and the attic.
Usually, these rooms are located on the second floor of the house. If you have young baby in your family, you can also combine this room with the playroom. 
Game Room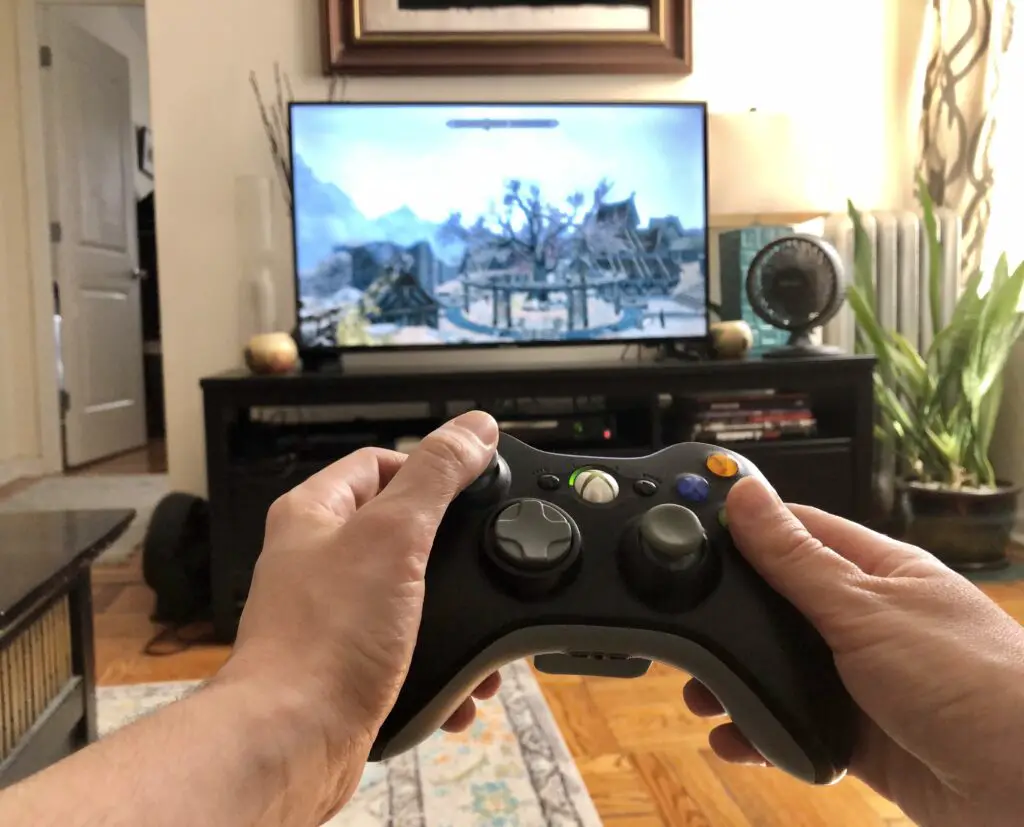 It's not just kids who play video games or any other type of games these days. If you are a gaming fanatic or if you just want to have a room for fun, you can go for a game room. If you have kids, then they are going to have a blast here. 
You can set up a giant screen and connect all sort of play stations to create a theatre cum gaming room in one. You can also set up a small foosball table or a pool table to add a bit more character here.
A lot of people also combine this room with their home bar. This way during parties the guests always have something fun to do. 
You can also buy some vintage arcade games and set them up here. I would suggest having a place to keep some snacks and drinks here as you are probably not going to leave this place for hours at a time.
Keep a few comfortable sofas and beanbags and you have a gaming room. 
Basement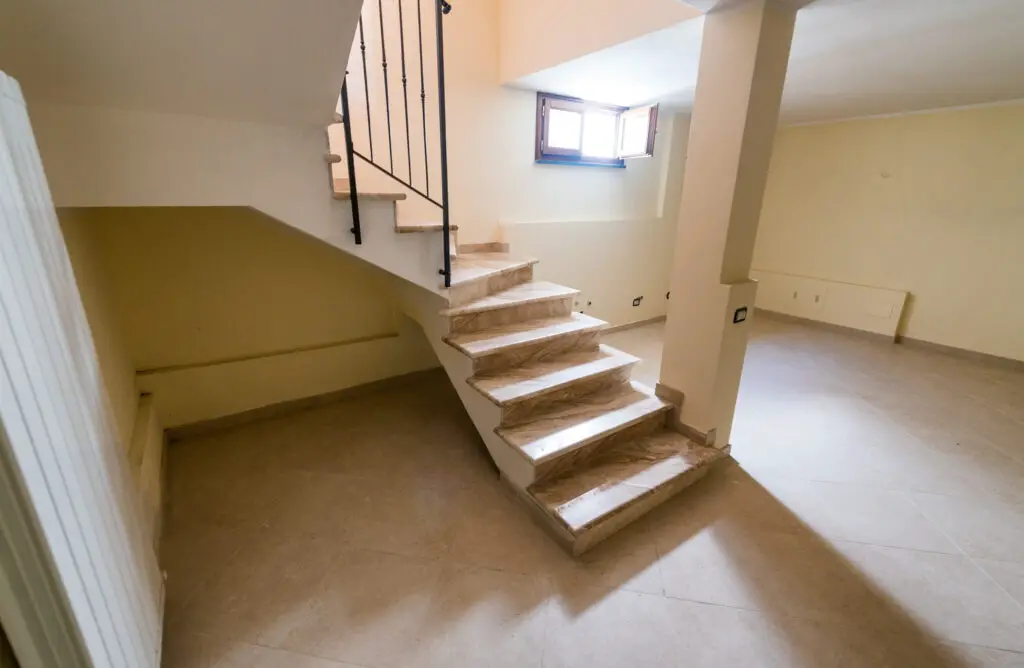 Although most houses do come with a basement, if you are designing your house from the ground up, you have to have a basement.
This space is usually used as a storage space or a laundry room, but you can do some pretty interesting things with this space as well. I have seen some people convert their basements into game rooms or home theaters. 
In some areas of the world, a basement is also used as storm shelters during hurricanes and tornadoes. Even if your area does not need one, a basement can act as a secret room in your house. Some people have even converted this area into a guest room. 
Nursery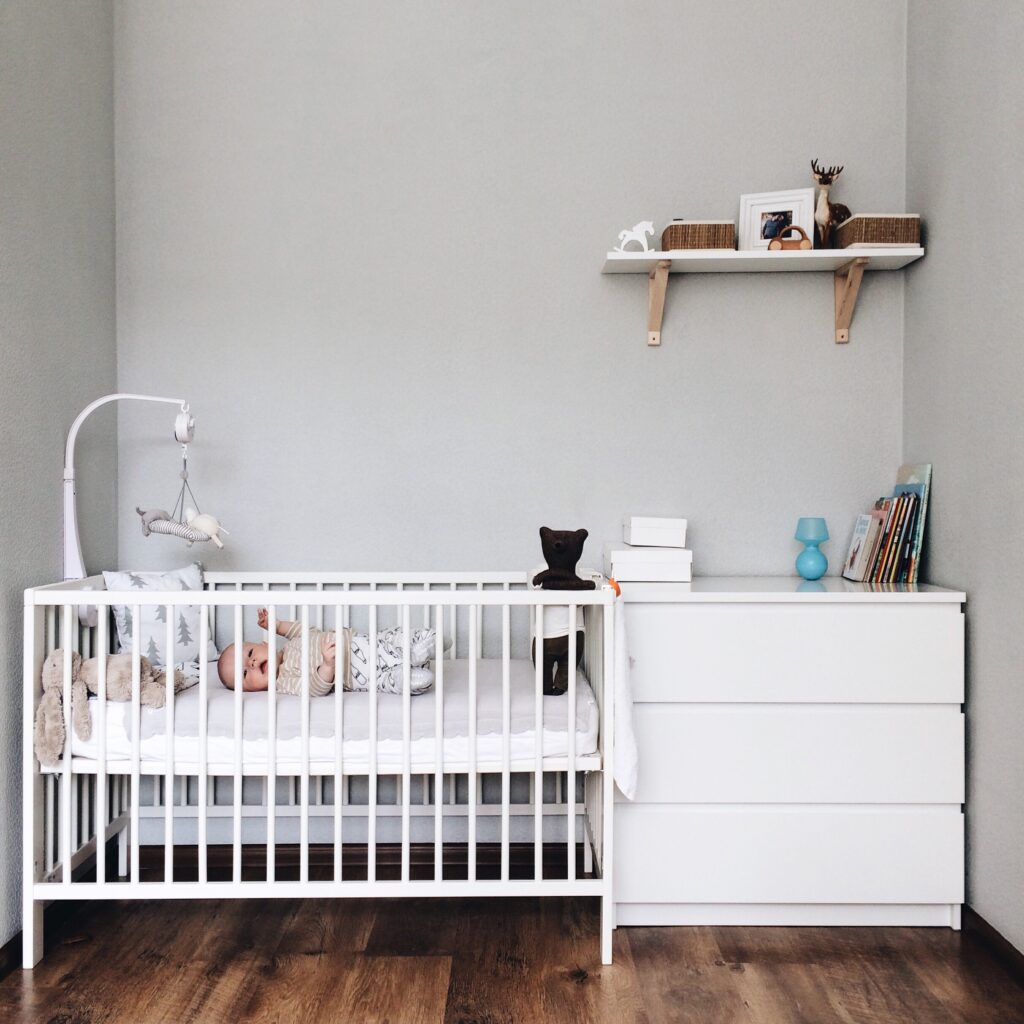 A nursery might sound very fancy or even unnecessary, but it does have a lot of benefits. Hear me out, a nursery is basically where you keep all of your baby supplies and it is a place where you can take care of the baby like changing the diapers and feeding.
I know you can do all of this in any part of the house, but a nursery can also be made to have a baby playing area. 
You can completely baby proof the room and be carefree while leaving them there to play.
Another benefit is that because everything related to the baby will be in one room, you won't have to constantly look for small things all over the house. When other guests who have babies come home, both you and them can be relieved about any supplies or space. 
Storage Room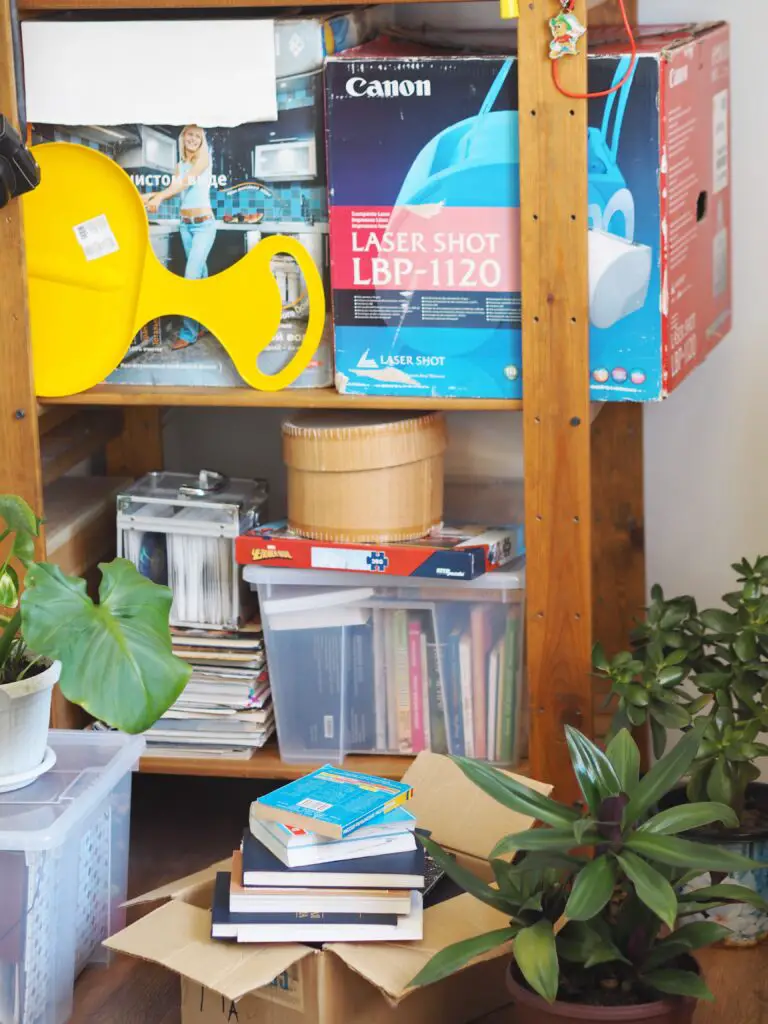 This is one of the secrets to a clean and sophisticated house, lots and lots of storage space.
If you think your house is going to have enough storage because you have thought about shelves and cabinets, you are wrong.
There is no such thing as enough storage space. That is why it is necessary to have a small room, even the size of a broom closet as a storage room.
Just make sure you have some cabinets and shelves in there to segregate your belongings. 
Laundry Room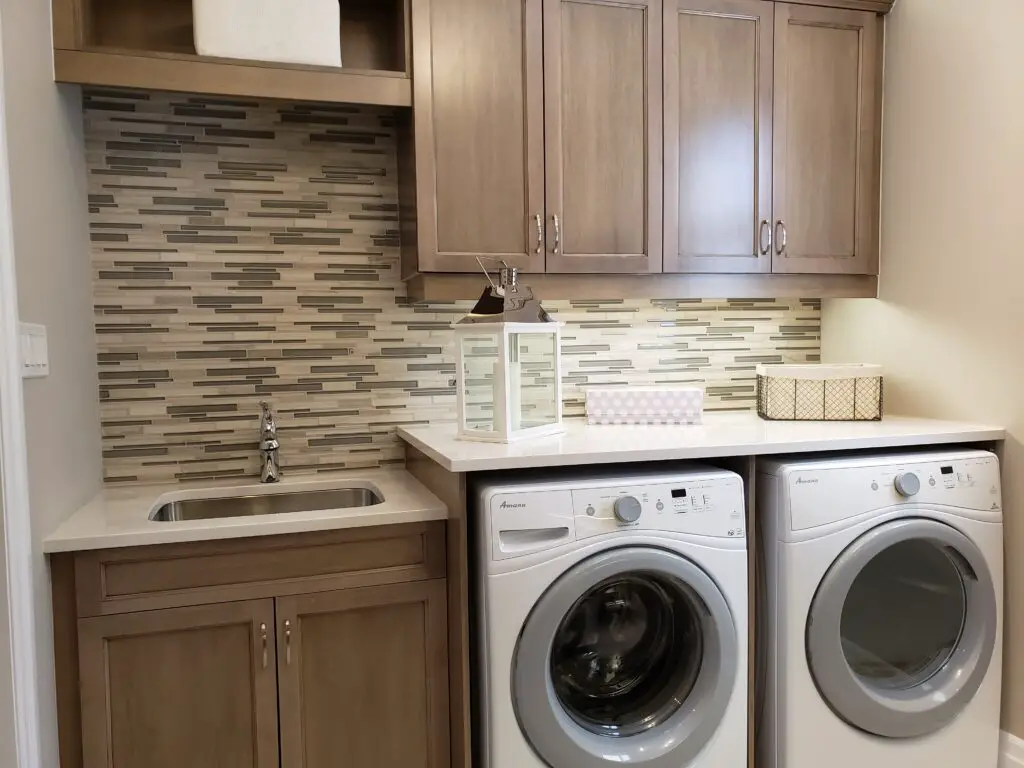 A laundry room is a necessity. You don't need to have a separate room in the house just for laundry, but you cannot just keep your dryer and washer in any room.
They do tend to create some mess and they can also be pretty loud.
I would not recommend keeping your laundry room near your baby's room, your room or the living room. 
If you have a basement then that would be perfect, but you can also make a small balcony which is unused as the laundry room. You might have to have some drying space near this area.
You can also club a laundry room with other spaces, for example if you choose your basement to be the laundry room then you can also make it the storage room. I am assuming you wouldn't want to have a home theatre next to the washing machine. 
Fun Room Types For Your Home
Once you are done with planning all of the essential rooms, you can move ahead to some of the lavish and fun rooms you can go for.
There are a lot of options here depending on your interests and budget.
For some of these rooms you might have to shell out a big amount, while some can be planned without any expenses.
Let's take a look. 
Playroom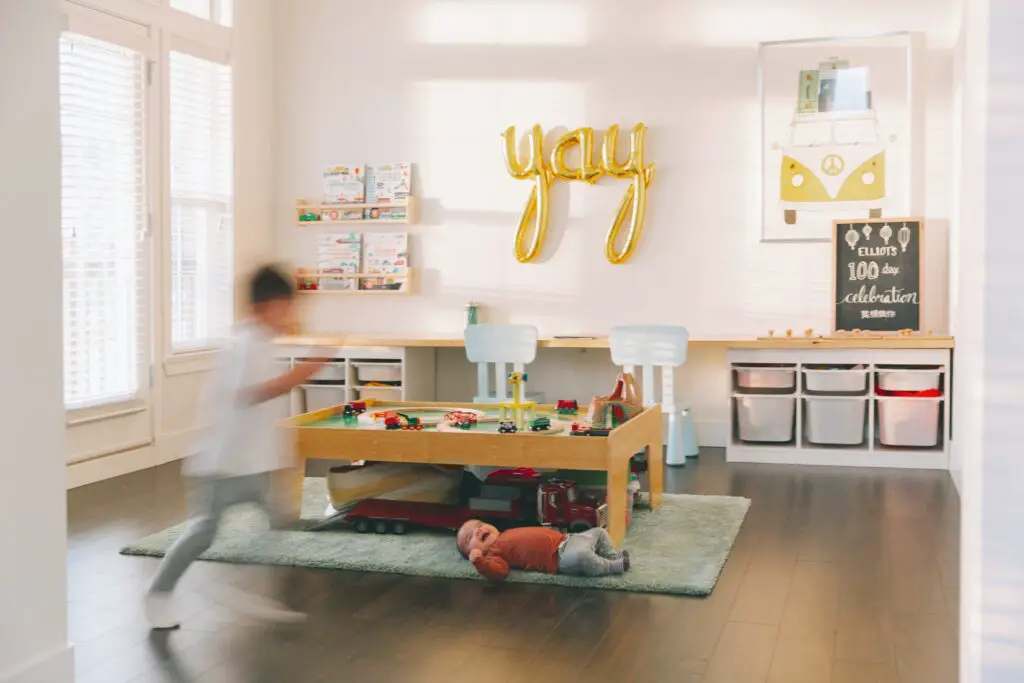 This is the true meaning of luxury for your newborn baby. Let's be honest here, nobody plans for a separate playing room for a baby unless they have the means to do so.
But this room can take care of a lot of headache for you. 
Every new parent knows that babies create a mess, and I am not just talking about when they dirty their diapers.
Kids play all over the house and of course they will never pick up their toys. But if there is a separate room for them to play and keep their toys, you won't have to worry about stepping or breaking anything. 
You won't need a very big room for making a playroom, a small well-lit and well-ventilated room will do the job. You will only have to make sure that it is baby-proof.
Another suggestion would be to keep this room close to the master bedroom. This way if any accident takes place you will get to know about it in a jiffy. 
Sunroom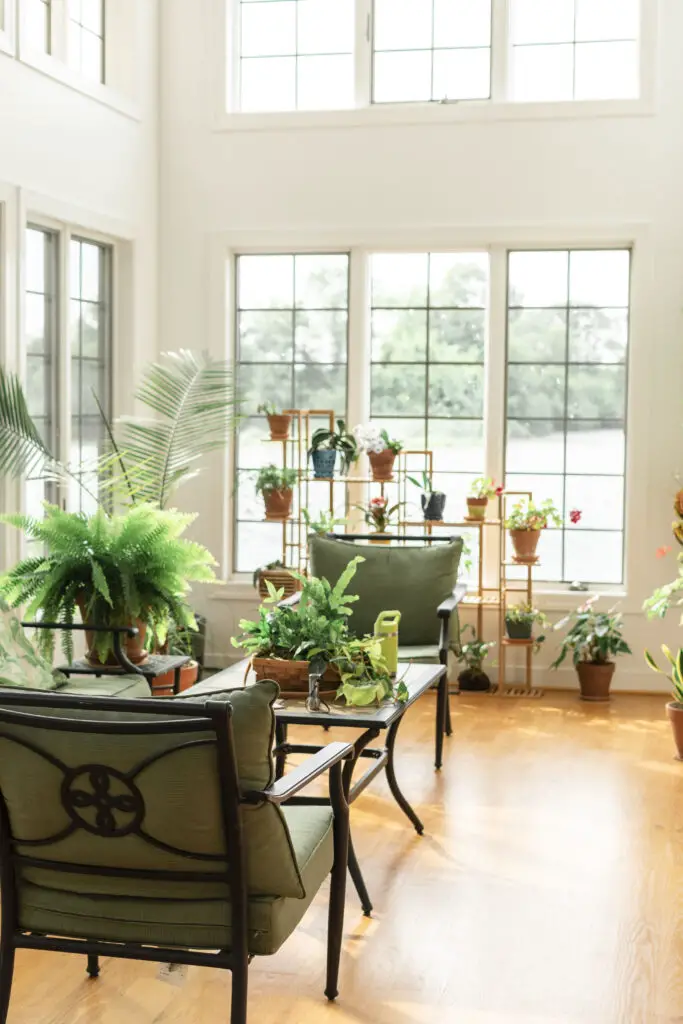 A sunroom can be a new concept for a lot of people. This is basically a comfortable spot in the house which receives the most amount of sunlight. You can even combine this with the family room or the living room.
But there is one thing to keep in mind, constant sunlight and glass windows can also create a greenhouse effect. So, you can even combine the sunroom with a small greenhouse. 
Usually, sunrooms have wall to wall glass windows and some sort of a skylights, but you can design this as you want. This can be the perfect place to have your morning cup of coffee especially during the winters. 
Home Theatre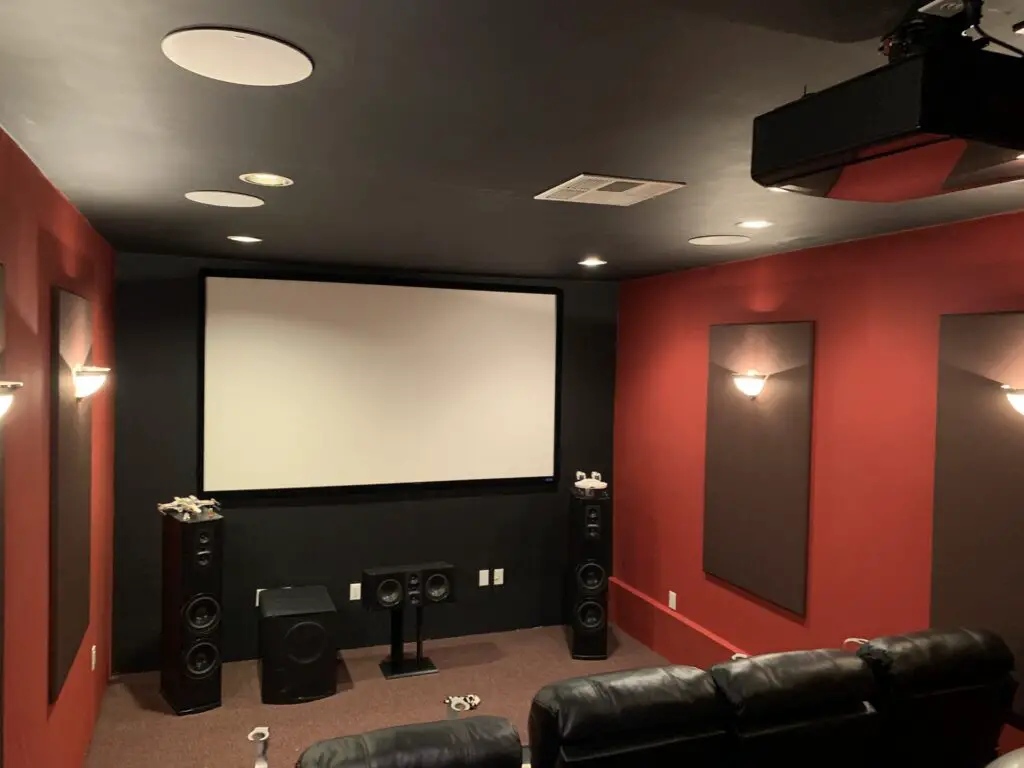 For all you cinephiles out there, having a home theatre can be a wonderful experience. Imagine watching a movie in a proper theatre but without having to go outside or spend money on expensive snacks.
The best thing is that you can set up a home theatre at all budget levels. 
You can simply get some sofas and make the room dark with a good television or you can go full out with a projection and audio system and recliners.
Some people also tend to combine this room with their game room. 
Home Bar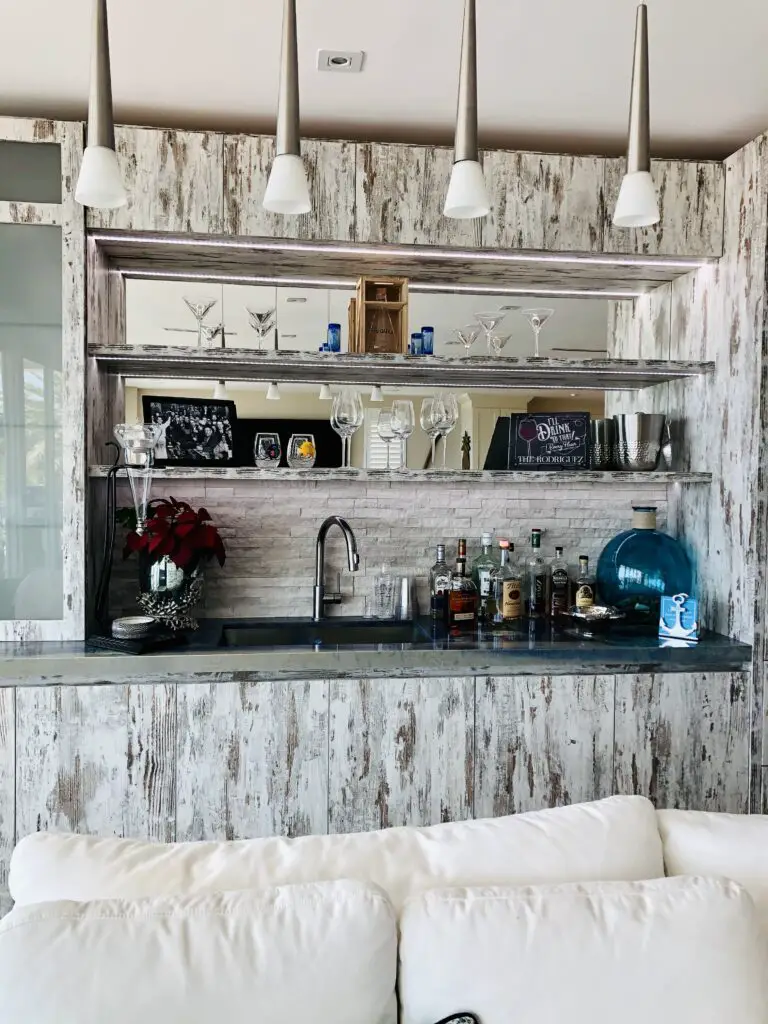 Having a home bar can be quite fun when you have your friends over.
You can either make a separate room for a bar and cigar or you can combine this with the sunroom or the living room.
If you don't have any space, you can simply make a bar near the dining room. But a separate room can be quite a unique experience.
You can set up the room the way you want and all of the mess after a party can be left in just one space. 
Wine Cellar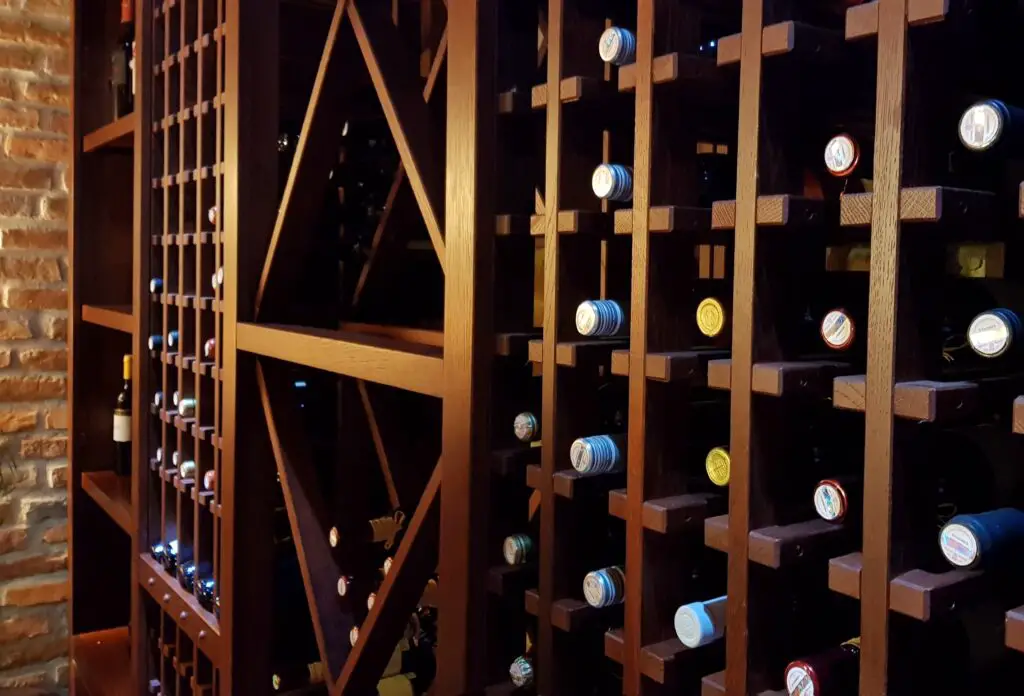 For all you wine aficionados out there, a wine cellar is a necessity. If you have a large or medium level of wine collection, storing them somewhere safe can be quite tricky.
Too much sunlight is anyways bad for the wine, creating a small wine cellar can take care of this for you. 
The best thing is that you don't need a separate room for this, if you have a basement then you can just keep a separate section down there for the wine. You can even arrange something like in your bar. 
Attic or Loft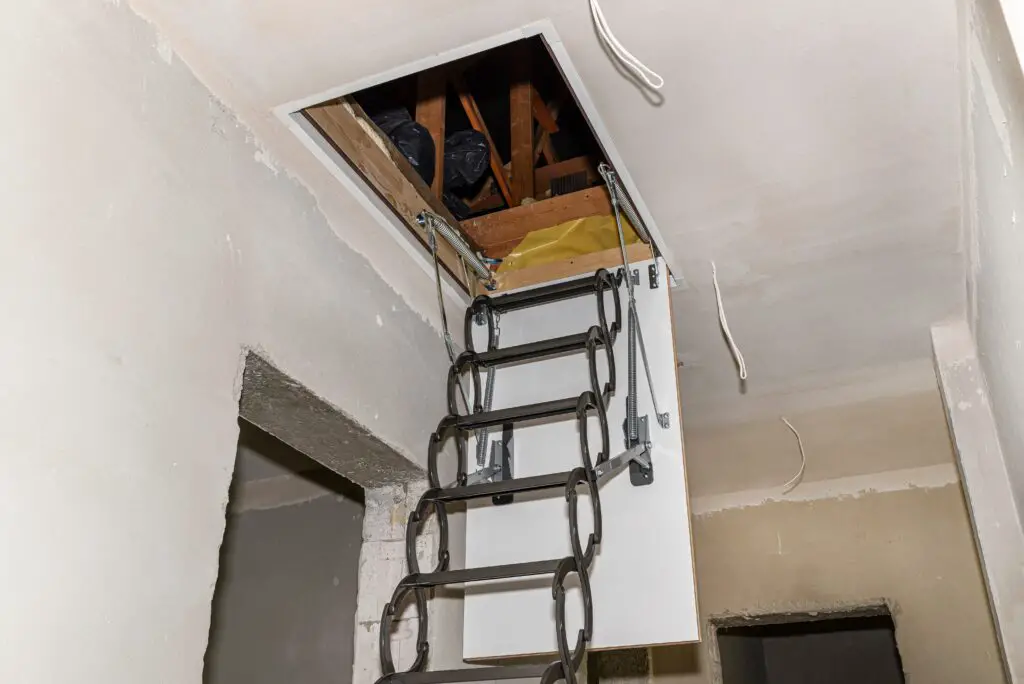 An attic can be a wonderful addition to your home. An attic is as multipurpose as the basement.
There are some things though which you shouldn't do in the attic as the sound can travel all across the house.
I wouldn't recommend making the attic a gym or a home theatre. But it can be a good storage room or a home library. 
Similarly, a loft can be even more versatile. You can convert the entire loft into a bar, home theatre, game room etc. 
Walk-In Closet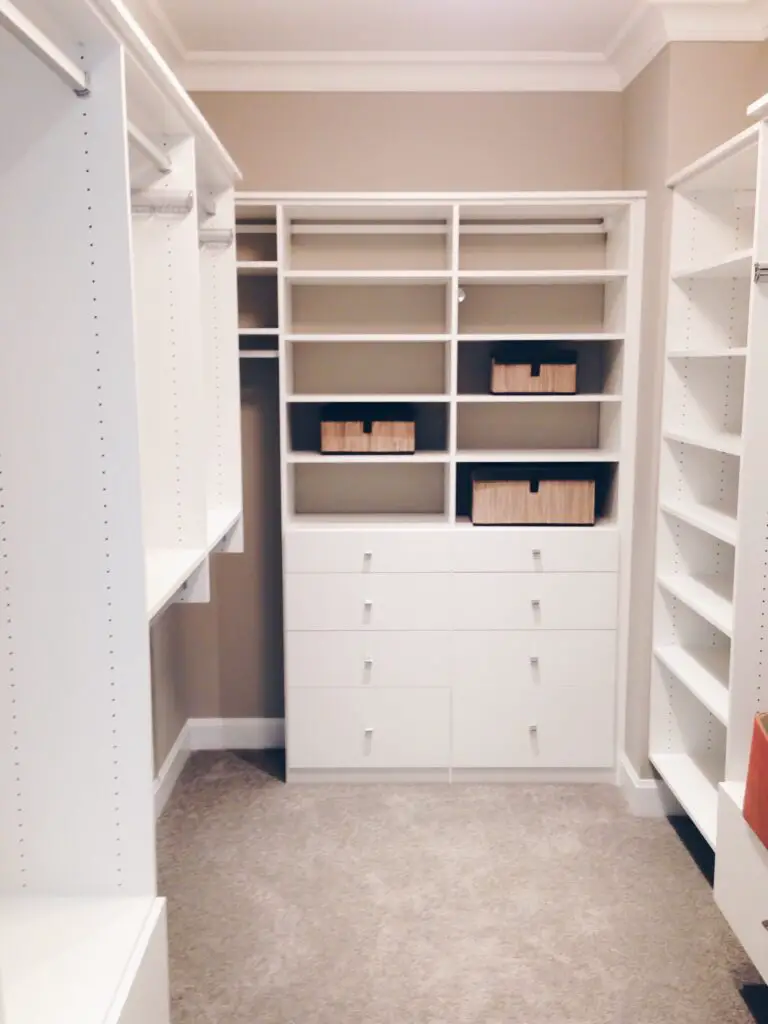 These days a walk-in closet is a necessity in anyone's home. Creating closets and cupboards near the bathroom or in the bedroom can end up creating a mess.
Plus, there is not a lot of space anyways.
Having a walk-in closet can take care of this problem, plus you can even have this as the powder and make-up room. 
A walk-in closet can also act as the laundry room as carrying the clothes after a bath or a workout will be even easier. The room doesn't have to be too big, all it needs is a lot of organization. 
Music Room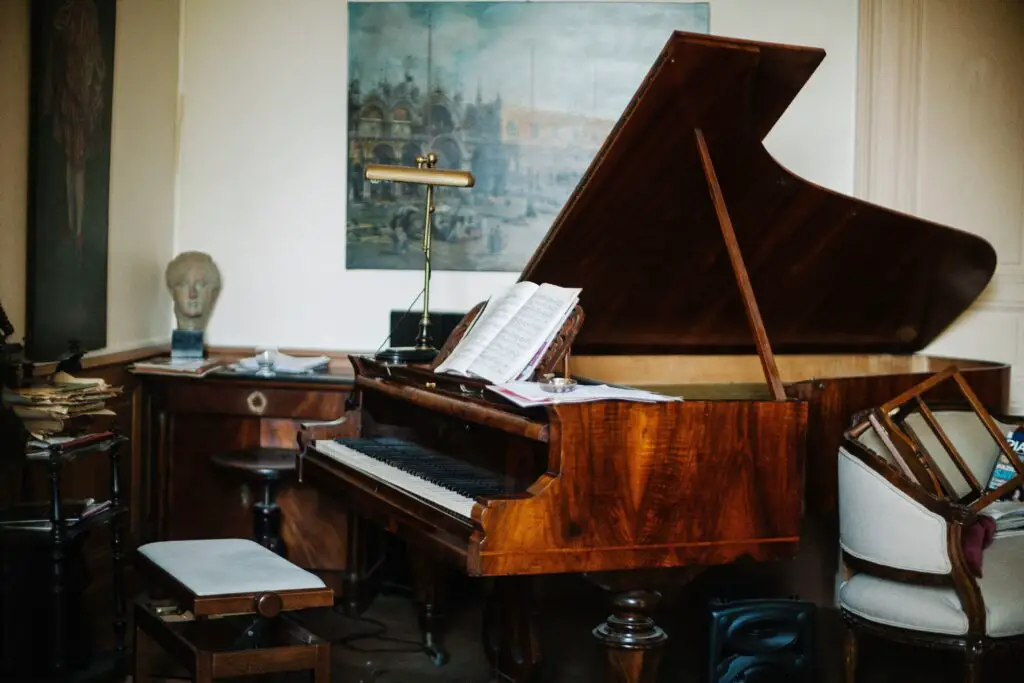 If you or your family is musically inclined than why not have a separate room as a music room? Imagine if one of your kids decides to get into guitars then the chances are that the other kid will also get into some other instrument.
This can create a nuisance for the entire family. Not only the noise, but even the instruments can keep lying around the house. 
Having a separate sound proofed room can solve this problem entirely. You can even combine it with a gaming room to save space. 
Pool Room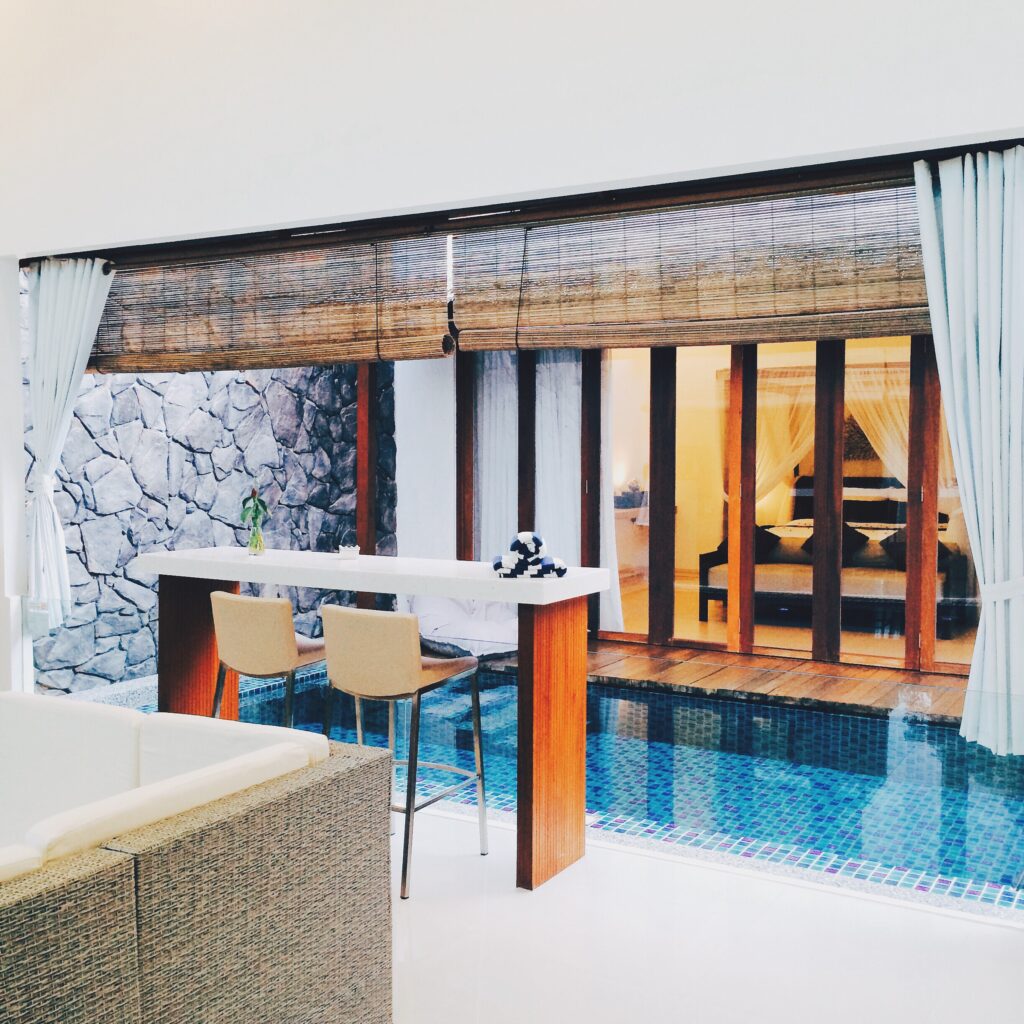 Having a swimming pool in your house is the peak comfort you can hope for. It is not only a great addition for get together and parties but can also be used as a good family time or even for workouts.
You can get a pool for your house at all budgets. 
Starting with the cheaper options which are more like hot tubs and moving to proper large swimming pools.
It all depends on your budget and preference. You can also place the swimming pool in an indoor room or an outdoor place.
Most pools are outdoors and allow you to soak up some sun as well.
Although, if your budget allows, I would suggest that you construct an indoor pool as it can also be weatherproof.
Sauna and Steam Room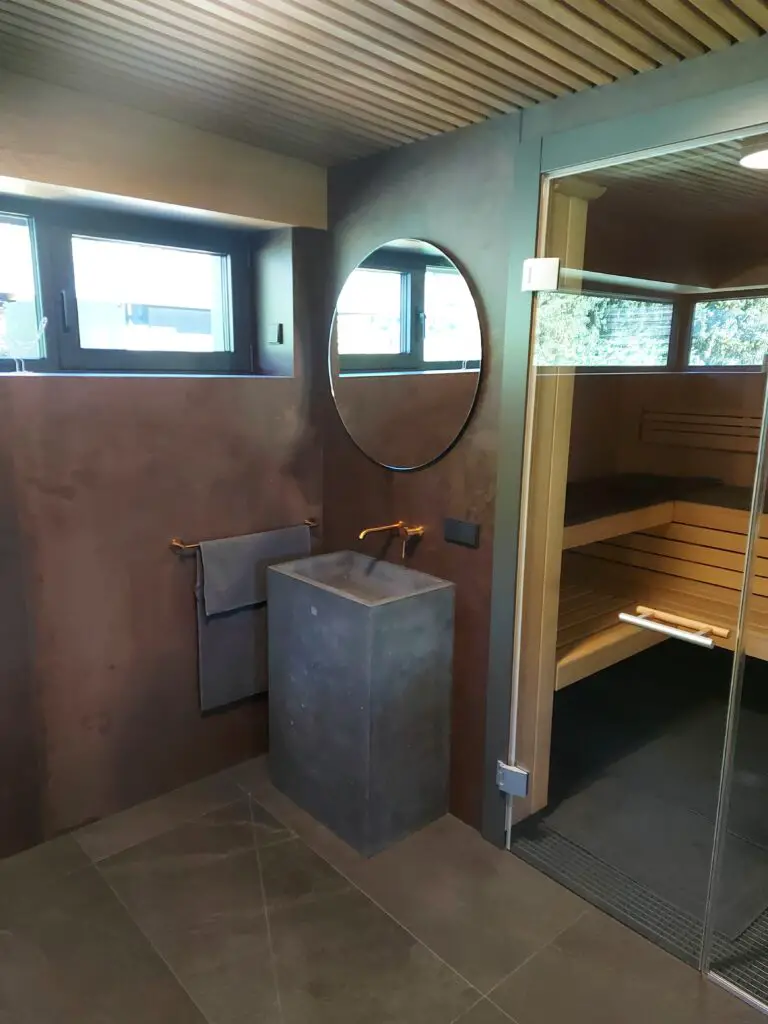 A sauna and steam is not necessary obviously but it can be a cool feature of your house.
Especially if you know that you will enjoy it over a long time. the best thing is that you can create a sauna and steam room adjacent to the bathroom or the home gym if you have one.
They also don't cost a lot these days. There are a lot of companies which have made the entire process very easy and cheap. 
Of course, you can also go for the expensive types which can fit multiple people but even a small room will do it for your house. 
Conclusion.. 
When it comes to designing and setting up your house there are a lot of options out there.
Even with small apartments or small houses, the number of things which you can do is a lot.
While making this decision you have to keep into account your budget and your needs and wants.
There are some rooms which are a necessity, but you can customize them to a great extent.
This can be a really fun experience especially if you consult with a professional.