When you are in the process of renovating or designing your home, choosing the right coloring for the floor, the walls and the doors is an extremely important decision to make. But with all of the options available in the market it can be really confusing choosing the right combinations. It can be tricky picking good combos. If you have gray floors, what color should your doors be?!
Grey is a neutral color but it can have a character of its own if you pair it well with another color. Most peoples go-to is a white door and grey flooring but any of the cooler colors like blue and other shades of grey and black will pair brilliantly as well. Some bright colors like red and orange also tend to pair well. Even some natural colors shine through with grey like wood, green or yellow. 
What if you buy a particular door color and it doesn't go with the house? This can be very frustrating and financially stressful.
Let's take a look at some of the door colors which will go with a grey floors beautifully… 
Doors For Grey Floors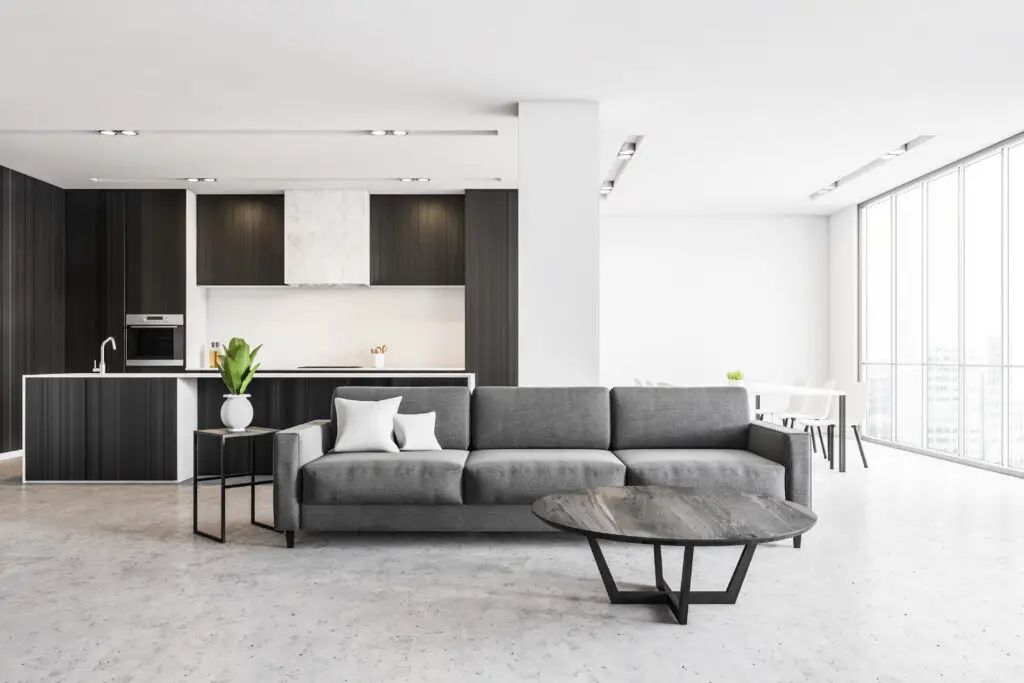 Greys have had a bad name in the past for being too dull and having no personality as a color. But with more modern architectures and interiors making grey their shining star, that bad reputation is starting to fade away. The best thing about grey is that it pairs well with a lot of colors and you will never run out of options. 
Keep in mind one thing though, the color you choose for the door will also depend on the color of your walls and the amount of lighting which the room gets.
It will also depend a lot on the furniture and the size of the room.
Also, all of these colors which I am going to be stating have been picked either from experience or based on what the experts have to say but if you like a particular color which is not on the list then surely go ahead.
Liking a color is extremely subjective so there is no right or wrong answer. 
White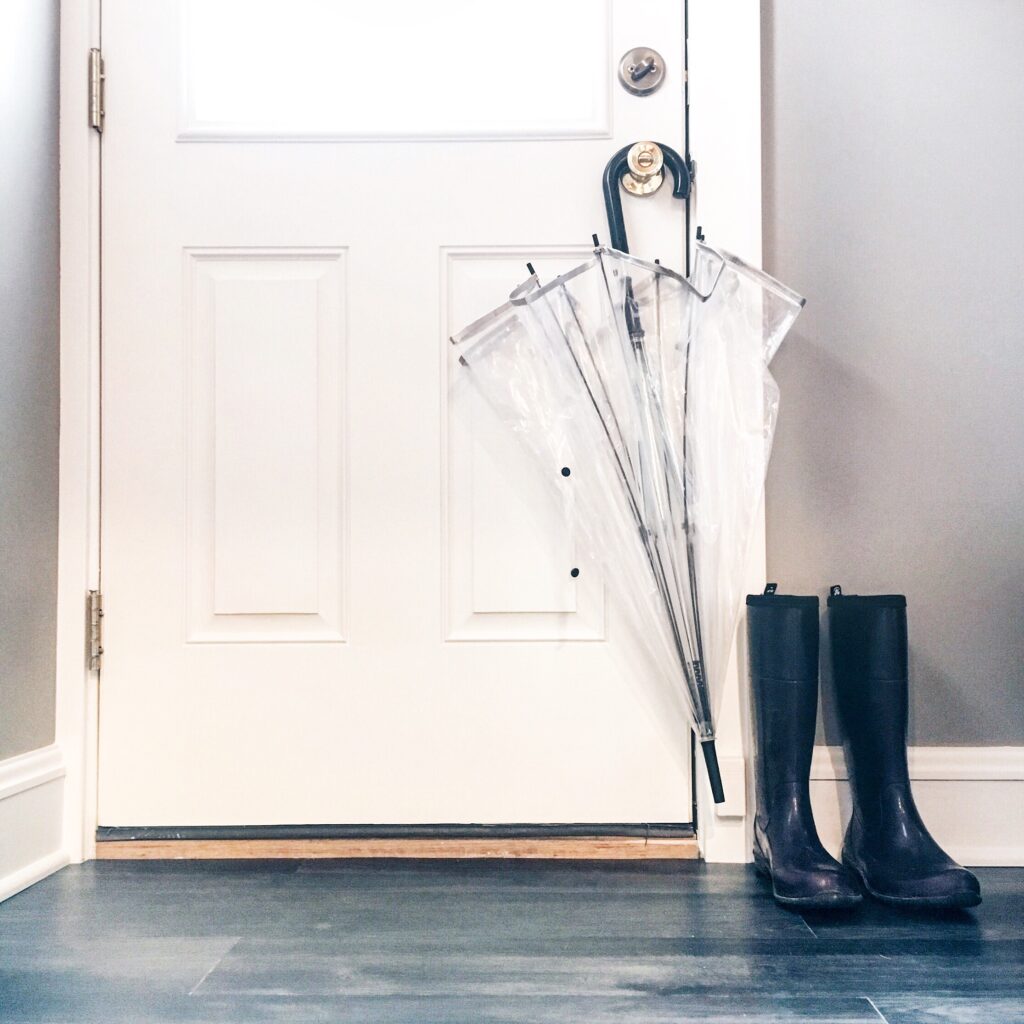 Your most versatile option would be to go for a white colored door. White color with a grey flooring will really add a pop of brightness to the entire room. The best thing is that white doors will also go with most of the wall colors as well as with most of the furniture options. 
Another factor to consider is that white colored doors are also the easiest and the cheapest to get to. Most of the doors which are pre-colored already come in white so it will also save you a lot of time and money. White also plays well with a contemporary or a farmhouse aesthetic. 
Grays and Blacks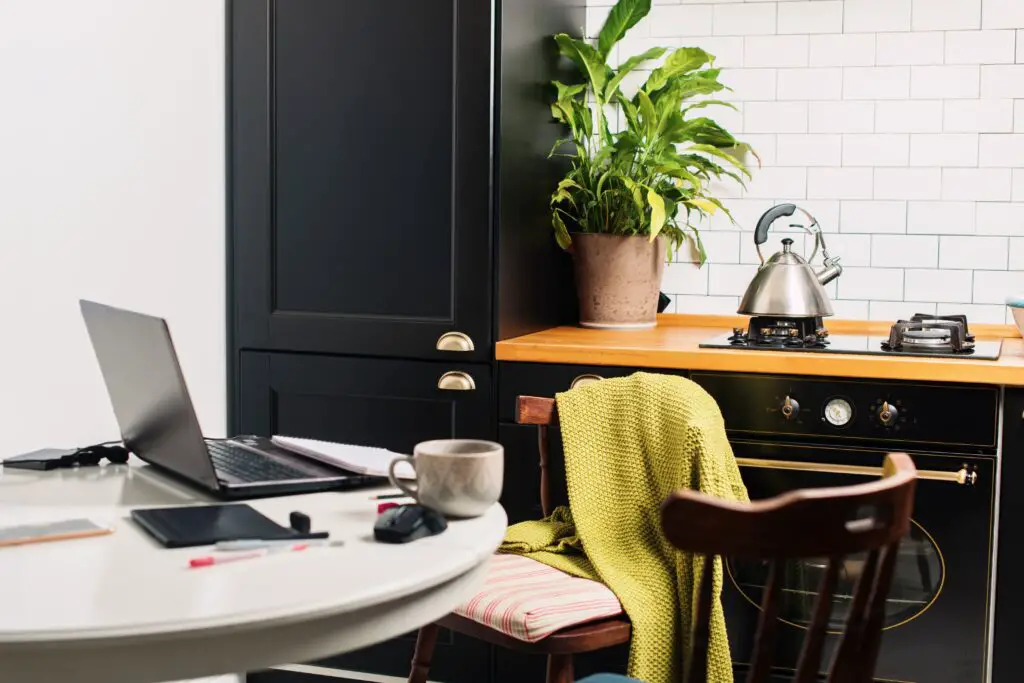 I know a lot of you will be confused by this suggestion but trust me on this. If you are a fan of a more monochromatic look then choosing a black or a grey door will really go with a grey flooring.
Another tip is that if you don't like too much contrast than you can choose a color which is only 2 or 3 shades above the floor color. Otherwise if you do like contrast that go for a completely opposite shade.
Choosing a grey or a black shade will also go with a minimalist and modern design if that is something you are interested in. 
Yellow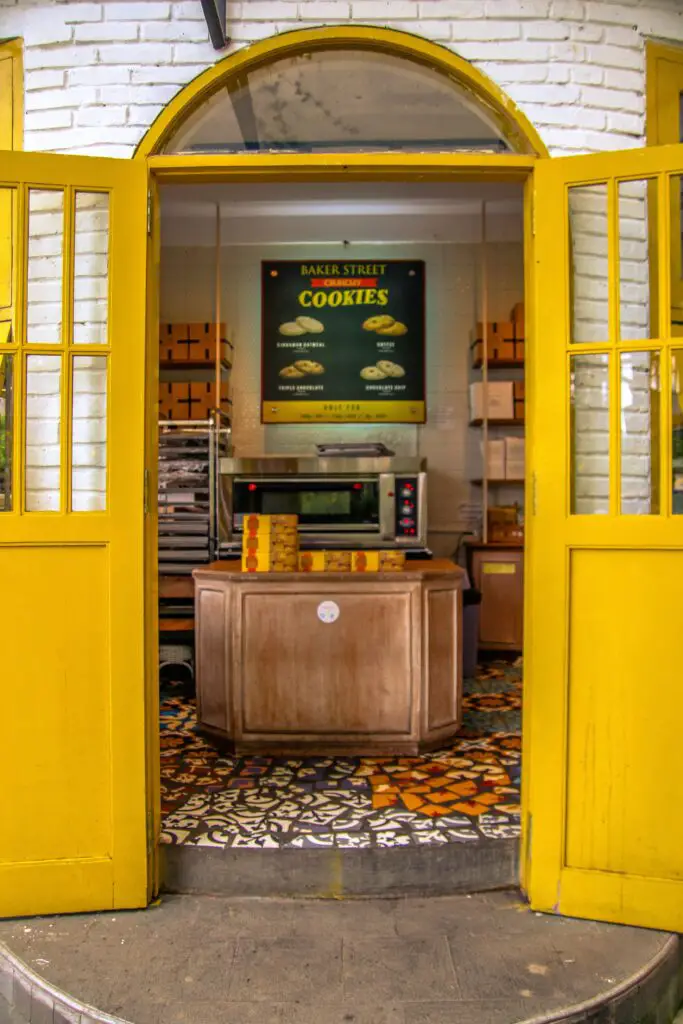 If you feel like adding a touch of color to your house then I would recommend going for a bright yellow.
It is one of the best bright colors to pair with grey shades. It will add a brightness and cheerfulness to the entire room.
I would also recommend that you pair this yellow with some facets of your interiors like a rug or a painting. Don't overdo it though as it can also be overpowering. 
Red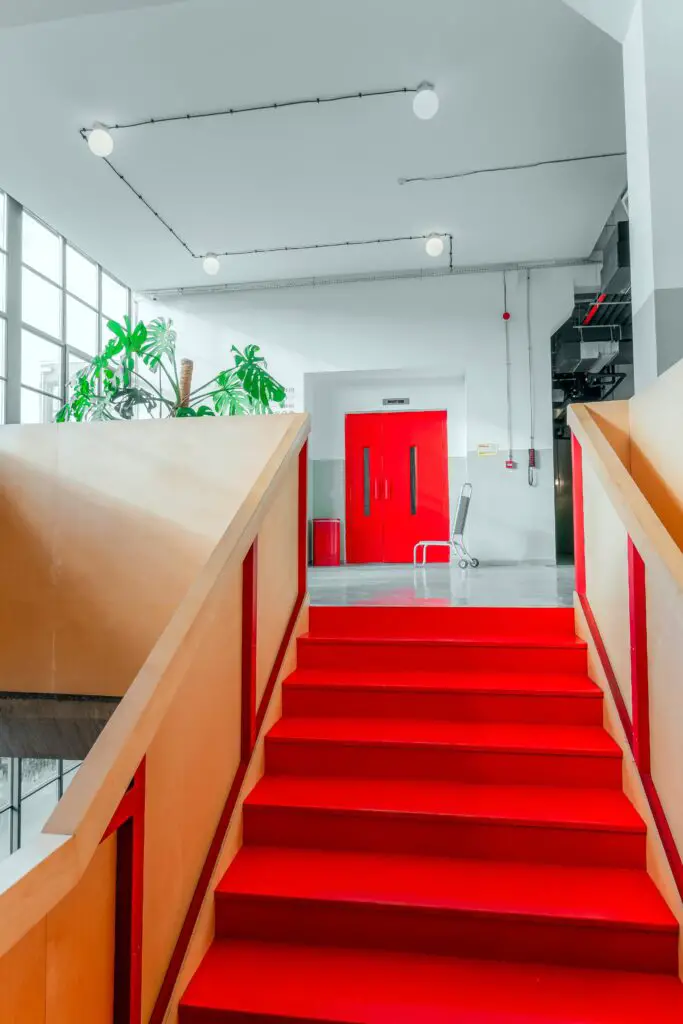 Red also treads on similar lines as yellow. It is a great color to pair with greys, especially if you are going for a monochromatic design overall but still want some sort of a statement.
I have seen some people keep their entire room greys, white and black but they make their doors red.
You don't have to follow this though, you can choose to make the red a bit more subtle. 
Blues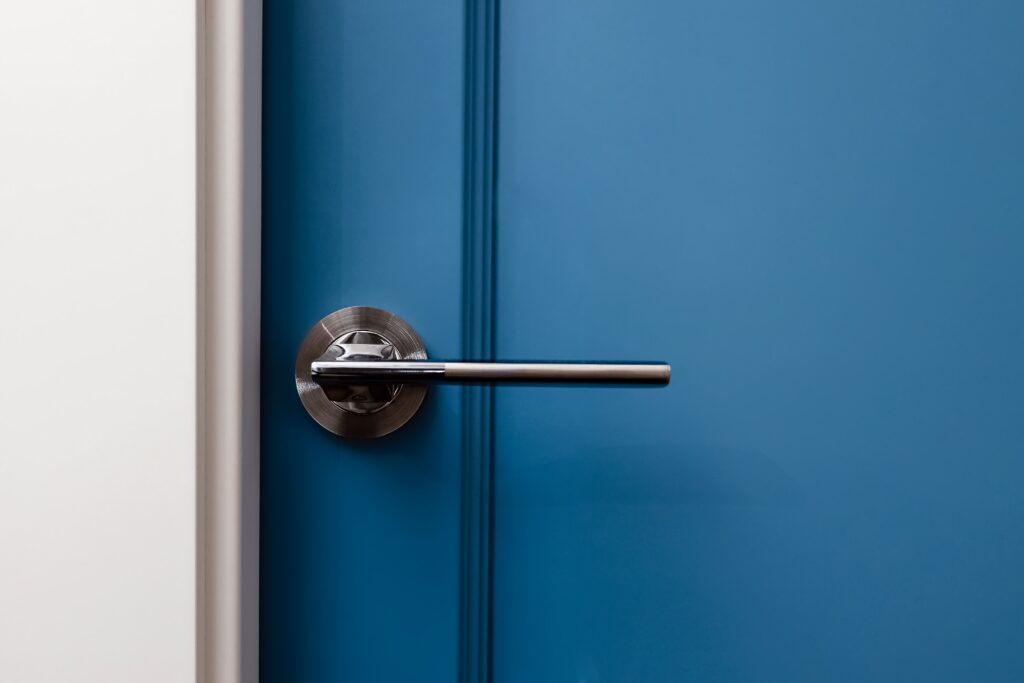 Blue-green and pure blue shades also go brilliantly with greys. Colors like teal really add a brightness and vibrancy to the room.
Different shades of blue go with different shades of grey though.
I would suggest going for a cooler shade of blue with a cooler grey.
But usually both blue and grey are considered to be cool colors so you shouldn't have a difficulty matching them. 
Wood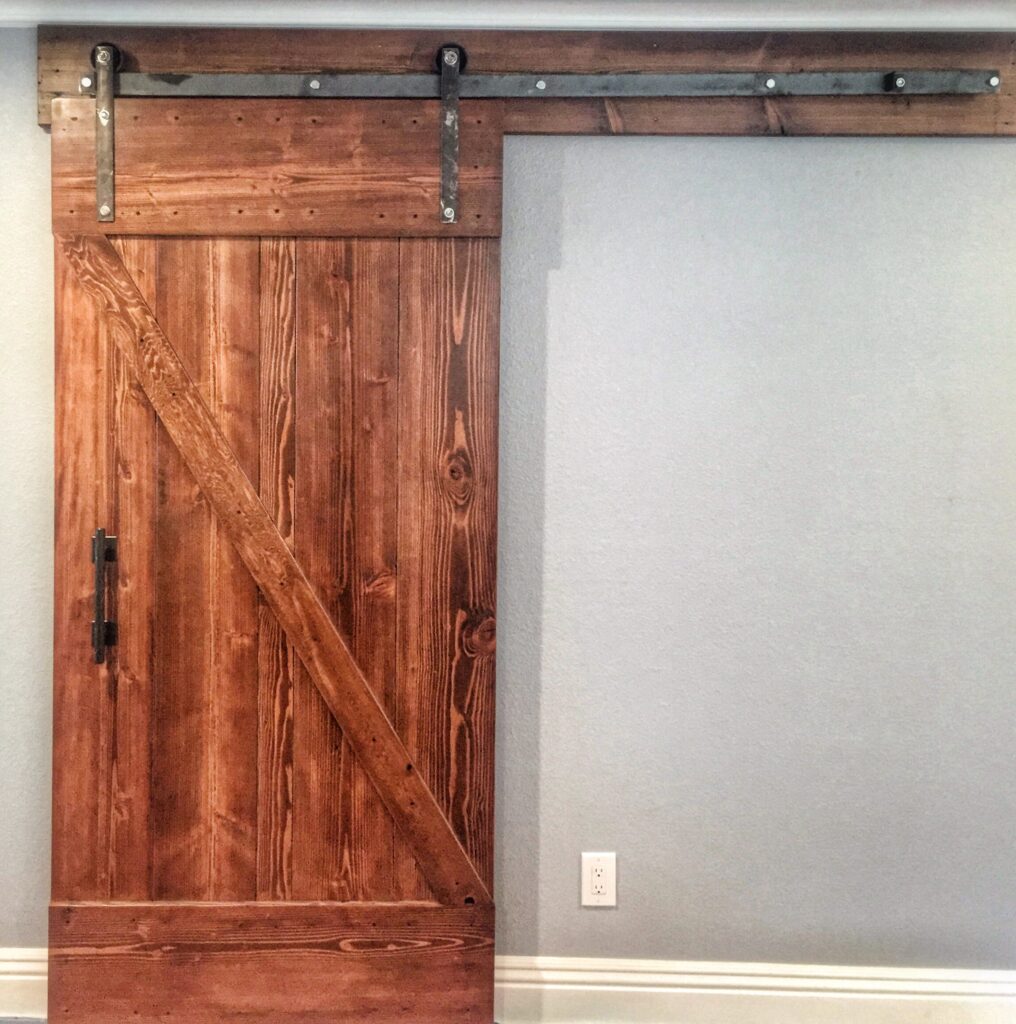 Different wood shades and designs also suit some brownish variety of greys.
Oak for example is a great choice. Both oak and grey are considered to be neutral so they tend to go together.
If you have a soho or a bohemian and traditional look to your house then a wood color will really add a nice touch. 
What Color Door Goes With Grey Tiles For The Bathroom
Although any of the colors I have mentioned above will go with grey tiles, I would suggest to go for white.
This is because most probably your bathroom has white colored attachments like the sink, the toilet and shower. Adding a white colored door will give your room a very clean and crisp look.
This combined with a grey flooring will create a nice monochromatic look.
Should You Try And Match The Door And Floor Colors
I don't think you need to match the colors of your door and the floor at all. On the contrary I feel making them slightly different will add a nice touch to your room and make it pop.
At the same time it is really hard to exactly match the color of your floor and the door.
There will always be a little difference so you might as well make it intentionally so. 
Can You Use Oak Doors With A Grey Flooring?
Yes, oak and grey are an excellent combination.
Especially if your flooring has a little brown tint to it. This would be a brilliant decision if you are trying to design your farmhouse or if your house as a more bohemian look.
You can easily match the oak doors with more wooden furniture in the room to give a nice natural look to the entire space. 
What Doesn't Go With Grey Floors
I think you may have noticed a trend with all the colors I have mentioned above, most of them involved a more modern look and would pair well with more modern furniture, except the oak doors.
In my opinion old wooden furniture and old wooden doors do not go well with grey flooring. Especially if the wood color is on the darker side. 
Dark wooden colors have a heaviness to them which clash with the cool nature of grey and doesn't go with the modern and contemporary vibe that grey gives off. That's why I suggested to choose a grey flooring with some brown tones to it if you are choosing an oak door. 
Conclusion… 
Grey is one of the most versatile colors you can go for and it can pair well with a lot of colors if you know how to pair them well. A lot of people think of grey as drab and lifeless but in reality, it can add a sophisticated look to your home. But always be aware of the shade of grey you are using and what shades of other colors will look good with it.
I would suggest checking the color samples in real life before making the final decision. A lot of colors can look very different in real life when compared to online. 
Enjoyed this? Make sure to check these out next:
8 Gorgeous Farmhouse Paint Colors
13 Incredibly Gorgeous Spanish Style Kitchen Inspiration To Drool Over