Your bathroom is arguably the most important part of your house. There is nothing worse than an ill coordinated bathroom. You need to pay attention to the color of the cabinets, towels, wall color, tile colors etc. If your beige bathroom tiles have already been fitted and you are looking for complimentary aesthetics, no need to fret. Beige is one of the most versatile and pairable colors out there. 
Beige is one of the most versatile color options out there and you will have a ton of options to pair it with. The easiest colors you can go for includes shades of white or grey. You can also contrast it with green, blue, charcoal, browns or even solid black. These are also great color options for bathroom accessories. It is also recommended to use green plants to add a splash of liveliness. 
What Colors Go Well with Beige Bathroom Tiles?
A lot of people think that beige tiles are hard to pair with other paints or that beige tiles are out of fashion. Both of these statements are the farthest thing from the truth! Beige is a neutral color and can be paired with a lot of options. 
The two most common option are to either go with warm white or grey colors or to choose for a more contrasted look by using darker colors like green, blue, charcoal or browns. Even solid black can provide some excellent contrast to beige.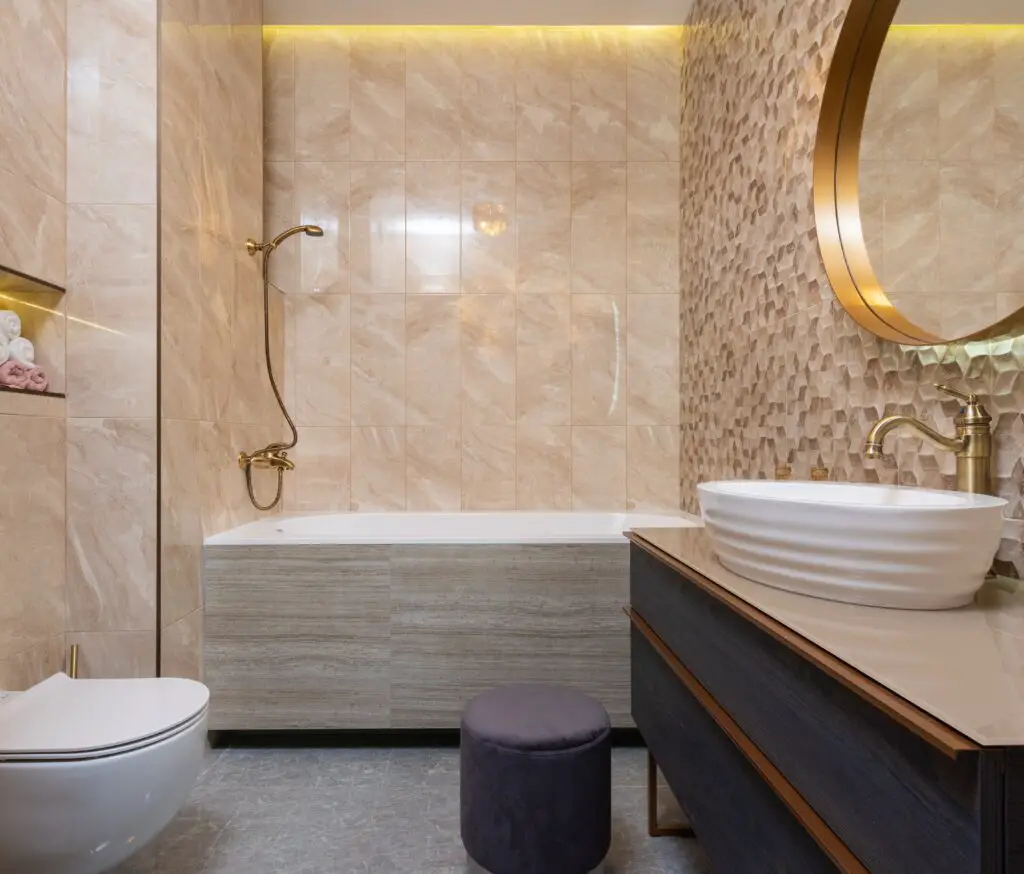 How To Update A Bathroom With Beige Tile
When you are looking to update your bathroom, you will have to pay attention to each and every component to make sure the end result does not only look good, but also compliment and flow with each other. 
Starting off with bathroom cabinets and vanity colors, you can choose from a number of colors here. Because beige is a neutral color, you have a lot of room to play with here. For example, you can go for Emerald, light blue, light brown, deep expresso and black. 
Although it is not necessary for you to match the cabinet and vanity colors, the overall aesthetic will be much better if both the components are complimentary to one another. One thing which you should keep in mind is that your vanity and cabinet colors should not resemble the tile color too much. 
Similarly, while selecting the towels and other essentials, you can go for colors such as dark brown, black, green, blue etc. This will provide quite a contrast to the light and airiness of the beige. If you also have to select towel rods, then making them opposite the color of the towels will provide a very nice contrast to the overall look of the bathroom. 
Other Decorative Ideas for Bathrooms with Beige Tiles
You can use a lot of appliances in the bathroom to further uplift its look. For example, while selecting shelves for your bathroom, it is suggested to either go for plane white, black or make it complimentary to the other cabinets. 
On top of these shelves, you can place small plants. Green plants add a splash of brightness to the room and it really goes well with the earthy beige tones. Even wooden décor items and bright colored items can add some splashes of color to uplift the entire mood. 
If you are going to be using bathroom mats and shower curtains, play close attention while pairing it with the bathroom. It is suggested to keep the color of the shower curtains white. Coordinating its color with that of the cabinets and towels might overwhelm the overall palette. Making it white will balance out the beige and the colors. 
On the other hand, the bathmats can be coordinated with the rest of the color scheme. 
Tips for Making Your Beige Bathroom Standout 
There are a few design ideas which you can implement to make your bathroom standout. 
The first approach is by using a different patterned tile for one panel or column of the wall. You can keep the color of the tiles beige but use some slightly different pattern, this will give a nice hotel chic look to your bathroom. 
Similarly, you can also use a wallpaper with some colored patterns on a beige background. This will give the entire room a much-needed pop of color. You can also play around with the toilet fitting colors as well. Using black or grey tones will add some depth to the room pallet. 
If you have windows in the room, you can use patterned blinds as well. This again goes with the earlier tip of using patterns to add some lightness to the bathroom. 
If you have the space in your bathroom, you can also add larger plants as well. Large green plants can be the focal point of the bathroom and will go really well with the already earthy look because of the beige. 
Enjoyed this? You may also like these articles as well:
Conclusion 
Beige can easily be paired with shades or white and grey. And if you want to add some contrasting colors than green, blue, browns and black can also be great choices.
You can also use these colors with bathroom accessories to further add some splash of colors. Green plants also go very well with the earthy tones of beige.