Whether you are constructing a new home or renovating an existing one, interior design is of utmost importance. The design should be highly functional and, at the same time, gel with your aesthetic sense. This ensures that you get a perfect dream home. 
When it comes to interiors, there are several minute details that you should pay attention to. One such aspect is the color and fittings used throughout the house. Whether it should match is a question that most homeowners ponder. 
Should I Match Kitchen and Bathroom Countertops?
No, kitchen and bathroom counters don't have to match. The kitchen and bathroom are two separate rooms that serve their own purpose. Thus, there is no need for the countertops of these two rooms to match. However, there is no harm in matching the countertops if you so wish. But make sure that all the fittings and fixtures in one bathroom match. 
While selecting kitchen and bathroom countertops, you should consider the below aspects.
Type of material: A wide range of materials are used for kitchen and bathroom countertops. Granite, marble stone, soapstone, quartz and ceramic tiles are a few materials. Depending on the overall design of the bathroom and kitchen, you can decide on the type of material to use. 
The look you desire: Do you want a bold and elaborate kitchen with many design elements? Or do you want a simple bathroom with a minimalistic look? The final result you want is another thing to consider while selecting the countertop. 
Maintenance need: Kitchen countertop requires a lot of maintenance. Grime, grease and dirt can damage the kitchen countertop easily. Thus, you should select a material that is easy to clean. Though the bathroom countertop may not get as dirty as the kitchen countertop, selecting an easy to maintain material is best.
Your budget: Countertops are available in a wide price range. It depends on the material that you use. Marble countertops are the most expensive. Its price ranges from $75 to $250 depending on its gr,ade. Granite countertops are less expensive when compared to marble.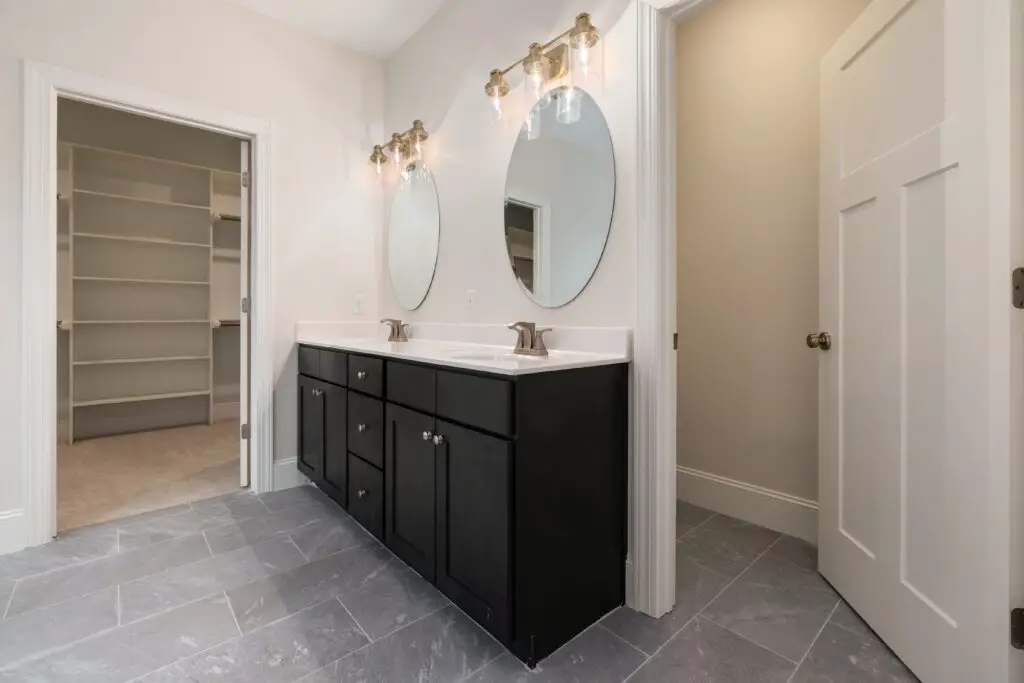 Does The Bathroom Vanity Need To Match The Kitchen Cabinets?
Like countertops, bathroom vanity and kitchen cabinets need not match. But since the vanity and cabinet are clearly visible, they should have some continuity with other design elements of the room.
Example; the vanity and cabinet should match the finish of the bathroom or kitchen door. For the kitchen, the cabinet should blend with other appliances in the room. 
Here are certain things to consider while selecting the bathroom vanity and kitchen cabinets
Style of the door: Vanity doors and cabinet doors are one of the most visible design elements in the bathroom and kitchen, respectively. Thus, you should select the style of the door carefully. If the kitchen and bathroom are designed in a modern style, the door should also follow the same design. On the other hand, for a traditional looking bathroom and kitchen, the door should also complement the theme. 
Type of material: Though wood and metal can be used for making cabinet and vanity doors, solid wood is the most popular one. Oak, maple, mahogany, and pine are a few of the wood types used to make cabinet and vanity doors. 
Type of finish: The finish of the wood defines the look of the bathroom and kitchen. If you want to create a natural look, you should go for vanity and cabinets in solid wood finish. A distressed, glazed, or crackled finish would be a great option for a decorative touch. In the kitchen, grime and dirt can easily damage the cabinet. Thus, it is best to opt for a finish that can easily hide such imperfections. 
Types of handles:The handles you select for the vanity and cabinet also play a key role in defining the style. For a traditional look, the hardware should also have the same touch. The same applies to a modern style kitchen and bathroom. 
Should Master And Guest Bathrooms Match?
No, there is no need to have the same design for master and guest bathrooms. For that matter, no two bathrooms need to match. The design of the bathroom should be an individual choice. At the same time, you can go for the same theme and color for both bathrooms if you so desire. 
A master bathroom should be more practical and functional as it is put to use on a daily basis. On the other hand, a guest bathroom is used only when the guests are around. Thus, it should cater more to the aesthetic sense yet not compromise functionality. 
Here are certain things that you should keep in mind while designing master and guest bathrooms
A master bathroom is mostly used by adults. Thus, you can have expensive and luxurious materials in the bathroom. A freestanding bathtub and illuminated mirror are a few fittings that you can go for in master bathroom. A guest bathroom is used by both kids and adults. Thus, you should pay more attention to the look than the luxury factor. 
In the case of a large master bathroom, you can go for double vanity that makes the bathroom more practical. A single vanity is enough for a guest bathroom as you will use it only once in a while. 
Flooring is another important aspect to consider while designing a bathroom. If older adults occupy the house, the flooring of the master bathroom should be anti-slippery. The guest bathroom can also have anti-slippery tile if more elderly guests visit your house. 
Should Granite Match Throughout The House?
Granite used in the same room should be of the same type. For eg; if you are using a granite countertop in the kitchen, make sure that the whole countertop is of the same granite shade. However, there is no harm in mixing and matching granite in separate rooms as they are entirely different spaces. 
However, there are certain things you should consider while selecting a granite countertop
Granites are available in a range of colors like black, white, brown, and beige. The granite color you select should complement the room's overall colour scheme. You can take samples of cabinet wood, floor tile and backsplash tile while shopping for granite. 
Granite countertops are available in different patterns like marbled and solid. Each pattern creates a different effect on the room. For a minimalistic look, it is best to go for granite with a solid shade. For a more sophisticated and stylish look, you can select one with a marbling or speckling effect. 
Granite comes in three different finishes – polished, leathered and honed. A polished finish has a shiny and smooth surface. Thus, granite with a polished finish is the best option for a glossy look on the countertop. Honing finish provides a matte effect to the granite. A leather finish provides a leather-like texture to the granite. 
If you enjoyed this article you may enjoy these as well:
Conclusion…
What type of material to use for the bathroom or kitchen is purely a personal choice. Though the materials don't need to be the same, you should make sure that it blends with the room's overall decor.
This ensures that the room gets a sophisticated and elegant look.