Kitchen islands have become really popular over the last decade. It is a great choice if you are designing your house with an open plan. They add extra space that you need to the kitchen while also providing a space for gatherings. But the question arises whether you need outlets on a kitchen island or not? Let's take a look at what the regulations have to say. 
The National Electrical Code or NEC states that any kitchen island is required to have GFCI outlets. They should be present every 2 feet in length and 1 feet in width. If you have a peninsular kitchen, then the distance should be measured from the connecting side. There shouldn't be more than 48 inches gap between the sockets. 
Do Kitchen Islands Need Outlets?
All the regulations and information regarding electrical coding is stated out in the National Electrical Code or NEC. Although the entire code is full of technical jargon which can be really difficult to decipher, here is a short rundown of everything related to island kitchens. 
Regulation 210.52(C)(2) of the NEC states that for kitchen islands, one electrical outlet should be present for every 2 feet in length and 1 feet in breadth. In case you have a kitchen peninsula or islands which are connected by one side to the rest of the kitchen, then the same regulations apply, the only difference being that the length and breadth will be measured from the connected side. 
There are some additional requirements as well. The first being that the electrical receptacles should not be placed more than 48 inches apart. Furthermore, no area on the countertop should be more than 24 inches away from a socket. If your countertop is wider than 12 inches, then there should be an outlet on the wall behind the counter.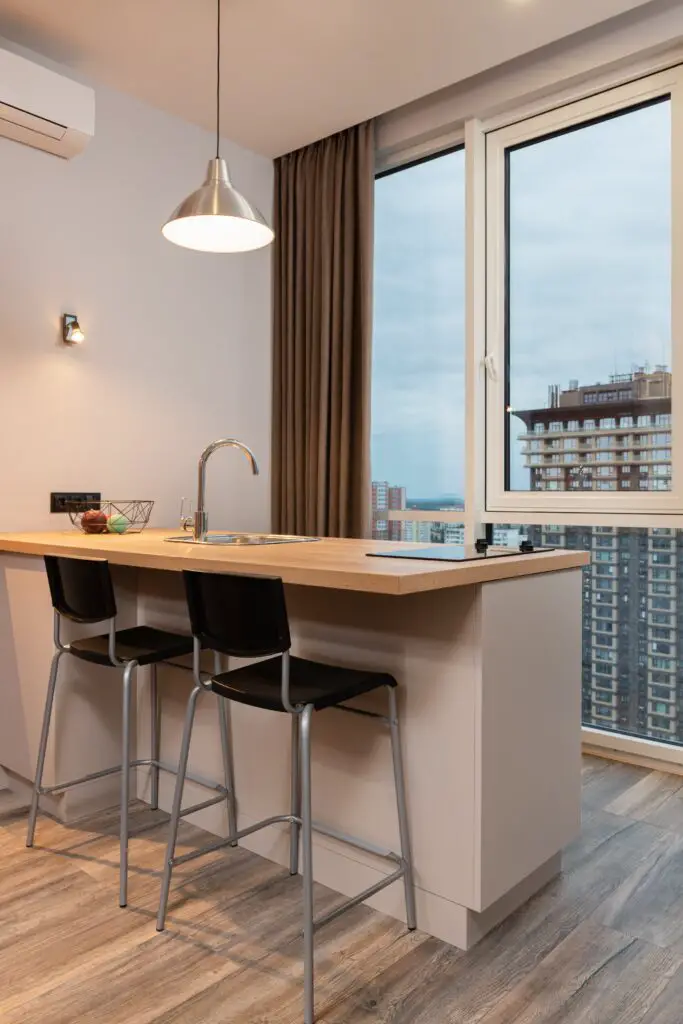 What Are GFCI Outlets?
The NEC regulations mention installing GFCI outlets but what do they mean exactly? It stands for Ground Fault Circuit Interrupting outlets. They are designed in a way to protect the users from accidental electric shocks while operating their appliances. 
They work by detecting small irregularities in the electricity being input and output from the appliance and the wiring of the outlet. If there is even a small irregularity between the 'hot' and 'neutral' end, the outlet will interrupt the electric current within a fraction of a second. This will end up braking the circuit and protect the consumers. 
How Much Do GFCI Outlets Cost?
GFCI outlets can be bought from any hardware or electrical store. They are sold both individually and in bundles. You can find outlets which cost as less as $2 and as expensive as $30-50. There are a ton of extra features and aesthetics you can choose from.
Can You Install GFCI Outlets Yourself?
If you have some experience with electrical wiring, than installing a GFCI outlet shouldn't be difficult at all. But keep in mind that dealing with electrical wiring can be dangerous and feel free to call for professional help if you are not comfortable. 
You will need some wire cutters, screwdriver, electrical tape and needle nose pliers. 
To begin with, turn off the power to the outlet, this is very important to ensure your safety. Cut off the electrical supply directly from the fuse box itself. 
Remove the existing outlet. Upon doing so, you will see three coloured wires which are connected to the respective screws. Once you have access to the wires, manicure them using a wire cutter to make sure they fit in the new terminal. 
During the entire process, make sure that the wires don't touch. 
While connecting the wires to the new outlet, pay close attention to the colours. The copper or 'ground' wire should be connected to the green-coloured screw, the black 'hot' wire should be connected with the brass coloured screw while the white 'neutral' wire should be connected with the silver screw, this should also be labelled as 'line'. 
Once you have replaced or attached the wall cover, you are good to go. \
How to Hide or Make the Outlets Aesthetic?
When you are designing your kitchen, you will want everything to look perfect. And there is nothing worse than ugly electrical sockets sticking out in you kitchen. But there are quite a few things which you can do to keep the aesthetic integrity of your household. 
The first thing which you should do is to match the colour of your fittings and island to that of your outlet. There are a lot of options in the market currently, and chances are that you will find the exact design or colour which you are looking for. 
You can also try installing pop out outlets. This will keep them away from your eyes until you need to use them. You can color match these as well. 
Enjoyed this? You may also like these articles as well:
Conclusion 
According to the NEC, kitchens with islands require GFCI outlets. The number of outlets depend on the area of the countertop. These are stated in Regulation 210.52(C)(2). There should be a socket for every 2 feet length and 1 feet breadth. There shouldn't be more than 48 inches gap between two sockets and there shouldn't be a spot on the countertop which is more than 24 inches away from a socket.