Isn't it the worst feeling when you have to take a shower and you notice all of the hard water stains and soap and toothpaste stains on the glass door?
It becomes very apparent when you go to someone else's house and notice that their glass shower doors are shiny and clean. Have you ever wondered how you can remove and prevent these stains from coming in the first place?
Let's take a look at how you can clean your glass doors and prevent further buildup of stains.
Vinegar and baking soda are one of the most common household supplies but they also act as excellent stain removers. The process is pretty easy as well, but you will need to be a little careful while using baking soda as they can cause some scratches.
All you will need is a spray bottle, sponge, brush and a piece of cloth. Usually, you have to spray some vinegar on the glass door and leave it for a couple of minutes and wipe the glass door with baking soda gently. 
How Do Stains Form On Your Glass Doors?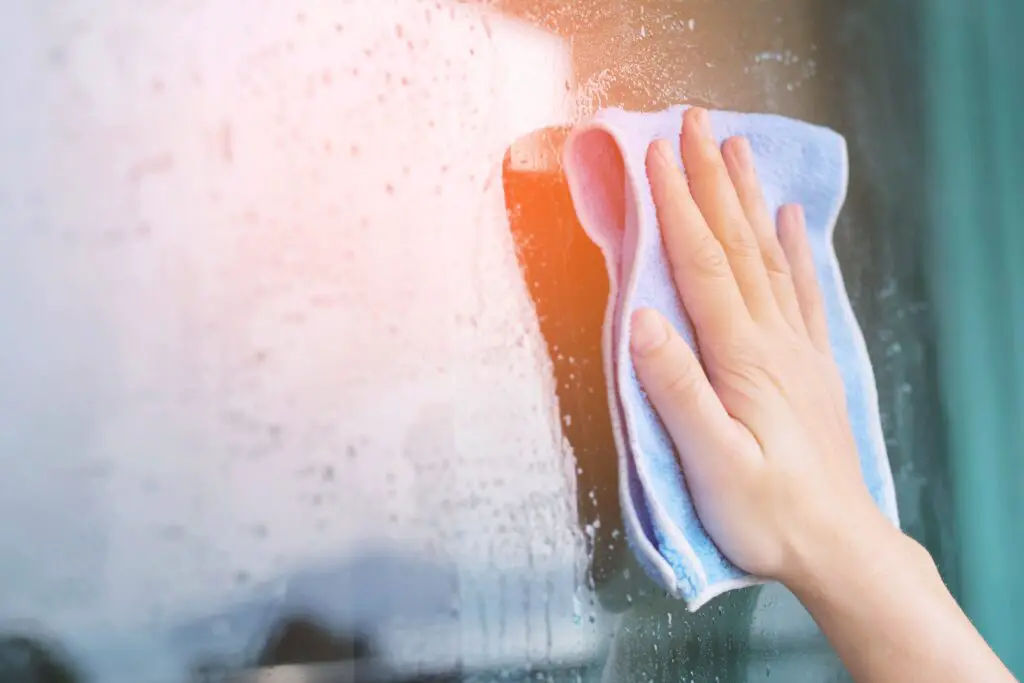 Most of the households, especially in cities have a hard water supply which is much harsher than the soft water which is what people usually drink.
This water has a heavy presence of minerals that it picks up on its way. When these hard water droplets are left on the glass door, they evaporate and leave behind a stain over time which usually comprises of trace amounts of minerals. 
Similar to this, soap scum is also responsible for these stains. When you take a bath, soap gets mixed with water and the droplets consist of hard water minerals, soap particles, calcium stearate and the dirt it picks up.
When these droplets dry up, they leave behind a waxy and hard layer of these particles. 
These stains not only look bad, if left unintended they can permanently damage your glass doors as well. 
Household Supplies For Cleaning Glass Doors
You will be surprised to know that many of the regular items you use for cooking also act as excellent cleaners.
Things like baking soda, vinegar and a slice of lemon can do wonders while cleaning. 
Vinegar 
Vinegar comes in a lot of different varieties like balsamic vinegar, champagne vinegar, red wine vinegar, rice vinegar, apple cider vinegar, malt vinegar and distilled white vinegar.
The white vinegar or distilled white vinegar is the most common variety all over the world and is also very versatile in nature. It is the best option when it comes to cleaning. 
Vinegar is acidic in nature and it usually comprises of 4-8% acetic acid. It is a natural disinfectant and is usually mixed with water to form a milder solution. It is excellent when it comes to removing stains.
Baking Soda
You must have used baking soda on a variety of foods but one of its hidden qualities is that it can also be used to clean a lot of surfaces. It is slightly abrasive which makes it suitable for using on animal messes, grease and proteins.
You will have to be a little careful and gentle while using it on glass doors as it can lead to scratches. 
You can also use a piece of leman with baking soda to clean surfaces.
How To Clean Your Shower Glass Doors With Vinegar and Baking Soda
There are a lot of different ways people use these ingredients to clean the glass doors but the one I am going to be sharing felt the easiest and gave me the best results. But if you have come across any other method and it suits you better then don't feel the need to shift to some other technique. 
You will need a sponge, a spray bottle, baking soda, white vinegar and a soft cloth. 
Start off by spraying the glass door with water, you can even splash some water using a bucket. This will help in making the stains a little easier to remove and at the same time it will remove some of the easy to clean stains as well. 
Pour some vinegar mixed with water into a spray bottle and cover the glass door with this solution. You will have to let it rest for 20-30 minutes depending on the intensity of the stains. The acidic nature of vinegar will dissolve and soften the minerals and soap content of the stains. 
After this, use a sponge and dip it in a baking soda paste. You can make this paste by mixing a little water with baking soda. Gently scrub the sponge on the glass door. The baking soda here will act as an abrasive. 
You will have to careful here because baking soda can cause scratches on the glass door. So, wipe the sponge very gently. Do this step until you are satisfied with how the glass looks. 
Dry the glass with a microfiber cloth, some people also use a regular glass cleaner after this step but that entirely depends on you. I don't feel the need for it. 
How To Clean Glass Shower Doors With Hard Stains
Baking soda and vinegar are our go-to product again for removing hard stains.
Simply grab a cloth and a bucket of water with white vinegar. Make sure you dilute the mixture and scrub.
If that doesn't work, you can try putting straight vinegar onto the stains. That should do the trick and leave you with bright and shiny shower doors.
How To Prevent Stains From Occurring On The Glass Door
Stains form when hard water and soap scum droplets are left to dry over and over again on the glass door. To prevent this from happening, make sure to wipe down the door using a squeegee after every shower. 
You can also use a hydrophobic solution after cleaning which will repel water droplets from accumulating on the glass door. 
One of the expensive solutions is using a water softener for your shower but I don't think this is essential if you are careful about the cleaning process. 
Will Baking Soda Scratch Glass Shower Doors?
You will have to be careful while using baking soda as it is notorious for leaving micro scratches on glass surfaces. But this does not mean that you shouldn't use it.
If you are gentle and careful when wiping the glass doors, then it shouldn't be a problem. One advise would be to make sure that the baking soda paste is fine and not coarse. 
In General.. 
Nobody pays attention to shower glass door stains until they become a nuisance. But you can avoid this altogether if you take some basic after shower care. Remember to use a hydroponic solution after cleaning your glass door and regularly clean it using a simple glass cleaner once every week.
These stains only become hard to remove once they are left to accumulate over a period of time. 
Enjoyed this? Check out these posts next:
4 Reasons Your Dishwasher Fills And Drains But Doesn't Wash The Load (& How To Fix It!)