Getting the right kind of lighting for your house can make a huge difference to your house looks and feels like. But at the same time, making the wrong decision can not only affect the aesthetics of your house, but it can also impact your productivity.
Let's take a look at how many chandeliers you will need for your house. 
To figure out how many chandeliers you will need, take into account the size of the room, its lighting requirement and whether you want to go for a larger chandelier or multiple smaller ones. For larger rooms and open floor plans, you can also opt for multiple chandeliers. It is recommended to keep some type of symmetry in case you are going for multiple chandeliers. 
Do You Need Chandeliers In Every Room?
Chandeliers add a lot of elegance to your house, but it doesn't mean that you can go overboard with them. You should use them sparingly throughout the house, especially in rooms where you want to bring other's attention. 
So, if you are using a chandelier in your living room and dining area, then you should not use them in the bathroom and kitchen. 
The rooms where you want to put chandelier is largely up to you. But the most commonly used rooms include the living room, dining area and master bedroom. Although it should be noted that using modern chandeliers in bathrooms is also picking up trend.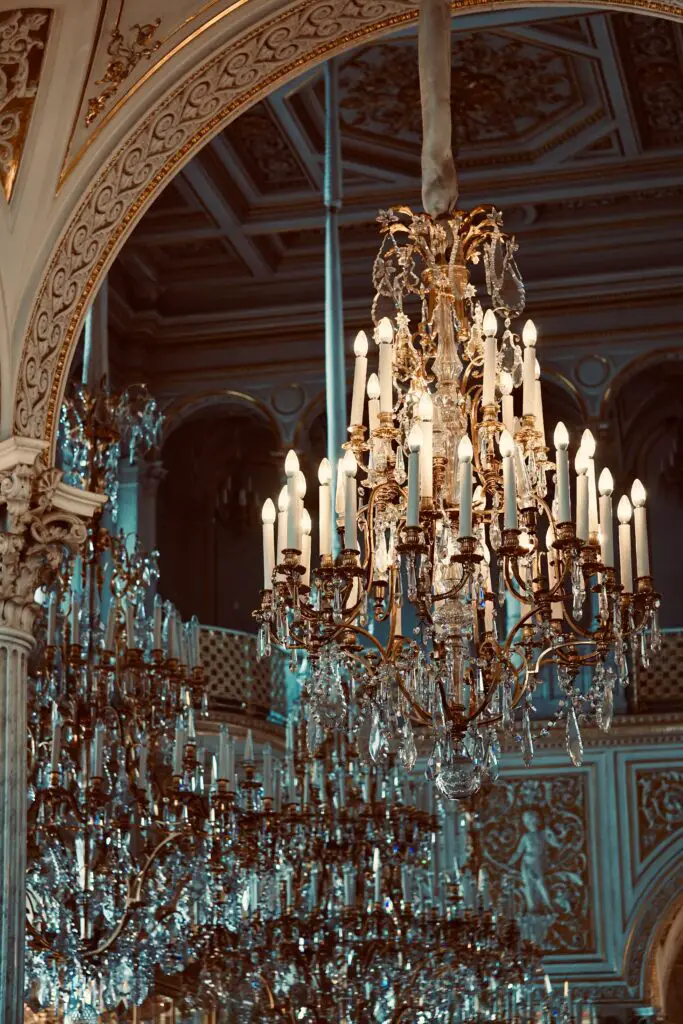 How Many Chandeliers Is Too Many for an Open Floor Plan?
Open floor plans are becoming increasingly common these days, and this also gives the homeowners a chance to set up multiple chandeliers in the same larger room. A lot of people choose to install a chandelier in the entry way, in the foyer and in the kitchen as well. But the choice at the end depends on your house structure and personal preference. 
Although it should be noted and in most open floor plans, more than 3 chandeliers will end up over cluttering the space and will also bring attention away from the existing chandeliers. So, unless your floor plans call for it, you should not cross the 3 mark. 
How To Find Out How Many Chandeliers You Will Need?
Some of the factors which you should consider while deciding on the number and the size of the chandelier include:
The first thing which you need to keep in mind is the size and type of chandeliers. Some chandeliers, although small can add some heaviness to your room if they are made of metal. Although there are some metal chandeliers which also add a sleek modern look.  
For example, if you are looking for 3 chandeliers for your open floor plan, all 3 cannot be big and have a heavy look. The first chandelier in the entry way should be the biggest as this is the first thing that any person will see. 
But just because a chandelier is big doesn't mean it has to be bright also. Places such as your kitchen is very demanding in terms of light and it is recommended to have around 54 lumens per square feet. On the other hand, your entryway would not require that much light and it is recommended to keep it around 45 lumens. 
So, while deciding how bright you want the room to be, simply multiply its square footage with the lumen requirement of the room. For example, if your kitchen is 100 square feet, then you would need 5400 lumens. 
The next thing which you need to decide on is the temperature of the light itself. Some rooms quires a warmer lighting to set the right mood, the foyer being one example. Similarly, rooms such as kitchen requires a daylight white colour (5000k). A warm white colour is recommended for the foyer (2700k-3000k). 
How Many Chandeliers Should There be Over a Dining Table?
There are two major factors which will influence your decision. The lighting requirement of your dining room and the length of the dining table itself. Find the square footage of your dining room and multiply it by 30-40 to get a rough idea about the lighting requirement. 
So, if your dining room lighting requirement is 2000 lumens, you can either get one big chandelier to provide 2000 lumens to two smaller chandeliers, 1000 lumens each. 
But once you know the lighting requirement, you need to pay attention to the size of your dining table. If you have a longer table then installing two smaller chandeliers would make more sense. But if you have a circular or a smaller table then one large chandelier should be better. 
What is The Difference Between a Pendant Light and a Chandelier?
There is a common confusion amongst people regarding the two terms, the only difference between the two is the number of lights. While a chandelier has a number of small lights, a pendant has only one light hanging by a long wire. 
Should You Get a Pendant Light or a Chandelier?
The answer largely depends on the lighting requirements you have. If you want a more focused light which also creates a soft accent light, then a pendant light would be a better choice.
Similarly, if you want the light to brighten up the entire room while creating a centre piece than a chandelier would be better. 
Is It Okay To Have Two Different Chandeliers In One Room?
As long as the room is large enough, >140 sq feet is what is recommended, you can install two chandeliers. You can also use the chandeliers to mimic pendant lights this way.
It is also suggested to keep a minimum distance of double the individual chandelier's width between both the chandeliers to have a pleasing look. 
But it is also suggested to have two same chandeliers installed as it creates a more symmetrical look and this way no one chandelier will steal attention away from the other. 
Should All The Chandeliers Be Identical or Should They Match?
While it is recommended to always go with a more symmetrical design, you can also use different chandeliers to create symmetry. For example, if you are installing 3 chandeliers, then you can make the centre one different while keeping the other two similar. 
Conclusion 
While deciding on the number of chandeliers for your house, you will have to take into account the size of the individual rooms, your floor plan and the lighting requirements of each room.
You shouldn't install chandeliers in every room, using them sparingly will have the most impact. If a particular room is large enough or if you have an open floor plan, you can also opt for multiple chandeliers in the same room.