In most kitchens, self-cleaning ovens are the norm. These ovens are convenient and help you save time. Still, every so often, you will be required to clean the oven manually. So what is the best way to clean a self-cleaning oven without using that feature?!
These include using non-abrasive oven cleaners, baking soda, cornstarch, and vinegar. Baking soda has consistently proved to be one of the best oven cleaners. Its mild abrasive power ensures a thorough scouring of grease and slimy substances that build up on the inside of ovens without affecting the self-cleaning technology.
A mix of 3/4 cups of baking soda and 1/4 cup of water does the job perfectly. Apply the stirred mixture to the oven, let it sit for 15-20 minutes, and use a damp towel to wipe clean. If certain areas need a deeper cleaning, you can leave the paste on overnight.
Self-cleaning oven manufacturers and cleaning experts recommend a few safe cleaning methods and products that will not have an adverse effect on the oven
Manually cleaning self-cleaning ovens can be challenging. Essentially, self-cleaning ovens have a special pyrolytic or catalytic coating that is responsible for the self-cleaning feature. This coating is sensitive to abrasive chemicals or brushes. Granted, cleaning these ovens should be done cautiously to avoid damaging the coat.
What To Consider When Cleaning A Self-Cleaning Oven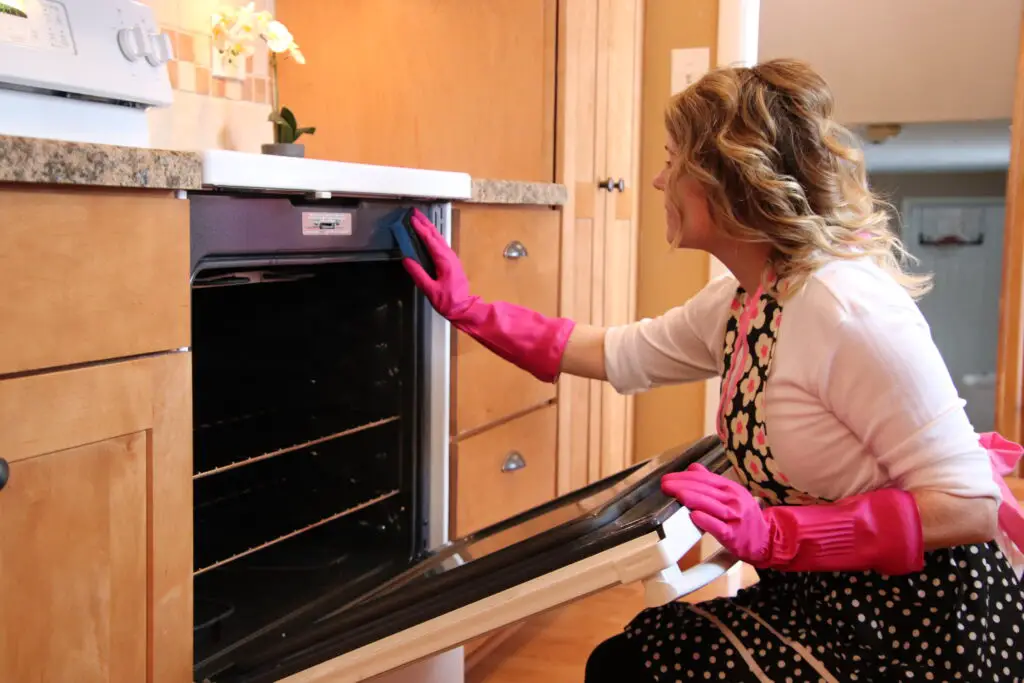 Whereas the auto-clean feature is viewed as a lifesaver, it's by no means meant to replace manual cleaning of the oven entirely. In any case, the self-cleaning isn't totally "self," since intervention is required to wipe out the organic residue that falls off. 
Many factors dictate how and when to wash your self-cleaning oven. These include the type of food baked, how often it's is used, and the brand of the oven.
Whether you are a professional cook or just trying out oven recipes, using an oven can turn out messy. For the most part, the sticky organic remains becomes a nuisance and need cleaning. When doing light baking, cleaning the racks is all that's required. However, over an extended period, residues pile up, calling for detailed cleaning. 
The more the oven is being used, the more the crust piles up. As such, you might need to clean the oven more often than not. This is because the crust can lower the oven's efficiency. 
It is also important to note that manufacturer specifications of the self-cleaning oven come into play. In that case, what works for a particular type might not work for others. Moreover, there are two types of self-cleaning ovens—steam-based and heat-based. Steam cleaning ovens and both require a specific approach.
How Often Should You Clean Your Oven
Generally, a cleaning schedule of once every three months is enough.
Nevertheless, cleaning the oven on-demand is recommended. On-demand cleaning means the oven should be cleaned as soon as the need arises, disregarding the cleaning schedule. 
Contemplating performing on-demand cleaning should follow after making a few observations. Number one is the physical appearance.
An oven that looks slimy at the interior and handles is definitely calling for some clean-up. And number two is the foul odor when the oven is turned on. This odor signifies that there is a coating of organic residue that needs to be washed off.
Here are some more takeaways;
Clean off spills immediately after every use.
Keep the handles and glass door clean always.
Look out for signs of a dirty oven.
Avoid keeping the oven dirty for long.
How Self-Cleaning Ovens Work
Undoubtedly, the self-cleaning feature is an indispensable technology that revolutionized oven cleaning. Still, there are controversies surrounding its use and reliability. Here is a look at how it works.
A self-cleaning oven works by heating up to extreme temperatures (up to 900℉) that break down organic residue in a process known as pyrolysis. When this residue—usually grease and fat—is broken down, it falls on the surface of the oven and can be wiped off after the auto-clean cycle is complete. During this process, which takes about 3 hours, the oven locks its door for safety purposes until it's done cleaning. Thanks to the special coating, the oven can withstand these high temperatures. 
It's worth noting that there are two types of self-cleaning ovens—pyrolytic and catalytic. Unlike pyrolytic, the latter uses less energy and a different mechanism to clean the oven. Catalytic ovens are equipped with catalytic liners with special chemicals capable of absorbing residues like grease—no matter the oven type, here is how to use the self-cleaning feature efficiently.
When And How To Use The Self-Cleaning Feature
When used moderately and cautiously, this feature can prove to be worthwhile. In this case, moderation means using the self-cleaning feature when necessary and sparingly, while cautiously means taking precautions to ensure a safe outcome. 
These precautions include ensuring proper ventilation, removing the racks, and gently removing the huge chunks of residue, if any. Ventilations will prevent suffocation from the stench that's usually released. Then, these high temperatures can damage anything that's not coated with the special enamel, such as baking racks hence the need for removing them. Lastly, the huge chunks of food residue will prevent smoke or fire that can happen due to high temperatures. 
Self-Cleaning Vs Easy-Clean Ovens 
While self-cleaning ovens have an automated cleaning configuration, easy clean ovens are manual, but improved over regular ovens to ease manual cleaning. This improvement is usually on the interior lining of the oven.
Regardless, this type of oven does not have any autonomous capability to self-clean. 
Easy-clean ovens can prove to be a better option if you are hesitant about getting an oven with a self-clean feature.
Similar to the self-cleaning oven, you will significantly take less time to clean the oven. On top of this, these ovens are more affordable than self-cleaning ovens.
No matter what type of oven you have, manual intervention to maintain a clean oven is inevitable. Still, like most appliances, cleaning is one of the best maintenance practices that guarantee the improved performance of the oven.
After all, a clean oven ensures that distinct aroma every time you make your favorite meal.
Enjoyed this? Make sure to check these next:
How To Clean Your Oven With Baking Soda and Vinegar (EASY!)